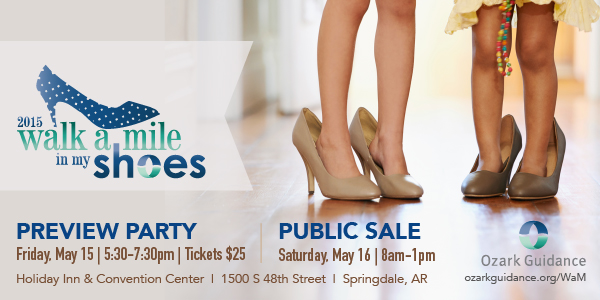 Craft Fairs, May 1 & 2 (click on the festival name for more info):
Frisco Station Mall Arts & Crafts Show
Ozark Regional Arts & Crafts Show
Spanker Creek Farm Arts & Crafts Show
War Eagle Mill (Sharp Craft Show adjacent to the Mill)
Little Sprouts starts at the Botanical Garden of the Ozarks
Little Sprouts is a weekly botanically-themed program for preschoolers. Each week they read stories, sing songs, and do fun crafts and activities. Whether kids are learning about how bees are more helpful than harmful, or exploring the garden with handmade binoculars, the children leave the garden with a real appreciation for the world around them and a new desire to protect it. There are two sessions to accommodate little learners: 9:30 and 10:15 am on Wednesday mornings May through October. Participants do NOT need to register. Just show up on Wednesday morning! Watch BGO Facebook page for weather announcements on rainy days.
Dates:
Times: 9:30 a.m. and 10:15 a.m.
Location: Botanical Garden of the Ozarks
More info: Click here
9th Annual Touch-a-Truck
Touch-a-Truck features dozens of vehicles to explore, including construction equipment, safety and transportation vehicles, motorcycles, tractors and much more.  There will also be special appearances and activities including mascots, costumed characters,  fingernail painters, science demonstrations and building projects. In addition to equipment, vehicles, and entertainment, there will be concessions available offering lunch, refreshments, ice cream and all the tasty treats you'd expect to find at a family-fun event.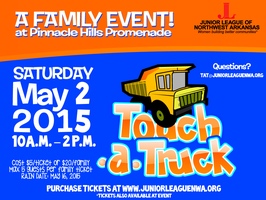 Date: May 2
Time: 10 a.m. to 2 p.m.
Location: Pinnacle Promenade Mall, Rogers
More info: Click here
Date: Preview party, May 15; public sale, May 16
Time: Varies
Location: Holiday Inn & Convention Center, Springdale
More info: Click here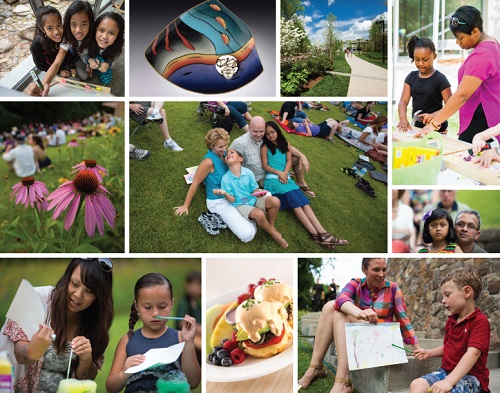 Crystal Bridges' Garden Party
This is going to be fun and a perfect outing — actually, several outings — for Mother's Day weekend at Crystal Bridges Museum of American Art.
The fun starts on Friday, May 8: Enjoy a special cocktail reception and lecture with Amy Stewart, author of The Drunken Botanist, a New York Times bestseller.
Saturday, May 9 is National Public Garden Day and a perfect time to explore the trails with a Garden Party. This free event features live music, a Chalk Festival, native plant sale, art-making, and more. Stop into the Museum Store for Member Double Discount Days and browse the unique jewelry collection including featured artisans Daaman Porcelain and Valerie Sanson.
Round out the weekend with a High South Brunch served at Eleven on Sunday, May 10. Alongside weekend activities, Crystal Bridges will launch its highly anticipated Outdoor App, featuring interactive trail maps, plant and sculpture guides, photo sharing, and more.
Free, no registration required. There will be live musical performances.
Date: May 8-9-10
Time: Varies
Location: Crystal Bridges
More info: Click here
Kendrick Fincher Hydration Celebration
There are 3 events  that take place during the Hydration Celebration. The 17th Annual Youth Run, which is a free event for students, distances are 1/2 mile for students K-3rd grade & 1 mile for students 4th-8th grade.  The 5k run/walk, which is celebrating its 7th year. And in its 2nd year, the Duathlon, which is a 3.1mile run, 12.4mile bike, 3.1mile run.
Date: May 9
Time: Varies
Location: Pinnacle Hills Promenade Mall
More info: Click here
Terra Studios' Spring Music Festival & Family Art Adventure
Terra Studios (home of the original Bluebird of Happiness©) will hold its Annual Spring Music Festival on Mother's Day, Sunday, May 10. This year's festival will also include the first Family Art Adventure of the season. Family Art Adventure features free arts and crafts, face-painting and balloon animals. Some art projects for a small fee will be available as well. Admission to Terra Studios is always free; a $5/person donation to benefit the nonprofit is encouraged. Bring the whole family for a great day of music and art.
Date: Sunday, May 10
Time: Noon to 5 p.m.
Location: Terra Studios, Durham
More info: Click here
Timber! Presented by Cirque Alfonse
It's all about stunts and acrobatics in this toe-tapping musical by French Canadian circus company Cirque Alfonse. Taking inspiration from the woods surrounding their own real-life family farm, Cirque Alfonse's talented tumblers and musicians create a crazily unique acrobatic experience set in the world of loggers and traditional Canadian farm life. There are balancing acts on tree stumps, banjo sounds and men with bushy beards performing synchronized axe juggling. Not only does Cirque Alfonse represent three generations from one family, it also features professional acrobats from the École Nationale de Cirque de Montréal, as well as a professional dancer, an ex-skiing champion and three talented and versatile musicians.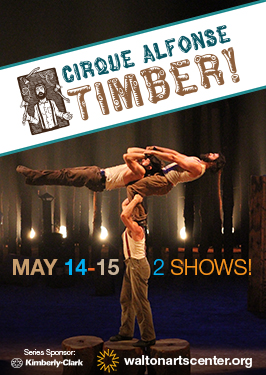 Date: May 14-15
Time: Varies
Location: Walton Arts Center
More info: Click here
Block Street Block Party
Everything weird, wild, local and independent culminates on one little street on one very big day. Food trucks, vendors, artists, live music and more.
Date: May 17
Time: Noon to 9 p.m.
Location: Block Street, Fayetteville
More info: Click here
Meet & Greet for moms with chronic illness
God-Living with Chronic Illness is a new resource for moms in the NWA area who have chronic illness. Eight years ago the founder was diagnosed with chronic fatigue and fibromyalgia and found out firsthand how hard and isolating it could be. She started the facebook page called God-Living with Chronic Illness to help provide spiritual resources and encouragement to others. Recently Laurie started a group for women with chronic illness and they meet together regularly for friendship and fellowship. They will have a Meet & Greet for any moms who have chronic illness who might want to make friends with other moms who understand what chronic illness is all about.
Date: May 29
Time: 6-9 p.m.
Location: Panera Bread, Bentonville
More info: Click here to see more about the group. RSVP for the meeting to Laurie Miller, 479-381-5347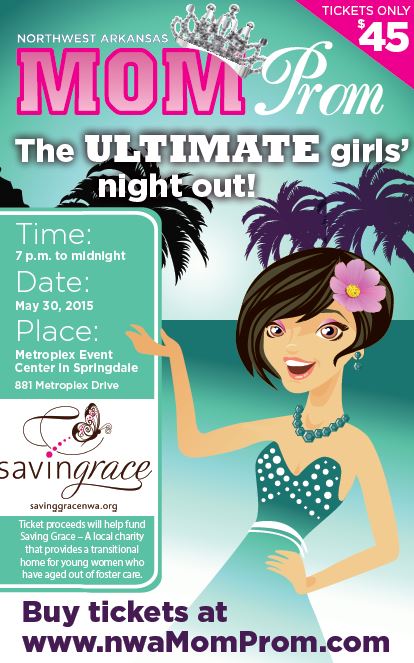 NWA Mom Prom
The mamas of nwaMotherlode throw this annual party and you don't want to miss it this year! It sold out last year, so get your tickets ASAP (click here to buy a Mom Prom ticket, a table for 10 or raffle tickets). The Mom Prom is a massive girls' night out! Dance, eat, drink, talk, laugh and pose for party pics while raising money for a great local charity, Saving Grace.
Date: May 30
Time: 7 p.m. to midnight
Location: Metroplex Event Center, Springdale (brand new venue, by Meeks Lumber)
More info: Click here