Northwest Arkansas Calendar of Events January 2021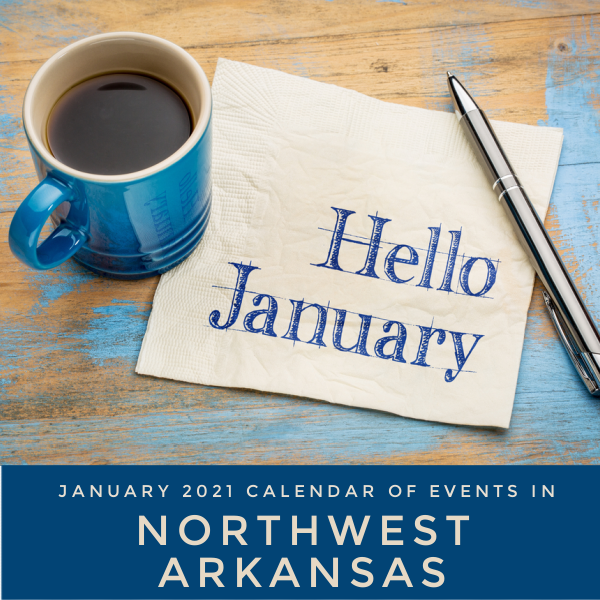 Welcome to a brand new year, mamas! Most of us were more than ready to say goodbye to 2020. Here's hoping this new year will be a bright, healthy one.
Here's a list of what's happening around Northwest Arkansas in January 2021:
Digital Van Cliburn Concert Series: 2021 New Year's Day Concert
Gather the whole family at home for a special virtual concert celebrating the new year. This special performance takes its audience into the Great Hall and the galleries of Crystal Bridges, presenting pairings of artworks from its collection and temporary exhibitions with music performed by Northwest Arkansas musicians. Three unique performances of the Arkansas Philharmonic Orchestra with NWA Ballet Theatre, the Park Na Conservatory for Violin & Cello and the Symphony of Northwest Arkansas were recorded in Crystal Bridges' Great Hall. Tune in here at 1 p.m. (CST) on January 1 to view the virtual concert or watch on our Crystal Bridges Facebook or YouTube pages.
Time: 1 p.m.
Date: January 1
Location: Online
Click here for more information about the Van Cliburn concert.
Vienna Philharmonic New Year's Concert
Tune in to 91.3 FM and for the 2021 Vienna Philharmonic New Year's Concert under the baton of Riccardo Muti in the Golden Hall of the Musikverein in Vienna. The Vienna Philharmonic presents annually at the New Year a program consisting of the lively and yet nostalgic music from the vast repertoire of the Strauss family and its contemporaries. This concert is now broadcast to over 90 countries around the world.
Time: 10 a.m.
Date: January 1
Location: Tune to 91.3 FM radio
Click here for more information about the Vienna Philharmonic concert.
Camera Essentials
This Bedform Camera class is limited to 10 attendees. Camera Essentials is designed for people who are brand new to the digital photography world. First-time digital camera owners learn what it takes to become comfortable exploring their new cameras in this class, including basic camera functions, equipment care, shooting tips and printing options. For the health and safety of Bedford instructors and guests, there will be social distancing guidelines.
Time: 9-10 a.m.
Date: January 2
Location: Bedford Camera 3277 N. College Fayetteville *a similar workshop will take place at the Rogers location on January 12
Click here for more information about the Bedford Camera class.
Wonder Workshop at the Amazeum

The Monster Maker Wonder Workshop, held every Wednesday in January, is jam-packed with four weeks of everything your 6-11-year-old needs to know about creating their own monster plushie. From designing a creature on paper, to bringing it to life using sewing techniques, the science of dying, and even electronic additions, we'll make a monster that is so amazing, it's scary.
Time: 1:30-3:30 p.m.
Date: January 6, 13, 20, 27
Location: Scott Family Amazeum, 1009 Museum Way, Bentonville
Click here for more information about the Amazeum Wonder Workshop.
Amazeum YOU Connect
Amazeum You Connect is a weekly opportunity for 6-14 year olds to virtually explore an experience with an Amazeum educator. Every week, you and your family can explore a new activity together from the comfort of your home through Zoom. Amazeum educators will guide you through your exploration. Free for Amazeum members, $5 each for non-Amazeum members.
Time: 2-3 p.m.
Date: January 8, 15, 22, 29
Location: Online
Click here for more information on the Amazeum YOU Connect event.
All You Can Eat Breakfast
All proceeds from this bacon, sausage, eggs, pancakes, biscuits and gravy breakfast go to the Legion for sponsoring local Cub Scouts, scholarships, helping local veterans and more. Cost is $5 Adults $3 kids 6 and under. To-go boxes are available, but limited to one box per person. Inside seating will be available. Social distancing will be observed. Cooks and servers will be wearing masks and gloves.
Time: 7-11 a.m.
Date: January 9
Location: 120 S. Neal St. Prairie Grove
Click here for more information on the fundraiser breakfast.
Virtual Homeschool Day
Use everyday items to make amazing creations during this Virtual Homeschool Day for kids ages 6-14. Join your favorite Amazeum team members virtually to create a chain reaction, make something from cardboard to wear, and fuse a plastic creation. It's a fun way to connect with other homeschoolers while previewing and learning about upcoming programs, like Homeschool Adventures Series and Camps. Virtual Homeschool Day is free, but advance registration is required for each family in order to receive the supply list and link to the virtual call. Register for one, two or all three activity times.
Time: 9-10 a.m. for chain reactions, 11a.m. to noon for cardboard creations, 1-2 p.m. for fused plastic
Date: January 11
Location: Online
Click here for more information on the Amazeum virtual homeschool day.
Crystal Bridges Museum of American Art
Crystal Bridges offers a variety of workshops, gallery tours, sketchbook clubs and outdoor events throughout the month.
Click here for more information about museum's January 2021 events.
The Fayetteville Public Library
The library continues to offer story times, workshops and discussions for a variety of ages almost daily.
Click here for more information about the library's virtual events.