February 2022 Northwest Arkansas Calendar of Events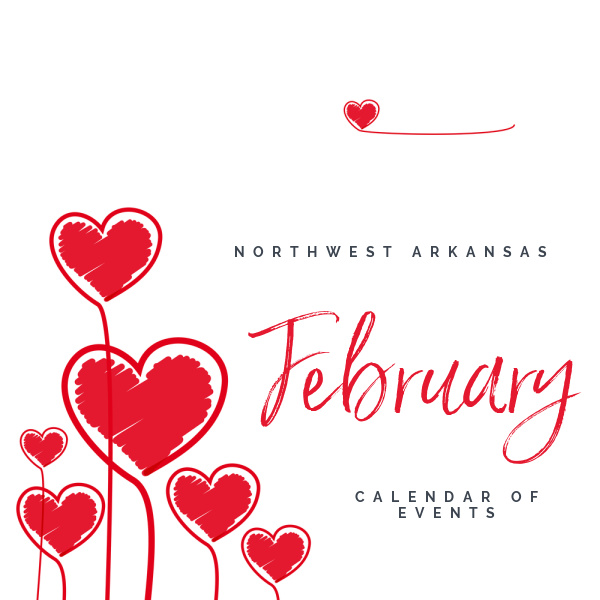 Happy February, mamas! Hope this month is filled with sweet, lovely experiences for your whole family. Here's a roundup of some of the events happening around Northwest Arkansas in February 2022.
Turning 15 on the Road to Freedom
Turning 15 on the Road to Freedom, a new musical filled with traditional and original gospel and freedom songs, tells the inspiring true story of Lynda Blackmon Lowery, the youngest person to walk from Selma to Montgomery, Alabama during the Voting Rights March in 1965. Jailed nine times before her 15th birthday, Lynda and her friends and neighbors fought alongside Dr. Martin Luther King, Jr. to secure the right to vote for African Americans. Ally Sheedy (The Breakfast Club, High Art, "Psych") adapted the award-winning memoir by Lynda Blackmon Lowery for the stage. $10 per household.
Date: Viewable Feb. 3-16 (virtual)
Time: 7 p.m.
Location: Online
Daddy Daughter Dance
The annual Daddy Daughter Dance is a special event at the Bentonville Community Center. Both the 2 p.m. and 5:30 p.m. parties will include the same activities, treats, and red carpet experience.
Date: Saturday, Feb. 5
Time: 2 or 5:30 pm.
Location: Bentonville Community Center
Daddy Daughter Day at War Eagle Mill
Daddy Daughter Day includes an all you can eat breakfast buffet from 9:00-11:00. Adults $11.98, Children (5-10) $8, and Children (4 & under) $5. They will also offer a Belgian Waffle topped with Strawberries, & Whipped Cream with choice of 2 pieces of bacon or sausage. Lunch guests can purchase a special brownie topped with ice cream for $5.99. The Café will be fully decorated with flowers and balloons. No reservation needed.
Date: Feb. 5
Time: 9 a.m. to 4 p.m.
Location: War Eagle Mill, Rogers
Math Moves! at the Amazeum
Math Moves is a new traveling exhibit at the Scott Family Amazeum. It features more than 20 unique interactive experiences that playfully investigate ratios and proportions (think adjusting ingredients for recipes, creating a family budget or building). Access is included in daily admission. Members and kids under 2 are free.
Date: On display now.
Time: During museum hours.
Location: Scott Family Amazeum
Wonders of Winter Wildlife
This event was rescheduled from January. Wonders of Winter Wildlife is a free, special event that will be held outdoors in the park's Education Pavilion next to the visitor center. Warm up by the fire and enjoy snacks, juice, or a hot drink (be sure to dress warmly!).
Date: Feb. 5
Time: 10 a.m.
Location: Hobbs State Park Conservation Area
FIRST Robotics Competition
The Fayetteville Public Library is kicking off a month of learning about robots. During Saturday's competition, patrons will have an opportunity to talk to the robotics teams, check out the new robots, and watch them compete in matches. Then, head to the Reception Room from 12:00-2:00 to spend some time learning more about the library's Fabrication and Robotics Lab and get some hands-on time with their robotics kits.
Date: Feb. 5
Time: 10 a.m. to 5 p.m.
Location: Fayetteville Public Library
Just My Type: Typewritten Valentines
Celebrate International Typewriter Appreciation Month by crafting a valentine or a letter to a loved one using a vintage typewriter. Drop by the Teen Project Room anytime from 12 p.m. to 4:30 p.m. or from 5:30 p.m. to 7:45 p.m. to use a typewriter to type your note. Supplies will be provided, but you are welcome to bring your own stationery if you would prefer. No registration is required. Grades 5-12.
Date: Tuesday, Feb. 8
Time: 2 p.m. to 4:30 p.m. or from 5:30 p.m. to 7:45 p.m.
Location: Fayetteville Public Library
Little Sprouts Pop-up Party, Botanical Garden of the Ozarks
Drop by for a morning of fun garden activities and a Valentine's Day-themed craft kit. Reconnect with your Little Sprouts friends and explore the Garden.
Date: Feb. 9
Time: TBD
Location: Botanical Garden of the Ozarks, Fayetteville
ART WALKs
Downtown Springdale is hosting a series of free ART WALKs in 2022 that showcase the talented creatives in the downtown. Galleries, museums, makers' spaces and boutiques will open their doors for exhibitions and entertainment. Many of the creatives work inside the Outdoor Dining District making it easy for event-goers to enjoy food and drink while they take in the art. These are free, self-guided tour.
Date: First event, Feb. 12
Time: 11 a.m. to 4 p.m.
Location: Downtown Springdale (Pick up an ART WALK map at R McClintock Fine Woodworking Shoppe at 105 Spring Street.
Sweethearts Hangar Dance
There will be a live band and you'll learn dances from the 1940s and 50s. Dinner will also be served. Email frontdesk.aamm@gmail.com for ticket info.
Date: Feb. 11
Time: 6 p.m.
Location: Arkansas Air and Military Museum
Eureka Springs Chocolate Lovers Festival
Date: Feb. 12
Time: 10 a.m. to 3 p.m.
Location: Eureka Springs Community Center
Valentines 4k/8k
Hit the ground running in 2022 by participating in the (Run Bentonville Race Series) Valentines 4k/8k. Register with your sole/soul mate. Meet on the Bentonville Square.
Date: Feb. 12
Time: 7:30 a.m.
Location: Bentonville Square
Sassafras Springs Vineyard Valentine's event
The vineyard is hosting its annual semi-formal Valentine's Day Dinner. Tickets include a wine tasting, dinner, and entertainment by NWA Jazz and More Orchestra, a 16-piece big band.
Date: Feb. 12
Time: 6 p.m.
Location: Sassafras Springs Vineyard
Pajama Storytime on Thursdays
New for 2022. Get in your PJs and head to the library for Pajama Storytime. Bring the whole family and join Ms. Kristin for stories and a craft before heading to bed. Register to attend in person or watch the videos on Facebook and YouTube.
Date: Thursdays
Time: 6:30 p.m.
Location: Rogers Public Library
Click here for more info.