13 And now abide faith, hope, love, these three; but the greatest of these is love.  
1 Corinthians 13:13 (NKJV)
By Bro. John L. Cash
If you're one of my regular readers, something you've figured out is that I have a lot of good memories from my life,and that I had a happy childhood. But like most of us who were grade-schoolers in the 1960's, there was another side to my life back then. The political climate I was raised in made me a very scared little kid.
On April 4, 1968, I was 6 ½ years old and in the first grade. That day after school I was in our house on Lowe Street with my sister, Cathie, and we were waiting for our parents to get home from work. About the time it started to get dark outside, our television program was interrupted by a "Special Bulletin." Walter Cronkite said that the Rev. Dr.  Martin Luther King, Jr. had been shot to death by an assassin in Memphis. People were told to stay in their homes because there was rioting in the streets.
I cannot begin to tell you how horrifying that evening was to me. I immediately went to the guest bedroom and crawled under the bed. Despite my sister's reassurances that we were safe, I refused to come out from under the bed. I didn't cry, but I stayed there, terrified and hiding, until my parents got home.
(A few weeks ago I told this story in a sermon at church. Afterwards, a man came up to talk to me after the service. He had been a soldier in Vietnam back in the 1960's, and the jeep in which he was riding detonated a land  mine, nearly killing him. He said, "Brother John, those were terrible times. When you were frightened back then, you were a very smart little boy." I'm not exactly sure why, but his comment to me seemed one of the nicest things anybody ever said. )
Two months later, in June, 1968, I was spending the night at my aunt's and uncle's house so I could go to Vacation Bible School the next day. I was playing in their living room, building miniature windmills. Suddenly, another "Special Report" interrupted the quiet of our evening. Senator Bobby Kennedy, who was running for President, had been felled by an assassin's bullets.
Such was the life of a child in the 1960's. You could be playing with TinkerToys one minute, and then be watching someone you admired bleed to death (in living color, on live T.V.) the next. It was horrifying beyond words.
I believe there are moments of our lives that slice our hearts wide open and change us for the rest of our lives. One of my "life changers"  happened as I was listening  to the radio in a dentist's office. It was 1971, and I was 9 years old. I heard a song on the radio that meshed together "What the World Needs Now Is Love, Sweet Love" with the voices from the terrible news bulletins of my childhood. It was profoundly disturbing to me then, and it moved me deeply. Since I've been grown, somebody has made a video to go with the words. You can see it here: http://www.youtube.com/watch?v=cZLKX5nGk4w
Something I've found is that a lot of things that scared you when you were a child aren't scary when you view them as an adult. But this song doesn't fit into that category. To me, it's even worse than I remembered. You really need to watch this. But make sure your babies don't see it.
When I heard this song all those years ago, at that moment I embraced some core beliefs and have held tightly to them ever since:
Life is very beautiful.
Hate is very terrifying.
Children should be loved and protected.
None of us can live without the help that comes from God and the Lord Jesus Christ.
And just like the song says, "What the World Needs Now is Love."
So try to give the world around you what it needs this week.
And make a happy Valentine's Day.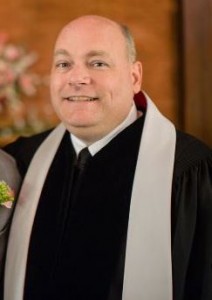 Dr. John L. Cash is the "Country Preacher Dad." He was raised in Stuttgart, Arkansas, and has spent the last 28 years being a country preacher in the piney woods five miles south of the little town of Hickory, Mississippi. (On week days has a desk-job at a public school, and until recently taught Latin on closed-circuit-television.) He and his lovely wife, Susan, live in the parsonage next door to the Antioch Christian Church (where there is a plenty of love to go around.) Their kids include Spencer (age 22), his wife Madeline (age 22), and Seth (age 19).