By Jackie, the "Proud to be an American" music mama
If you've still got a case of Olympic afterglow, or if you're enjoying this season's fascinating presidential race, then this playlist is for you. It's got red, white and blue all over it and is sure to inspire the patriot in all of us. (We found the cool American flag skin for your ipod at skinthepod.com.) Enjoy your tunes, ladies.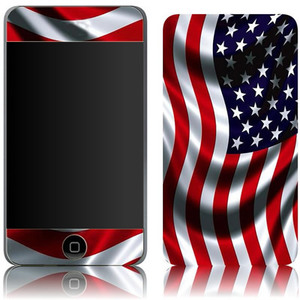 American Woman, by The Guess Who
American Pie, by Don McLean
God Bless The USA, by Lee Greenwood
American Baby, by Dave Matthews
American Woman, by Lenny Kravitz (repeat of the first song , but oh-so-awesome)
America the Beautiful, by Ray Charles
American Girl, by Tom Petty
We're an American Band, by Grand Funk Railroad
American Trilogy, by Elvis Presley
United We Stand, by Brotherhood of Man
Stand Tall, by Burton Cummings
Star Spangled Banner, by Jimi Hendrix
Olympic Fanfare, by Boston Pops Orchestra
One Moment in Time, by Whitney Houston
Chariots of Fire, by Synthesizer Syndicate
Reach, by Gloria Estefan
I Believe I Can Fly, by R. Kelly
A Moment Like This, by Kelly Clarkson
Shining Star, by Earth, Wind, and Fire
How Do You Like Me Now?, by Toby Keith
Courtesy of the Red, White, and Blue, by Toby Keith
Don't Stop Believin', by Journey
Did we miss one? Post your favorite patriotic song by clicking below on the word "comment." The Music Mama posts a great new playlist on the first of every month.