Happy Monday, mamas! It's the week leading up to one of the best days of the year — Mother's Day. And this week we've got a local giveaway designed to celebrate Northwest Arkansas moms.
The pandemic has been hard in so many different ways, but one of the ways it has impacted women and mothers the most is how it kept us away from each other for so long. And if you've been a mom for more than five minutes, you KNOW how much we all need the friendship and support of our fellow mamas. These are the women who help us make it through the rough days, who tell us it's going to be okay, who reassure us that we're good moms even when we doubt ourselves.
So that's why you're going to LOVE this week's giveaway we're doing in partnership with our sponsor Yum Yo's Frozen Treats. We're giving away a Mama Party! The winner (chosen at random) will get to invite several friends to join her at Yum Yo's for a fun Mama Celebration. Cue the confetti!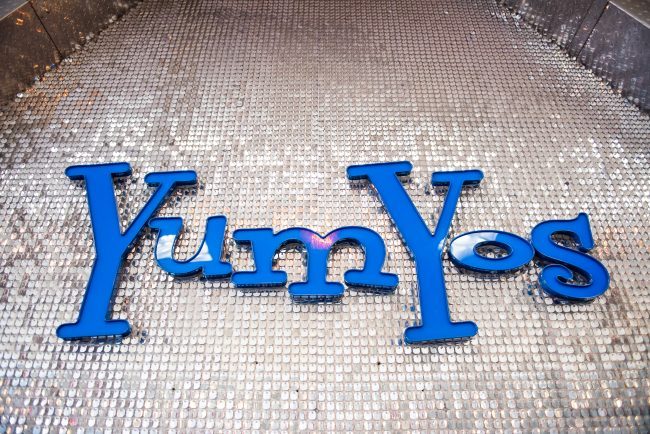 You and your besties can gather at either of the two Yum Yo's locations (Rogers at the Pinnacle Hills Promenade Mall or in Fayetteville at the Northwest Arkansas Mall) and have frozen yogurt or parfaits or Italian ice or gelato or even a Starbucks Frappucino blended with frozen yogurt (called FroYocinno). Yum Yo's is now under new management, and the menu is so BIG. Some of the other things you'll find on the menu include Dole Whips, Red Bull power slushes, fruit smoothies, floats, and speciality frozen yogurt pies. Even your pickiest friends will find something they love.
There ARE non-gluten, dairy-free and vegan options on the menu, so don't worry about dietary restrictions. They've got you covered.
Speaking of getting covered, one of our favorite parts of a trip to Yum Yo's is standing in front of that glorious wall of toppings and deciding which ones we want to use to cover our frozen yogurt. That colorful wall has more than 60 options! SIXTY! Here's just a partial list of some of the toppings you'll find:
candies
sprinkles
gummies
fresh fruit
popping boba
granola
nuts
cereal varieties
cookie crumbles
cheesecake bites
cookie dough
hot fudge
coconut
syrups
sauces
whipped cream
PARTY DETAILS:
You can either make this a giveaway a "mamas-only" kind of party, or tell your mama friends to bring the kids along. It's up to you. You'll have a $100 gift card to spend while you're there, so that should cover the treats of up to 12 people!
HOW TO ENTER:
If you'd love to win this Yum Yo's Mama Party for you and several friends, scroll down to the bottom of the post and past the comments posted by other moms. Then write a quick comment telling us something you appreciate and admire about one of your mama friends (or your own mom).
I'll go first. One of the things I love most about my fellow mama and nwaMotherlode co-founder (Shannon) is how she leads with kindness in everything she does. She feels things so deeply — for her family, her friends, animals (including strays), and even complete strangers in the news. I always know that when I'm talking to her, she really CARES.
You can also email your answer to us at giveaways@nwaMotherlode.com.
STAY CONNECTED:
Our newsletter subscribers get access to good stuff, including exclusive giveaways, information about local events, local mom interviews, recipes and more.
The nwaMotherlode newsletter is delivered straight to your inbox so you don't miss anything awesome (like this chance to win tickets!) CLICK HERE to sign up. We won't fill your inbox with info, no worries. We only send out newsletters when there's something in it for you — and we know you'll be interested in hearing about it.
We'll draw the winner at random on Friday, May 7, 2021! Good luck!