Editors' note: Congrats to the Hedberg Allergy & Asthma Center, one of our website sponsors who recently earned a Mom-Approved Award in the "Best Allergy Clinic" category. Get info on all the studio has to offer in today's featured profile.
Voted as a 2016 Mom-Approved Award Winner in the
"Best Allergy Clinic" category
Winner: Hedberg Allergy & Asthma Center
Location: 700 S. 52nd St. in Rogers, Ark.; 1585 E. Rainforest Rd. in Fayetteville, Ark.
Phone: (479) 464-8887 in Rogers; 479-301-8887 in Fayetteville
This clinic is known for adults and kids who need: Diagnosis and treatment of asthma, allergic rhinitis and other diseases of the upper and lower respiratory tract, drug and insect hypersensitivity, latex allergy, hives, allergic skin disease, recurrent infections, and congenital immunologic deficiencies.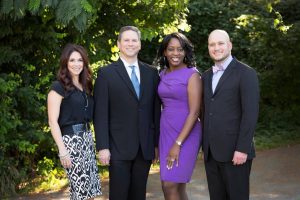 What you might not know about this clinic: All the physicians at Hedberg Allergy & Asthma Center (shown right) are board-certified, and there are several reasons why that's so important. While many doctors may treat allergies, a Board-Certified allergist has the intensive training patients want specialists to have. Allergists complete 4 years of medical school as well as an intensive residency training program after graduating medical school. Allergists then complete either a residency in internal medicine or pediatrics. (Some doctors do a combined residency in both fields.) They then go on to complete a 2, 3, or 4-year fellowship program in allergy and immunology, preparing them to diagnose and treat allergies of all kinds, diagnose and manage asthma, prepare and manage allergy shots, diagnose and manage immunodeficiencies, as well as other conditions. No other type of doctor receives this same level of specialized training in these areas. Allergists must also take and pass a rigorous board examination to become board-certified, and they must complete specific activities each year to maintain certification. (They also retake the board examination periodically.) Only the doctors who are current with maintaining certification can call themselves "board-certified." Click here to see the qualifications of all the Board-Certified Allergists/Immunologists at Hedberg.

Testimonial from a local mom: "My son and my husband are both patients of Dr. Hedberg, and I sincerely trust his in-depth knowledge and his instincts as a doctor. At every appointment, he listens, asks questions and makes us feel as though he is 100 percent committed to making sure we're well taken care of. He recommended allergy shots for my oldest son about a year ago, and the treatment has been a total game-changer for us. It has improved my son's quality of life dramatically. We're no longer hiding indoors every spring to try to avoid another big allergy attack. I'm one of so many local moms who feel lucky to have a clinic of this caliber in our area." ~ Gwen Rockwood, mother of 3
Congrats to the staff at Hedberg Allergy & Asthma Center!
Click here to visit their website.
Save
Save