Hey girls! Just wanted to let you know that two spots have opened up in the next photography class being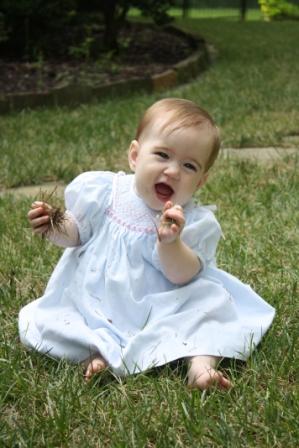 taught by photographer Melinda Worthington of MJW Photography. When we announced this class several weeks ago, we had such a high number of moms sign up that Mindy agreed to teach two classes on two different dates. Mindy keeps the class sizes small so there's time for plenty of one-on-one help as well as questions and answers. The next class happens on Saturday, August 21st from 1 to 4 p.m. at my house in Rogers. If you're interested in one of the two remaining spots, send me an e-mail ASAP because the first two people I hear from will get those spots. Send a note to gwen@nwaMotherlode.com.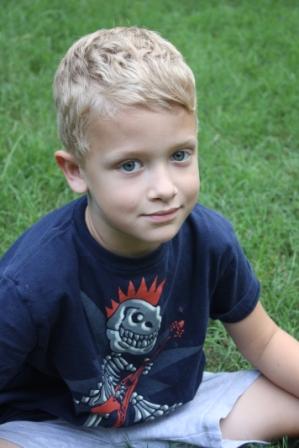 I signed up for the first class, which happened last Sunday, and it was GREAT. I finally understand what all those buttons on my camera mean! Mindy even taught us how to shoot using the manual settings. (The two snapshots you see here were taken during our class and no "auto-focus" or flash was used. Beautiful baby Cora was such a good sport and didn't mind at all when seven camera-wielding mothers came at her on the front lawn. The picture at right is my 6-year-old son Jack, who agreed to be photographed because he was wearing his "cool dinosaur shirt.")
Now that the first class is over, I and the other moms in the class are able to send Mindy photos we're taking and get her tips on how to make them better. It was a very hands-on class, and we shot pictures of real kids so Mindy could walk us through it and give feedback on how to improve the snapshots. I learned so much, and I'm looking forward to hosting the second class at my house so I can pick up a few more tips.
Cost for the class is $50 and worth every penny, in my humble opinion. If that date and time works for you, e-mail me quickly and snag a spot!