Sometimes don't you just crave carbs?
I know we can't have pasta all the time, but when the mood strikes, nothing else will do. Of course, my favorite pasta is this dish, but I also like a new concoction we tried recently that includes penne pasta, chicken and bacon. And it's got a little kick. Yes, please!
Perfect Penne Pasta
Here's what you'll need to have on hand: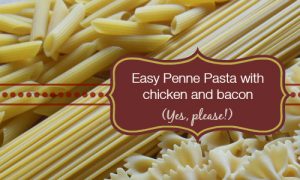 1 box penne pasta
3 tablespoons unsalted butter
1 tablespoon all purpose flour
1 1/2 cups half and half
1/2 cup grated Parmesan
1 pound of boneless, skinless chicken breasts
6 pieces of bacon (cooked)
1/4 tsp cayenne pepper (optional)
2 teaspoons vegetable oil
2 Roma tomatoes, diced
Directions: Cook chicken thoroughly in a pan, adding the cayenne (or Cajun seasoning) to taste. Cook the penne according to package directions (add salt to the water!). To make the sauce, melt the butter over medium heat. Add flour, stir, then add half-and-half until it's thickened (maybe six minutes?). Remove from heat and add Parmesan (plus a little salt and pepper, to taste). Cover.
In a bowl, toss pasta with the creamy sauce. Top with chicken slices, crumbled bacon and tomatoes (very pretty).
This is decadent, yes, but we're betting your family with love it!