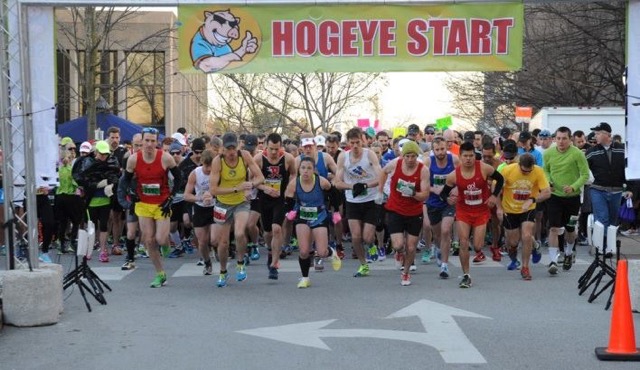 By Beth Gallini, marathoning mama of 2
It's here – race week for runners participating in any of the Hogeye Marathon races!
There can be a lot of assumed knowledge at races and that can be intimidating to newer runners. Much of this knowledge can be learned with experience, but it can be hard to navigate what to do and what not to do on race day and even harder to understand the reason why for beginner runners.
Here's a top 10 list of  "rules" for race day:
1. Run in your corral: Corrals are arranged with faster runners starting first and slower runners starting later. By starting with runners who are running a similar pace as you, it reduces the amount of weaving and creates a smoother start when the crowds are at a peak.
2. Run with your bib: If you run with someone else's bib, you could risk altering rankings and awards. Additionally, there is also no record of your information if you need medical attention.
3. Register for the race: Race directors need to supply traffic controls, medical staff, food, water, snacks, and medals for the number of registered runners. They also cap races based on how many runners the course can accommodate. Banditing a race by showing up to the start line without registering takes supplies and resources away from runners who registered.
4. Be careful when you stop: It is fine to stop to take walk breaks or to stop and walk through aid stations, just be aware of who is around you when you do! Try to make your way to the side of the road before stopping to walk and take a peek behind you to make sure you don't have someone right on your tail.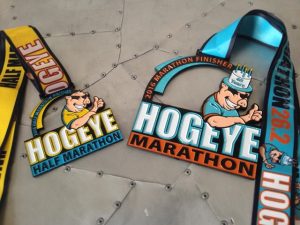 5. Be mindful of your trash: Volunteers have to pick up all of the trash leftover on the race course. You do not need to stop to throw fuel wrappers or water cups away, but try to make an effort to at least aim for the trash can.
6. Avoid running in groups: Running with a friend can make a race more enjoyable or someone might be helping to pace you, just be aware of the size of your pack because other runners may have a difficult time getting around you. A good rule of thumb is not to run with more than two people side-to-side.
7. Keep moving at the finish line: While you will be ready to stop running when you cross the finish line, be sure to keep moving forward so you don't clog the finish chute.
8. Wait to wear your race shirt: You should absolutely take pride in wearing your race shirt, but you might want to think twice before wearing it on race day. First, many runners consider it bad luck because you haven't actually crossed the finish line yet and you should wait to celebrate once you complete the race. Another reason not to wear it is because it is best to stick with gear you have tested out in training. 
Wearing something new on race day could backfire if it ends up not fitting properly or it causes chafing.
9. Thank the volunteers: Volunteers are giving their time to make it possible for you to race…don't forget to acknowledge them!
10. Have fun and take pride in your accomplishment: Regardless of how your race goes, remember that you accomplished something big and be proud.
Good luck to all of the runners coming out this weekend and thank you to all of the volunteers who make this even possible!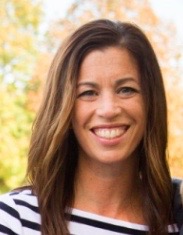 About Beth: Beth is a mom, runner, RRCA certified running coach, and the blogger behind RUNNING around my kitchen.  She and her husband spend their free time chasing their two 2-year-old boys. Beth serves on the board for the Hogeye Marathon and loves helping other moms with their training and answering any questions.  Be social, connect with other Hogeye runners, and let them hear from you by following them on Facebook, Twitter, and Instagram!  #hogeyemarathon
*The Hogeye Marathon is a non-profit organization that gives back to Northwest Arkansas. It's celebrating its 40th anniversary on April 10th and offers something for everyone with a marathon, half marathon, 5K, 4 person relay, corporate challenge, and volunteer opportunities.