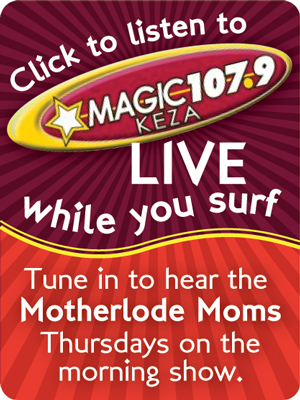 Hey, mamas! We want to hear your opinions on the radio this morning when we stop by Magic 107.9 for our weekly radio chat with hosts Jennifer Irwin and Guy Westmoland. We'll be there between 8 a.m. and 9 a.m, so turn on your radio or click on the graphic at right to listen to the radio live on your computer.
We'll be talking about a BIG issue for most parents — kids and TV. The call-in question is "Did you watch TV as a kid, and what were your favorite shows? Do your kids watch TV and what are they watching? What are the biggest problems with kids and TV today?"
We'll be discussing these questions as well as big issues like TV violence, advertising, sexual themes, the link between TV and obesity, as well as how to use TV in a positive way. We'd love to get your thoughts on any of those points.

We'll also be sharing some tips on websites we've found that help parents get more info on whether or not a certain TV show, movie, book or video game is age appropriate for your child.
Here are a few websites where you can get more info on this subject. Click on the name of each site below to go there and read more about it.