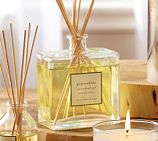 We all have our favorites, don't we? Products we just love enough to tell our friends about. (Pictured on the right is one of mine — the Paper White fragrance reed diffuser from Pottery Barn.)
So we're sharing our list this week during our Mamas on Magic 107.9 radio show, which airs every weekday at 7:45 a.m. on Magic 107.9.
Tune in to see if some of our favorite things match up with any of yours. Or who knows? Maybe you'll discover a few new favorite things of your own on our list.
If you miss one of the radio segments, you can always hear them online. Just click the links below.
Click the LEFT side of the audio bar to hear Monday's segment:
Click the LEFT side of the audio bar below to hear Tuesday's segment:
Click the LEFT side of the audio bar below to hear Wednesday's segment:
The Favorites List:
Calengoo App
Face Swap App
Loved Mugs App
Kiehl's Hand Cream
Ms. Meyer's Brand of dish soap and countertop spray
Battery-operated candle with timer (from Pottery Barn)
Anthropologie Q&A a Day journal
Revlon Brow Fantasy
Purity facial cleanser (by Philosophy)
They're Real Mascara (by Benefit)
Shutterfly photo books
Sally Hansen Air Brushed Legs
Nars Satin Lip pencils (I like the color "Rikugien")
Fireworks laundry additive (by Gain)
Fragrance reed diffuser in Paper White scent (from Pottery Barn)
Fekkai Glossing Creme (hair product)
Style Edit (hair product)
Scentsy flameless candles