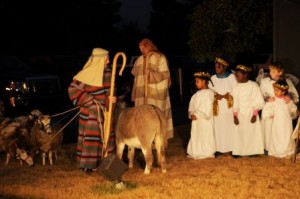 Rolling Hills Baptist Church will host a living nativity that's open to the public.
December 17, 2010
6 – 8 p.m.
Rolling Hills Baptist Church
1400 Rolling Hills Drive Fayetteville
A message from the church: Our annual gift to Fayetteville. Come join the fun and the solemnity as we re-enact that most amazing night. Just come down Rolling Hills Drive- we'll be the angels and shepherds on the north side of the street.
You can even put on an angel or shepherd costume and be part of the nativity. While you are here enjoy a FREE camel ride.
If you have any questions or for more information please contact the church office by email or phone at (479) 521-2660.