By Shannon Magsam, Elf-sized since 5th grade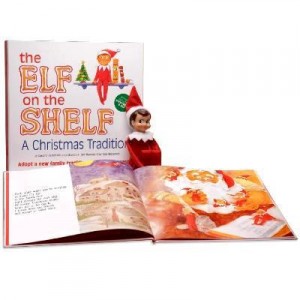 So I know many of you have an Elf on your shelf, too.
We named ours Elfis (he has some crazy hip action when he sings Blue Christmas) and he is so mischievous. Not only has he done some funny things around the house, one day he stowed away in my purse and insisted on going with me to Pilates and Chick-fil-A (I have photographic proof – see below).
We talked a little about elf antics on Motherlode's Facebook page the other day and some of the mamas had some great ideas. Jessica Simpson's elf jumped into a bowl of M & M's and got chocolate all over his face. Another day their tree was covered in silly sting and the elf was sitting on top of the tree with the can in his hand.
Jamie Stein's elf put a mustache on a Nick Jonas poster. Kristen Tjader Hargett's elf, Mistletoe, has gone for a ride in Barbie's convertible with his main squeeze, Barbie, played PS3, hung from the ceiling fan in a paper airplane, gone fishing in a goldfish cracker pond, made 'snow angel' in flour and has made snowmen out of big marshmallows (used sharpie to make faces on it). One day he even dyed the milk blue and Kristen's children refused to drink it.
Kristy Brown's elf, Martie, has a halo. She said, "We have our elf do good things 'cause we need all the good examples we can get for the three year old little man." Martie leaves small gifts like gum, notepads and pencils. One night the kind elf built a Lego tower. He occasionally draws small pictures and picks out what books the family will read for the day.
I know you're probably wondering about whether my daughter believes that Elfis is really magic. After rocking her world a few weeks ago about Santa Claus, Elfis appeared one day and we didn't talk about whether he was "real" or not. He gets into trouble and she likes it. I'm going with it.
So without further ado, here's a photo essay of a day in the life of the Magsam elf, Elfis: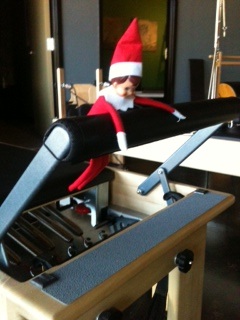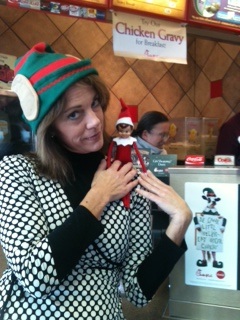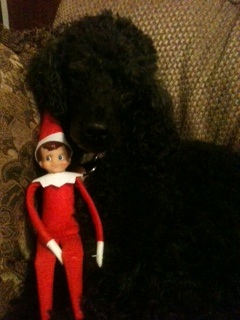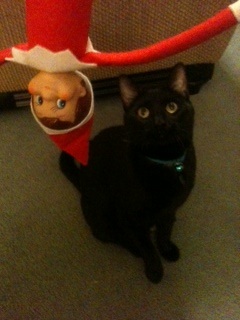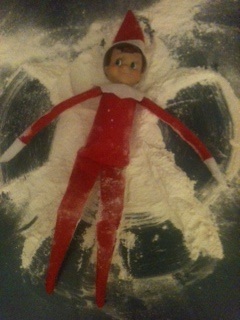 What is your elf's name? What has he (or she, if you bought one of those brand new Elf skirts!) been up to?
Shannon Magsam is mom to 9-year-old Ladybug, married to Ladybug's dad, John, and co-creator of nwaMotherlode.com. To read previously published installments of Life With Ladybug, click here.