We had so many questions for Dr. Fomin, we had to stretch them out over two days. Here

are his answers to our most pressing sleep questions:
There are several different reasons that might prompt a visit to a sleep specialist like Dr. Fomin. In this video podcast (click the icon on the right), Dr. Fomin reviews some of the red flags that signal you may need to see a doctor about sleep issues.
Q: Is there a general age for when a baby should start sleeping in his own crib?
A: No, there is no such age. The answer to this question pretty much parallels the first part of my answer to the question from yesterday about how to get a child to sleep on his own. However, there are several important safe sleep practices for infants that I would like to mention here:
Sleeping in the parental bed may pose a risk of accidental suffocation.
Crib mattresses should provide a firm sleeping surface, fit tightly in the crib, and no pillows or comforters should be used.
The distance between crib slats should be no greater than 2.5 inches.
Sleeping on the back reduces the risk of sudden infant death syndrome (SIDS). Remember "back to sleep" as a reminder.
Make sure the baby's face and head stay uncovered and clear of blankets and other coverings during sleep.
If a blanket is used, make sure the baby is placed "feet to foot" (feet at the bottom of the crib, blanket no higher than chest level, blanket tucked in around mattress) in the crib.
Create a "smoke-free zone" around the baby.
Avoid overheating during sleep and maintain the baby's bedroom at a temperature comfortable for an average adult.
Remove all mobiles and hanging crib toys by about 5 months of age, when the baby begins to pull up in the crib.
Remove crib bumpers by about 12 months, when the baby can begin to climb.
Q: What are the guidelines for the number of hours of sleep a child needs at night (by age group)?
A: What is "enough" sleep? The simple answer to this question is "the amount of sleep that a child needs to feel well rested." Parents are generally quite good at recognizing the signs that indicate that their child is "overtired" (whininess, moodiness, short fuse, acting "hyper") at the end of the day, but may heed help in recognizing that more subtle variation of these signs may be evidence of chronically inadequate sleep. The numbers given below for average sleep duration at different ages represent the best information that is currently available. There are individual variations in both sleep needs and tolerance levels to inadequate sleep, within certain basic parameters of human sleep needs. If parents are uncertain as to the amount of sleep their child needs to function optimally, monitoring sleep amounts and mood while allowing a child to sleep until he or she awakens spontaneously in the morning for at least 3 days (during vacation, for example) may help in sorting out this issue. Some general guidelines:
Newborns (0 to 2 months): 16 to 20 hours per 24 hours, may be higher in premature babies.
Infants (2 to 12 months): 9-12 hours at night; 1 to 4 naps daily for a total nap time of 2 to 4.5 hours a day
Toddlers (12 months to 3 years): 12-13 hours of total sleep per 24 hours. Naps decrease from two naps to one at average age of 18 months.
Pre-schoolers (3-5 years): 11-12 hours. Naps decrease from one nap to none.
School-aged children (6-12 years): 10 to 11 hours
Teens (12-18 years): 9-9.5 hours
Q: How long have you lived in NWA? What brought you to the area?
A: We moved to Rogers in July 2008 after I've retired from the US Army. My last duty station was in Germany. Until I came to interview for my job at Mercy, I have never been to Arkansas. We came here because I really liked the opportunity to work at the Mercy Medical Center. I liked the new hospital, the proximity of the physicians' offices to the hospital, the caring attitude of the people who work at Mercy. The shortage of neurologists and sleep specialists here served as an enticing challenge to me. It afforded me an opportunity to develop my practice the way I felt would be most beneficial to the community. I also was impressed by the warmth and friendliness of folks around here, by the family-oriented values of the community. I felt that this would be an ideal environment for my family.
Q: Where are you originally from?
A: I was born in St. Petersburg, Russia. My parents immigrated to the US when I was 15 years of age. Upon my graduation from High School in Brooklyn, NY I've joined the US Army. During my 26-year career in the Army I have been stationed in Texas, North Carolina, Washington, DC, Germany and Hawaii.
Q: Can you relate to any of the sleep issues your patients have?
A: Absolutely — both adults and pediatrics. On adults side of sleep medicine I am intimately familiar with the effects of sleep deprivation that so many of my patients with a variety of different sleep-related disorder experience. I have been exposed to prolonged periods of sleep deprivation both as a part of my medical occupation (internship, residency, being on call) and as part of my military affiliation (deployments, combat environment). I also know well what it is like to work shift-work. I did so for about five years as an enlisted medic in the Army while I was attending college in my off-duty time. I have done a lot of traveling for the military—this has familiarized me with the concept of jet-lag on a personal basis. Finally, my father suffers from obstructive sleep apnea syndrome, and if I can get him to be compliant with the therapy, I should be able to do the same to any other patient.
On pediatric side, being a father of three kids I can claim personal experience with sleep terrors, nightmares, night fears, sleep walking, bed wetting, bedtime resistance, challenges of transitioning of a child to independent sleeping, insufficient sleep and circadian clock variations in teenagers, ADHD, and medication effects on children's sleep. Whew!
Q: Dr. Fomin, I know you're also a neurologist. What are the typical neurological issues you encounter in children?
I see children in my Sleep Medicine practice since that was part of my training as a Sleep Medicine specialist. However, I don't see any patients younger than 18 years of age in my Neurology practice. To see children in Neurology one must have gone through specialized Pediatric Neurology Fellowship training which I have not done. Luckily, my partner, Dr. Balmakund, is a great Pediatric Neurologist who is Board Certified in General Pediatrics, Neurology, and Pediatric Neurology.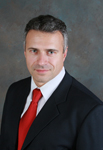 Dr. Fomin most recently served as European Regional Medical Command Consultant for Neurology and Department of Medicine Chief at Landstuhl Regional Medical Center in Germany. The Mercy Sleep Disorders Center, located at 2708 Rife Medical Lane in Rogers, can be reached at 479-338-3571. Fore more information, go to www.Mercy4U.com.