By Shannon Magsam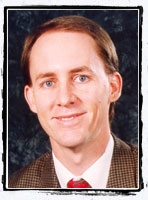 Dr. Hugh Donnell is a family practice/obstetrics physician at Rogers Medical Center, which gives him a unique perspective on the families in his care. He might see you for a sore throat one year and then share with you the good news that you're pregnant the next. But he doesn't have to send you to another doctor for obstetric care at that point.
As an obstetrician (whose group of six physicians at Rogers Medical Center has delivered more than 10,000 babies), Dr. Donnell can remain your doctor throughout the pregnancy and delivery. But these doctors take it a step further with continuity of care: the same doctor who saw your baby on the ultrasound when you were three months pregnant can treat your 3-year-old child.
Dr. Donnell answered some questions for us regarding his unique perspective on combining family practice, obstetrics and pediatrics:
What do moms need to know about the family doctors at Rogers Medical Center? The physicians provide high quality, uncompromising obstetric and pediatric care, which we regard as the most important aspect of our medical practices. We offer a viable and responsible choice for prenatal care in Northwest Arkansas.
What are the advantages of having the same physician when you're pregnant and after you deliver the baby? There are real and substantial advantages to attending the same physician for both obstetric and pediatric care, namely continuity of care. The process of creating a family is experienced (and I think seen by the patient) as a continuum from conception to delivery to well child care. We understand this, and our practice is especially suited to providing consistent support and care during this time. The last time we counted, we delivered 92% of our own personal patients, which is an important part of this process.
Family Practice physicians are trained in obstetric care following guidelines developed jointly by the Academy of Family Physicians and the American College of Obstetrics and Gynecology. The physicians at Rogers Medical Center are dedicated to providing uncompromising state of the art obstetrical care followed by high quality care of the newborn and infant. We have the unique opportunity to follow our patients through the entire creation of a family. We're not limited to just pregnancy or newborn care. This is a cornerstone to our practice, and our Ob and pediatric patients are very important to us.
What are the most important medical advances during the time you have practiced? Probably the use of corticosteroids in preterm deliveries to improve the premature infant's lung function and the constant improvement in ultrasound capabilities, now including 3D ultrasound by Dr. Lin Diacon. The most important factor in good obstetric care isn't technology or modern medical care, but experience, good sense, and attention to important details.
How do RMC physicians handle problems with pregnancy and childbirth? We care for a wide variety of problems in pregnancy, including complicated deliveries and Cesarean sections. We're supported by expert local obstetricians and pediatricians and the excellent services offered by Mercy Medical Hospital's Labor and Delivery and Nursery departments.
Dr. Lin Diacon exclusively practices ultrasound, with an emphasis on obstetrical ultrasound, at Rogers Medical Center. His expertise and reputation are unique to Mercy Health System, and he is well known nationally in ultrasound circles.
Do you have children? Yes, I have two – a 15-year-old boy and a 10-year-old girl.
How long have you been a physician at Rogers Medical Center? It will be 17 years in August. I'm getting to see some of these children I delivered grow up before my eyes. I get a different perspective than doctors who only deliver the babies. I don't just deliver their babies, I become their doctor. I get to see the whole picture and I like that.
To visit the Mercy Health System website, click on the banner ad at the top of this page.