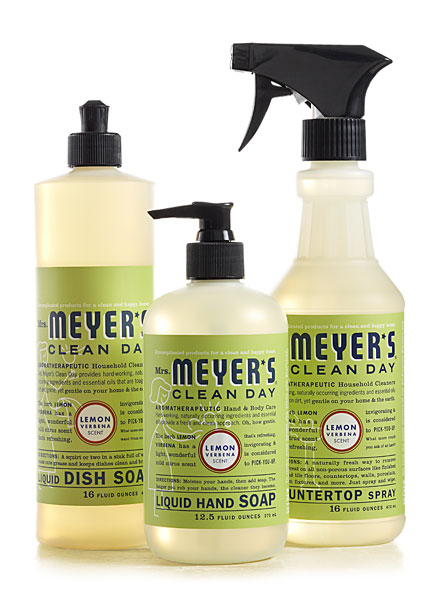 Note from the mamas: Congratulations to Barbie Tschirhart, Shannon, Kristy Brown, Angie Primm, Krystina Pepper, Amy Miller, Kelli Hafen, Sarah Dean, Brandi and Trisha! They won coupons to try Mrs. Meyer's cleaning products!
Have you ever tried Mrs. Meyer's Clean Day cleaning products?
Mrs. Meyers is a line of green (and effective!) cleaning products made by SC Johnson — a family company (who can resist saying the tagline?).
We've got TEN coupons to give away for FREE products — no purchase necessary. The coupons are worth up to $6 each. Yep, 10 moms will win!
They've got everything from countertop cleaner to hand soap to dish soap. These products smell great and come in pretty containers. The winners get to choose the products they'd like to try! (Click here to see everything they offer.)
HOW TO ENTER: Part of what makes Motherlode such a great resource for NWA moms is the advice we all share in comments and posts. For this one, we'd love to hear some of your best cleaning tips/tricks. All moms have a few unusual cleaning tips that they swear by. Click the comment button below and tell us a few of your faves. I'll go first: use a dryer sheet to clean soap scum in the sink or tub. I also use a lint remover to clean my lamp shades.
INCREASE YOUR ODDS: It's easy to increase your chances of winning! All you do is send an email to your friends/family about this product giveaway and be sure to put giveaways@nwaMotherlode.com in the CC line of your email. We'll give you an extra chance to win for each person you tell.
ABOUT MRS. MEYER'S CLEAN DAY: Believe it or not, Mrs. Meyer is a real person. Thelma Meyer's daughter, Monica, started Mrs. Meyer's Clean Day to create straight-forward, honest cleaners, that honor her mom's old-fashioned values.
They consist of a collection of household products with essential oils from flowers and herbs that smell nice, but really pack a punch against daily dirt and grime. Their garden fresh scents include Lavender, Lemon Verbena, Basil, and Geranium. All earth friendly, cruelty-free and not tested on animals.
WHERE TO USE YOUR COUPONS: Mrs. Meyers hand soaps are available at every Walmart, but not all the other products are. All of Mrs. Meyers products ARE available at walmart.com and can be found HERE.  (MAIN Walmart.com page with 40 items, free shipping)
Below is a behind-the-scenes tour with Mrs. Meyers: