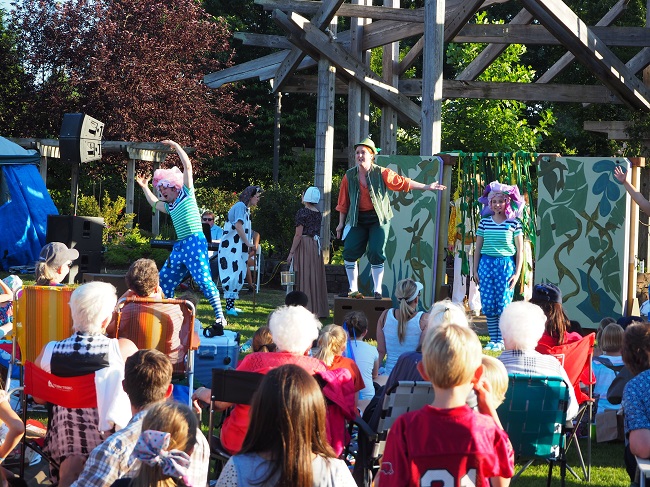 Opera in the Ozarks, the nationally acclaimed summer music festival and prominent training program in Eureka Springs, will perform a series of outreach operas in Northwest Arkansas and southwest Missouri especially for young audiences and their families.
Opera in the Ozarks will present "Monkey See, Monkey Do" at more than a dozen free or low cost performances held at area libraries and other community locations and open to the public. (See the July schedule below)
Based on a Mexican folk tale, Monkey See, Monkey Do is a delightful one-act bilingual opera by composer Robert Xavier Rodriguez. It tells the story of a sombrero seller whose hats are stolen by a band of monkeys – and who cleverly manages to get them back, while, incidentally, winning the hand of a lady.
Costumed and staged with a traveling set, Monkey See, Monkey Do is directed by Opera in the Ozarks' own David Ward, who is one of America's leading basso buffos. Monkey See features songs in English and Spanish performed by a cast of talented Opera in the Ozarks studio artists.
"David Ward, our master of silliness and fun, is directing this bilingual romp, complete with folk songs, Mariachi music and singing monkeys," said Nancy Preis, Opera in the Ozarks general director. "With elements of audience participation, children will have the opportunity to make their own noise, too!"
Each performance will last about an hour, with time afterward for children to get photos with and autographs from the artists. The July performance dates, times and locations are:
Eureka Springs Public Library | July 1 | 3 p.m.
194 Spring St. | Free
Eureka Springs Auditorium | July 6 | 2 p.m.
36 S. Main St.
Children Under 18: Free
Adults: $10
Bella Vista Public Library | July 10 | 2 p.m.
11 Dickens Place | Free
Springdale Public Library | July 11 | 11 a.m.
405 S. Pleasant St. | Free
Cassville Public Library | July 11 | 3:30 p.m.
301 W. 17th St., Cassville, Mo. | Free
Bentonville Public Library | July 13 | 2 p.m.
405 S. Main St. | Free
Green Forest Public Library | July 16 | 10 a.m.
206 E. Main St. | Free
Life Styles | July 17 | 1 p.m.
2590 W. Sycamore St. in Fayetteville | Free
Opera in the Ozarks' 2019 Summer Season "Changes of Heart" will continue through Friday, July 19, at the mountainside venue, Inspiration Point.
The season includes 22 fully staged and costumed opera productions — including new Ice Cream Sunday matinees; a special Chamber Music concert at Mildred B. Cooper Chapel in Bella Vista; a new Broadway Cabaret show at the Fayetteville Town Center and more.
This season's operas are The Abduction From The Seraglio, Mozart's rollicking comedy and an Opera in the Ozarks premiere; La Bohème, one of the world's most popular operas by Puccini; and the classic American opera Little Women by Mark Adamo based on Louisa May Alcott's story of the four March sisters.
Single tickets are $25 and $30 for adults, and $10 for children and students 18 and under with valid ID. Tickets may be purchased online at opera.org or by calling the Opera in the Ozarks box office at (479) 253-8595. For more information, visit opera.org.
About Opera in the Ozarks
Opera in the Ozarks, a not-for-profit organization, has been a training ground for young artists since 1950. Singers are selected annually from national auditions. Vocalists from more than a dozen states will take the Opera in the Ozarks stage during the 2019 season. The orchestra features talented musicians from across the nation. Over the years, Opera in the Ozarks has launched the careers of many talented singers who have gone on to perform in premier opera houses around the world.