First Friday: Toyland
The biggest toy event you may ever see. Walmart fills the Square with vendors who give out toys all day. Kids and parents can go crazy together and have a blast. Mainstage will be huge suprise and you won't want to miss it. 
Date: Friday, Nov. 3
Time: 11 a.m. – 8 p.m.
Location: Bentonville Square
More info: Click here
Triciclo Rojo's Vagabond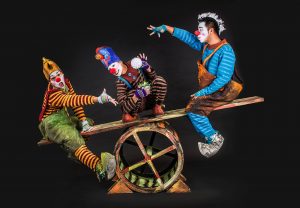 Vagabond offers families a fun, wordless theatrical experience of clowning, dancing and poetic images from Mexico's Tricicolo Rojo, a contemporary circus company linking the world of clowning with dance. The company has traveled the world bringing the art form of clowning to families new to circus arts. All tickets $1 — great for all, no matter their language.
Date: Saturday, Nov. 4
Time: 3:00 p.m. and 7:00 p.m.
Location: Arts Center of the Ozarks
More info: Click here
Fall Celebration
Join in the fall fun for all ages. See local authors, the Anime Cafe, and other local businesses for the "Geek the Library" event in the Community Room.  Play board games throughout the library as well as the Werewolf Roleplaying Game in the Glotzbecker Room. There will be a Cosplay contest from 10 am – 4pm. In the Children's Library [ages 0-12 years and their care givers]: Fall and Thanksgiving-related crafts and Face painting – 10:00 until 4:00, Carnival-style games and photo opportunities outside on the Library's west lawn – 2:00 until 4:00, and Pony Rides and Petting Zoo outside on Library's west lawn – 2:30 until 4:30.
Date: Saturday, Nov. 4
Time: 10 a.m. – 4 p.m.
Location: Rogers Public Library
More info: Click here
Super Saturday: Music With Leonardo
Parents' Choice Award-winning musician Leonardo will entertain with a fun, energetic Saturday morning jam session.
Date: Saturday, Nov. 4
Time: 10:30 a.m. – 11:30 a.m.
Location: Fayetteville Public Library
More info: Click here
Bam Bam Day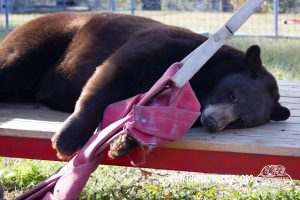 Join the celebration of Turpentine Creek's grizzly bear Bam Bam with a fun-filled day of activities and educational programs for all ages. Wildlife Interpreters Beckie and Hannah will be hosting hands-on activities like crafting bear enrichment, and sharing information about bears including their adaptations, diets, home ranges, and much more. Activities all day.
Date: Sunday, Nov. 5
Time: 9:30 a.m. – 3:30 p.m.
Location: Turpentine Creek Wildlife Refuge
More info: Click here
---
Our Friday 5 sponsor, Black Apple Crossing, always has a fun line-up of events during the week and on weekends. Have a date night or girl's night and check them out!
This weekend you can hear Fetts Folly (Friday, Nov. 3 at 8 p.m.) and Easy Mountain (Saturday, Nov. 4 at 8 p.m.).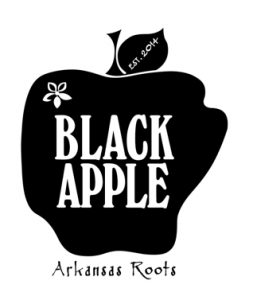 BAX also has Taco Tuesdays, trivia nights and book club events during the week! BAX has an event every Thursday called Sip & Stretch Cider and Yoga Night starting at 7:30pm. 
Black Apple Crossing is the state's first cidery. It's located in downtown Springdale off Emma Avenue just past mile marker 13. Black Apple Crossing has produced naturally gluten-free hard apple cider with no added sulfites or other preservatives since July 2015. Click here to visit the Black Apple Crossing website.
While you're there, try the BAX tart cranberry cider called Cranny Smith, which just released October 25!