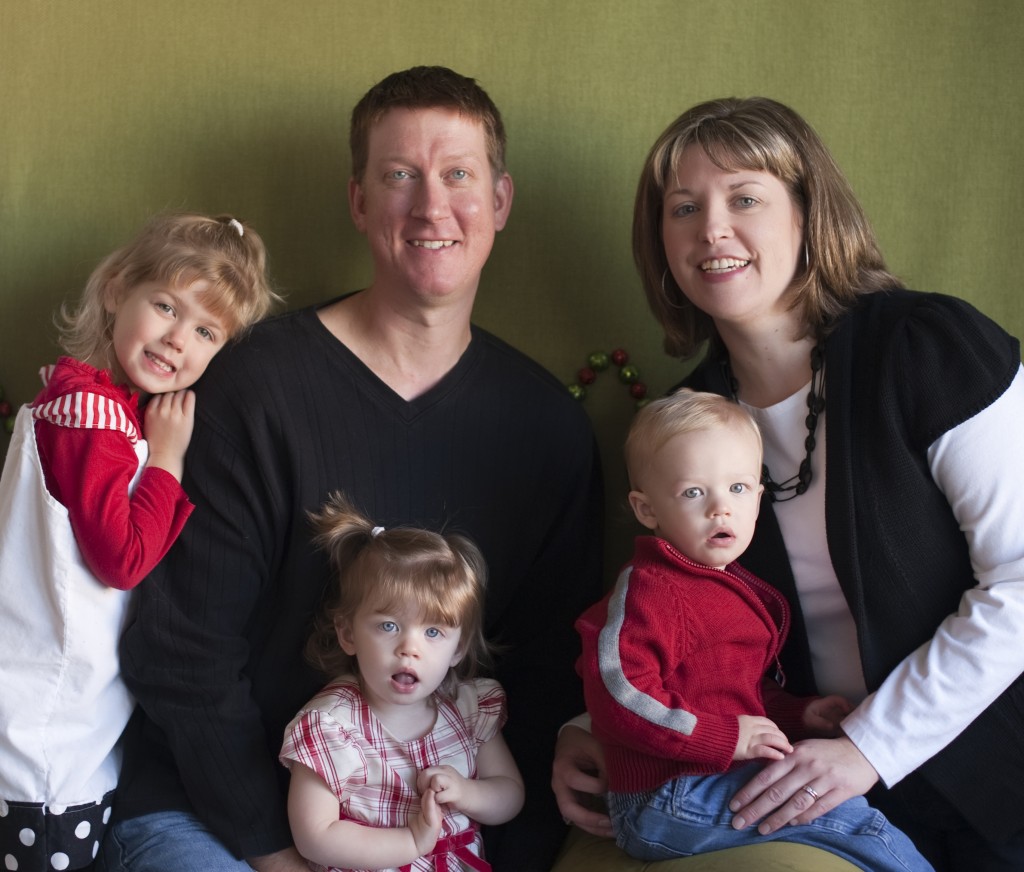 Name: Rhonda Bramell (blogs at Bramell, Party of Five)
Kids' names and ages: Becca, age 5,  and Evan and Carley, age 2
What are the challenges/perks to having twins? 🙂 Oh dear, that's a loaded question.  It's definitely a challenge not having enough hands–from trying to feed two babies at once when they were infants to now, as toddlers, trying to go somewhere if I'm alone with them.  One of the great perks is that the kids always have a playmate in each other; all three kids play well together.
Where are you from and what brought you to NWA? I am from small town Wynne, Arkansas.  My mother would tell you that I came to NWA to follow a boy, but 20 years later, I still won't own up to that.  Let's just say I came here to go to the U of A.
If you went back to college what would you study? Hmmm….I really don't know. I did not like school enough to go back.
What's your work background? I worked in the radio business for 7 years after college; doing station events and promotions.  I got to meet lots of musicians and celebrities along the way, which was very cool.  Now I work for the American Cancer Society, helping the medical community connect their cancer patients to our services.  I also recruit and train volunteers.
If you had a whole day to yourself what would you do? I wish I had a fabulous answer to this question. I cannot even tell you what I'd LIKE to do…it just never happens. Never.  But I'd probably end up doing something stupid like cleaning the house.
What's something you've been meaning to do but can't seem to get around to it? I've been meaning to help my 5-year-old daughter make a scrapbook from our trip to Disney World this past spring. I'm afraid that she'll be big enough to do it herself before I get around to it.
What are some of your favorite things to do with your kids in Northwest Arkansas? We take lots of walks—in our neighborhood, on the trails and at the parks.  We also like going to the the libraries for special events, concerts and storytime.
What's a make-up essential you couldn't live without? Does moisturizer count? I have horribly dry skin, so I use lots of it.
What would you do with an unexpected gift of cash? Finally, an easy question!  I would go pick out some new carpet. Today.  And I'm not even kidding.
What's one of the best pieces of parenting advice you ever received? From a friend of mine who also has twins: get them on a schedule from the beginning.  I did, and I think it's the only way we survived. They are still very routine-oriented, which makes it a little tough when we have to travel or disrupt the routine.
The worst? I'm sure there was plenty, but I can't think of anything now.
If someone wrote a song about your life right now, what would a good title be? Crazy Lady with a Messy House
One word to sum me up … Tired.