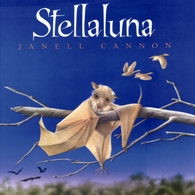 Robyn Jamison, mother of three in Bella Vista, is the thrilled winner of four tickets to see the musical adaptation of the lovable children's book, Stellaluna, by Janell Cannon. She'll also receive a gift certificate to Jose's Mexican Restaurant on Dickson Street.
"Laurie's going to be so mad that she told me about this and I won!" she joked.
Robyn, an Arkansas native who's lived in NWA for nine years, said she first checked out nwaMotherlode.com after friend Laurie Marshall sent her a link about the Stellaluna giveaway. The stay-at-home mom of two sons, ages 11 and 3, and a 7-month-old daughter, then sent on the information to a group of friends in her Mothers of Preschoolers group (locate a group in your city at www.mops.org).
Robyn, formerly a proposal writer at the University of Arkansas, was very complimentary of nwaMotherlode, saying it's easy to navigate and "is very well done."
"For those of us who get a lot of our news online, this is a nice way to receive that information," she said. "When you're home [with kids] like I am, it's easy to feel isolated."
We're glad we can help you feel connected to other moms just like you, Robyn! Gwen and I definitely want this to be a place where moms can interact, have a laugh and learn a little something new along the way.
Robyn said she expects to attend the play with her husband, Mark, a "computer geek" who works at IBM, and their two youngest children.
Just a reminder: tickets range in price from $10-16 and can be purchased by calling the Walton Arts Center Box Office at 479-443-5600 or visiting waltonartscenter.org.