17 ¶ This I say, therefore, and testify in the Lord, that you should no longer walk as the rest of the Gentiles walk, in the futility of their mind.  ~ Ephesians 4:17  (NKJV)
By Bro. John L. Cash
When I was 10 years old, my grandmother quit her day job and went on Social Security disability because of a heart condition. I was thrilled when she came to live in our house with us full-time. She was such a loving person, one of the most nurturing and caring individuals I've ever known. (That's her picture below, holding our son Spencer when he was a baby.) She wasn't a person who said too many negative things about other people. About the worst thing I ever heard her say about anybody was, "Well, you can't go by that."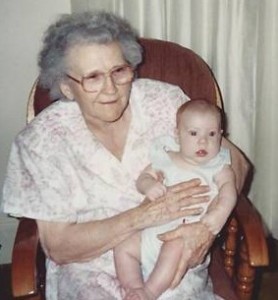 When you're a young person, your friends at school will tell you all sorts of fanciful stories. And when you're in grade school, it's tempting to believe  these things. I used to come running into the house breathlessly shouting the earth shattering news that was going to adversely-effect the world for us and everybody we knew. Things like, "School is going to be canceled for two weeks because of the energy crisis" or "Elvis has been sighted working at a shoe store in Minnesota!" My grandmother's response was invariably the same: "Where did you hear that?" I would tell her my sources. "Bobby Anderson" or "The National Enquirer." Her reply was always the same: "Well, you can't go by that."
"Well, you can't go by that." I guess it's another way of saying that you should always consider the source of information. In everyday life, I think we get better at this as we mature and become adults. But in spiritual pursuits, we don't always make the same progress. Too often we build our lives on information from unreliable sources. Most often this happens when we believe the lies Satan puts in our heads, instead of believing what God says in his holy Word.
Susan's favorite Bible verse is Proverbs 3:5-6:
5 Trust in the LORD with all your heart, And lean not on your own understanding;
6 In all your ways acknowledge Him, And He shall direct your paths.
It's wonderful to know you can trust God's Word with your entire heart. In doing so, He promises He will lead you in every part of your life.
But leaning on your own understanding? Don't even try it. After all, you can't go by that.
Dr. John L. Cash is the "Country Preacher Dad." He was raised in Stuttgart, Arkansas, and has spent the last 31 years being a country preacher in the piney woods five miles south of the little town of Hickory, Mississippi. (On week days has a desk-job at a public school, where he used to teach Latin on closed-circuit-television.) He and his lovely wife, Susan, live in the parsonage next door to the Antioch Christian Church (where the Preacher has a friend who refers to "the vain ideas of mankind" as "the static behind your eyes".)  Their kids include Spencer (age 25), his wife Madeline (age 25), and Seth (age 22), and his wife Leanne (age 21). You can send him a note at brotherjohn@ilovechurchcamp.com.