17 When Jesus heard it, He said to them, "Those who are well have no need of a physician, but those who are sick. I did not come to call the righteous, but sinners, to repentance."  Mark 2:17 (NKJV)
By Bro. John L. Cash, "Country Preacher Dad"
Who's the medic in your family? Most families have one. You know what I'm talking about — when someone is under the weather in your family, who "doctors" that person? When I was growing up, my grandmother was our first-line-of-defense-family-physician. The daughter of a midwife, my grandmother married a country doctor and spent decades working in a drug store. She knew more remedies than anyone else I've ever met. I learned a lot by watching her over the years.
So, as I became an adult, it was only natural that I'd become the resident medic when I started a family of my own. Something I've noticed is that when folks in the household are well and fine, they might poke a little fun at the person in charge of the remedies. I don't mind that; they laughed at Edison, and they laughed at Einstein, too. Besides, I've learned that when someone has their head resting on the toilet seat at 3 AM, they often call out for my assistance and treat me with a higher degree of respect.
I've brought about some miraculous cures in my lifetime, especially with animals. We once inherited a stray dog that was so sick that her digestive system was bleeding.  A consultation with one of the local farmers led us to believe the dog had a terrible infestation of parasites. I purchased some de-worming paste from the local Co-Op along with a bottle of penicillin and a syringe. The old man at the store wrote instructions on a scrap of paper: "Give the dog a 2 cc injection of this medicine." I went home and gave my canine friend a shot with the prescribed dosage. It was then (and only then) that I read the instructions on the back of the penicillin bottle. It read:  "Inject each cow with 1 cc for every 500 pounds of body weight."
I was just a little concerned after I read that.
However, the anti-parasitic paste and the massive dose of antibiotics must have done the trick. Two days later, our dog was up running around with a smile on her doggy-face. She was our beloved watchdog for over 10 years after that. The remedy had done its work.
We all know our physical bodies can experience illness. But did you know our souls and spirits can be sick, too? I've learned that spiritual maladies — things like discouragement and doubt, worry and depression — are just as real (and painful) as anything we experience in our bodies. That's when it is comforting to know that the Scriptures tell us that  God is "the Healer of all our diseases."  And that's when we cling tightly to Jesus, who we know as "The Great Physician."
Is it well with your soul this morning? If not, why not seek help from our Lord? He has provided the medicines that we need through His Spirit, His Word, and His Church. Put your faith in Him today. His remedies will do their work.
Dr. J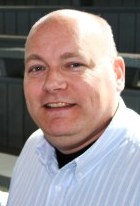 ohn L. Cash is the "Country Preacher Dad." He was raised in Stuttgart, Arkansas, and has spent the last 26 years being a country preacher in the piney woods five miles south of the little town of Hickory, Mississippi. (On week days he works at a public school.)  He and his lovely wife, Susan, and his sons, Spencer (age 20) and Seth (age 17) live in the parsonage next door to the Antioch Christian Church (where a favorite song about Jesus says, "None else could heal all our souls' diseases….) He would love to hear from you in an email sent to jcash@scott.k12.ms.us.