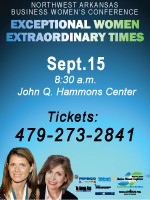 It's time to celebrate Northwest Arkansas women at the 11th annual Business Women's Conference. This year's theme is Exceptional Women Extraordinary Times and will be held on Tuesday, Sept. 15, at the John Q. Hammons Center. ANYONE can attend the conference, even if you're not "working" right now.
We spoke to Krista Khone of the Bentonville/Bella Vista Chamber of Commerce about the event — which the Motherlode mamas are definitely attending. In fact, we'll have our own booth this year and have several cool giveaways planned!
More from Krista about the conference:
How did you decide on this year's theme? We wanted the theme to be reflective of what is happening in our area right now, and across the nation, but we also wanted the focus to be positive and uplifting. Because there are so many women in our region that are exceptional and are doing great things, we wanted that to shine through.
Who would benefit from attending? Anyone will benefit from attending because the topics, and the speakers, are so diverse. There is something for everyone, whether you work for a Fortune 500 company, a non profit, own your own small business or are not currently in the workforce. There are topics that will address the "whole" woman as well as business-related issues.
What can women expect when they attend the conference? Attendees can expect a day of great networking, great education and incredible energy and excitement. First-time attendees are always surprised by the camaraderie that is felt among such a large, diverse group of women.
Who is your keynote speaker this year and why? Mia Hamm is our keynote speaker this year. We selected Mia because of her accomplishments on and off the field and because of the positive message she brings. She will inspire and motivate!
What are the various ways businesses can participate? Businesses can become a sponsor of the event, which provides them with booth space to market their business in person. Businesses can also provide items for the goody bags, which will help promote a specific product or general business, or they can advertise in the conference program.
Does size of the business matter? The size of the business does not matter. We have everything from the world's largest retailer all the way down to small, one-owner businesses. That's the great thing about being a part of this event-there is a fit for everyone.
How many women are expected to attend this year? We expect our attendance to be over 1,000. The event has grown each and every year.
Can you tell us who will win the coveted ATHENA award at the conference or is it top secret? We are thrilled to recognize Shirley "Peaches" Peterson as the ATHENA Woman of the Year.
Why do you feel it's important for women to attend this conference? There are so many opportunities for men to network and support each other, but there are few opportunities for women. Women can be each other's greatest critics and they can also be each other's greatest supporters. This conference is an opportunity for all women to come together in support and to share in each other's successes!