Dear Amy,
I love the feel of tinted moisturizer but want more coverage. What would you do in this situation?
Dear Coverage Girl,
I'm with you – I love the weightlessness of tinted moisturizer, but some days (okay, most days), my Mommy flaws need a little more concealing. When I want to look a bit more polished, I a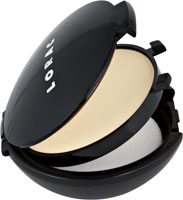 dd a light dusting of powder foundation on top of tinted moisturizer.
There are so many great powders that aren't "cakey" and thick. Some of my favorites are Clinique's Almost Powder Foundation SPF 15, Lorac Oil-Free Wet/Dry Powder Makeup (pictured at right), and MAC's Studio Fix. Remember to use a light hand when applying powder foundation and always use a big, fluffy brush instead of the round sponges that come with the compact. Good luck!