Dear Amy,
I'm confused about lip liner. Sometimes I hear that I'm supposed to line my lips and fill them in with the liner pencil. Then I hear some television make-up artists say they don't use liner at all. I typically line my lips and fill them in before applying lipstick, but I still end up with only an outline of color after a few hours. What's the best technique to achieve staying power?
Dear Confused,
I'm really not a fan of lip liner. I find it hard to get a good match with lipstick and it's one extra step that I'd rather not add to my already too-long makeup routine. I prefer using a lipstick brush – the fine tip of the brush gives you a more natural, but defined look without the obviousness of a liner. (Laura Mercier and Bobbi Brown make great brushes that you can pull apart and throw in your bag.) To get extra mileage out of your lip color, apply it with a brush, blot, then apply another coat and top with a dab of gloss. It won't last all day, but brushing it on helps it "sink" in and stay a little longer.
Dear Amy,
What is your favorite shade of lipstick to use when you need a natural, "go with anything" color?
Dear Natural,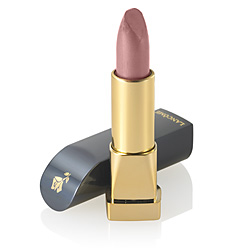 I love Lancome's Le Rouge Absolu SPF 15 in "Coquette." It's a fleshy, nudish pink that would be flattering to most skin tones and goes with everything.