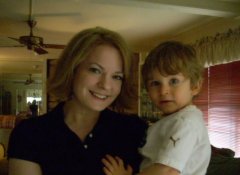 Your full name: Elizabeth Horton Tarver (I go by Elyse, I just "decided" one day a long time ago to do that. My parents weren't exactly thrilled with the name change and still call me Elizabeth!)
Your son's name and age: Jackson, 2 years 9 months
Where are you originally from? Tulsa, Oklahoma
What does your favorite outfit say about you? That I like classic simplicity with a little bit of zing!! (Black cowlneck sweater, dark washed jeans, and the trendiest pointiest-toed heels I can find! I love shoes!)
If you cooked for me, what meal would you make? My mom's recipe for Chicken and Noodles. If I had to choose a last meal, this would be it. Ultimate comfort food, and easy. You should come over some time!
What is one of the funniest things that's happened to you as a mom? My five year old nephew taught my son the "F" word.. Well, not THE "F" word but the one that involves passing gas. There is nothing like being at a nice restaurant while your son announces to all "MOMMY FARTED!!" as loud as he can. I swear, it was the ketchup bottle!! Of course, when he saw the big laugh he got out of that, he had to go around the table and accuse EVERYONE of doing it, including his grandparents! I think we all were cracking up over that one. Thankfully, he has forgotten that word for now, though I'm sure it will appear again, probably at Church!
One of the worst? It's actually one of the worst and one of the best. We adopted Jackson at birth. His incredible birth mother had 10 days to change her mind. I remember holding him the first night we brought him home from the hospital and looking into his eyes, praying as hard as I had ever prayed that he would be our son forever. The thought that he could have been taken from me at any second during those ten days, along with knowing that a young girl who I loved dearly was grieving the loss of her child, made me an absolute wreck during those 10 days. It was a very tough time, but so incredibly worth it.
What are your favorite hobbies? I'm into hard core couponing, which sounds so dorky, but it's fun and much needed these days! My personal best is when I saved $31 at Walmart, though the people behind me in line were not exactly appreciative of my endeavor.
Which song best fits your life right now? I'll kick it back to old school 1990's:"Hand in my Pocket" by Alanis Morrisette. Life is all about balance, something I am still learning to do everyday!
What's something you're really looking forward to? I'm in a local mom's club that literally keeps me sane. We go out a few times a month for "Mom's Only" dinners. There is one next week, I'm already trying to figure out what to wear! Great gals, great conversation and the best part…no kids OR husbands to entertain during dinner!
Something you'd like to forget? We did years and years of fertility treatments before deciding to adopt. Synthetic hormones made me insane. Every month we would find out we were not pregnant, and every month my heart would break a little more. I had a lot of guilt because I couldn't give my husband a biological child. When I look at Jackson now, I wouldn't change a thing, and I know my husband  feels the same way. DNA does not matter at all when it comes to love- Jackson is every bit a part of us, as we are of him.
How do you like to relax? I grab a trashy celebrity gossip magazine, run a hot bath with tons of bubbles, settle in and get caught up in the lives of Brangelina and see what celebrity fashions are in style; you know, important stuff!
What's your favorite place in NWA to hang out with Jackson? When it is nice outside, I love the Pinnacle Mall playground. I usually rent him a car stroller there, do a little retail therapy, let him play for a bit, split a sundae at Dairy Queen, and finish the day with a carousel ride. It doesn't get any better than that!
What's your go-to NWA date night activity? Dinner anywhere that doesn't hand out crayons and coloring placemats. We really like to try to find new lesser known places to try. We will sometimes try to see a movie that doesn't involve talking animals or cartoon vehicles in it as well.
If a genie granted you three wishes,what would they be? Perfect health for those I love, I would love to adopt another child again soon, and financial security for the rest of our lives.
Best advice you received about motherhood? Listen to your intuition, and ignore everyone who tries to give you unsolicited advice.
One word to sum me up … Lively