With Thanksgiving comes thoughts of food. Lots and lots of food!
That has us reading books about food. And these all have lots of great recipes to try.
The Kitchen Counter Cooking School: How a Few Simple Lessons Transformed Nine Culinary Novices into Fearless Home Cooks by Kathleen Flinn. We LOVE all the tips in this book. Kathleen actually visits the homes of nine strangers volunteers and pokes around in their refrigerators and cabinets. She shares about each, specifically what they are eating now and what goals they have.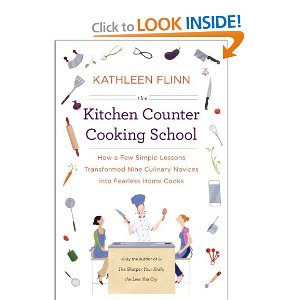 The author not only looks around at what's in their pantry, she also looks at what's in their heads — as in the hang-ups they have surrounding food. So the book is not only full of good ideas and recipes, you also get to get a glimpse inside the minds of other women. She basically weaves great cooking tips in with each person's unique narrative. Kathleen also wrote The Sharper Your Knife, the Less You Cry about her time at the Culinary Institute.
A few quotes from the book's volunteer subjects:
"This may sound dumb, but I used to think the stuff in a box was something you couldn't make. Now I know they all just mimic real foods" ~ Jodi, 32, mother of a fussy 3-year-old.
"I don't have to down the frozen food aisle looking for dinner anymore. I now have the confidence to look at any recipe and know that I can make it." ~ Sabra, 22, consumed frozen or fast food daily.
"After years of trying to find the 'secret' to battling my weight, I found it — in cooking." ~ Donna, 25, newlywed.
French Kids Eat Everything is all about how professor Karen Le Billon "moved to France, cured picky eating, banned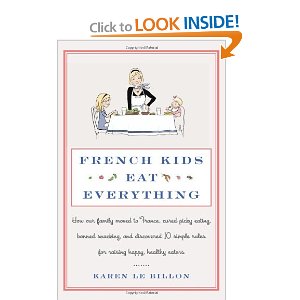 snacking, and discovered 10 simple rules for raising happy, healthy eaters." There's a list of recipes in the back, for French food like Crepes (Savory and Sweet Pancakes); Bouillabaisse for Babies; and Les pommes au four (Spiced Baked Apples); and Mamie's Chocolate-Stuffed Baguette.
Among the 10 simple rules are "no snacking" and "avoid emotional eating". It was good to be reminded that: "Food is not a pacifier, a distraction, a toy, a bribe, a reward, or a substitute for discipline." I mean it was a good reminder for me.
Another food book that's not quite in the same category is The South Beach Wake-Up Call. Dr. Arthur Agatson is back with a book subtitled, "Why America is still getting fatter and sicker."
Agatson uses case studies of real people he's met in his practice to help drive home his points about healthy living. In the back he offers "megarecipes" for healthy eating, including Black Bean Chili with Tangerine-Avocado Salsa and Layered Salad with Creamy Cilantro Dressing.
The book isn't just one big commercial for the South Beach Diet, but he does break down what the diet is all about and how it helps with healthy living. In general, it's filled with good advice about how to be healthy, not only through diet but lifestyle. That includes exercise, enough sleep and reversing our toxic lifestyle.
Do you have any awesome books to recommend about food? Or just any book you're loving right now? If so, click the comment button below and share with the rest of us!