4 Let each of you look out not only for his own interests,
   but also for the interests of others. ~  Philippians 2:4 (NKJV)
By Bro. John L. Cash
Whenever I'm teaching, it's my custom to each "school lunch." When I started out as an educator, I carried a sandwich each day. My grandmother caught wind of this and said, "John, if you'll go ahead and eat the hot lunch you'll do better. I know that food cooked for a bunch of people generally isn't as good as what is cooked at home. But if you'll eat the cafeteria lunch, you'll eat more vegetables and more fruit. It'll pay off in the long run."
Since my grandmother experienced remarkably good health (and lived to be 94-years-and-363-days-old) I figured she might know something about the subject of diet. Because of her, I always eat the hot lunch. Thirty years later — so far, so good.
(My mother, who is now 85 years old, recently told me what to choose in the school cafeteria. "John, always pick the beans if they have them. They have iron in them." So, I always get the beans.)
Last week we had something of a mix-up in the lunch department. Thinking it was a "60% Day" (and that the students would be leaving early while the teachers had meetings), the lunchroom ladies prepared a traditional short-day-sack-lunch. As it turned out, we weren't dismissing early. We could've had a regular hot lunch.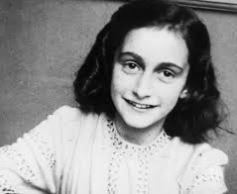 My English III classes have been reading Anne Frank: The Diary of a Young Girl — a young Dutch girl who hid with her family for 2 ½ years until they were captured by the Nazis. If Anne had not perished in a concentration camp, she could have turned 91-years-old this coming June. Even though the story is very old, it seems to me that my students are still taking the message of Anne's Diary to heart. They told me they had eaten sandwiches, chips, carrot sticks, sliced apples, and brownies for lunch—and that Anne Frank would've thought this was a very good lunch. It made me very proud of them.
Perhaps that's the purpose of reading history and biographies of the lives of others. The word "compassion" comes from roots that mean "I suffer beside you." Before we can be compassionate, we must be aware of the suffering of others. And once we've done that, we're in a position to comfort and strengthen the hurting in any way we can.
So, let's look around this week to see what Jesus needs us to do. Then let's share His love in every way possible.
Dr. John L. Cash is the "Country Preacher Dad." He was raised in Stuttgart, Arkansas, and has spent the last 34 ½ years being a country preacher in the piney woods five miles south of the little town of Hickory, Mississippi. He's currently on a sabbatical from the preaching ministry, and is an English teacher at the Choctaw Tribal School. He and his lovely wife, Susan, live in a brick house in town (where the sun finally came out again on Friday after a long vacation.) You can send him a note at brotherjohn@ilovechurchcamp.com.