2 And walk in love, as Christ also has loved us and given Himself for us, an offering and a sacrifice to God for a sweet-smelling aroma.  Ephesians 5:2  (NKJV)
By Bro. John L. Cash, "Country Preacher Dad"
I've been working with students as a public educator for over 20 years. I've taught 4th graders and high school seniors, and most of the grades in between. Something I've learned is that if you can get young people to talk to you, you can gain them as a friend, find out what makes them tick, and (hopefully) help guide them in the way they should go. But it all hinges on getting them to talk to you.
There are a number of tactics you can use to get them talking. It sounds ridiculous, but one question I often ask kids is "What did you eat for breakfast this morning?" You see, it works because it's a totally non-threatening question, and there's no wrong answer. Once you get them to start talking, and once they figure out that you're not a threatening person in the least, well, you can take it from there. You've gained a friend for life.
Over 15 years ago, I met a little grade school boy who was a special education student. I asked him my famous question, "What did you eat for breakfast this morning?" He gave me a very surprising answer: "A bologna sandwich."
See how this simple question and answer opened up the possibility for a great conversation? I then asked if he liked bologna sandwiches. He admitted that it wasn't his favorite food, but he liked them ok, and he ate one every morning. He told me he didn't have a father, and his mother worked the night shift. Every morning, there were three bologna sandwiches (with mayonnaise) in plastic bags in the refrigerator — one for him, and one for each of his two younger siblings.
I asked him what he had to drink with his breakfast. He said that they didn't have anything to drink. You just ate your sandwich while you stood at the curb and waited for the bus. You could get a drink of water from the fountain when you got to school.
I taught the young man for a number of years after that. He would move up a grade, and my principal would change my schedule so that I'd be teaching a subject in the higher grade. I think I taught him for a total of five years. Then my teaching assignment totally changed. I went to work at a high school vocational-technical center. I didn't see the boy for several years. Then he showed up at the vo-tech as a high school junior, and we were glad to see each other.
I asked the young many if he still ate a bologna sandwich for breakfast. He smiled and said, "Mr. Cash, I never, ever, eat a bologna sandwich! I'm 17 years old now. I get up and cook breakfast for my family — eggs and bacon, grits and toast." Then he told me he wanted me to come down to his classroom to see his car. In his auto mechanics class, he was giving his vehicle a tune-up and adding new spark plugs. He told me he worked as a mechanic after school to make the car payments. I was pleased to see how he was growing up. You see, you can strike up a long-lasting friendship if you just ask the right question.
Now, here's the most important part. One of the things I do at my school job is administering standardized tests — often one-on-one or with only a few students at a time. In filling out the answer sheet, I always have to inquire about their date of birth. And very often I will say, "Oh, you just had a birthday. What kind of cake did you have?"
As you can imagine, I get all kinds of answers. Some kids have a Sponge Bob cake from the bakery. Some kids have a cake in a 9 by 11-inch pan, made by their mother. One boy didn't like cake, so his grandmother always made him brownies.
But not too long ago, after talking to a student, I had a sudden realization. In my line of work I sometimes give standardized tests to high school kids who are in special programs set up for people who are in trouble; these students are really just two steps away from being thrown in jail. Out of all those kids that I've worked with, they all have something in common. On their last birthday, none of those kids had a birthday cake.
Someday the scientists will probably do research on that fact. Perhaps they'll find out there's some compound in confections-sugar-icing that makes people want to follow the rules. Or maybe they'll discover that there's some hydrocarbon in the fumes of burning birthday-candle-wax that causes you to make better decisions.
But, I'm pretty sure they'll find out something different from that. I bet they'll find out that it makes a big difference in kids' lives when they have at least one person who would never let them have a birthday without a birthday cake.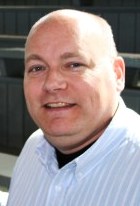 Live for the Lord Jesus. Brighten the world. Be that person.
Dr. John L. Cash is the "Country Preacher Dad." He was raised in Stuttgart, Arkansas, and has spent the last 26 years being a country preacher in the piney woods five miles south of the little town of Hickory, Mississippi. (On week days he works at a public school.) He and his lovely wife, Susan, and his sons, Spencer (age 20) and Seth (age 17) live in the parsonage next door to the Antioch Christian Church (where the Preacher's sons once bought him Batman and Robin plates on his birthday.) He would love to hear from you in an email sent to jcash@scott.k12.ms.us.