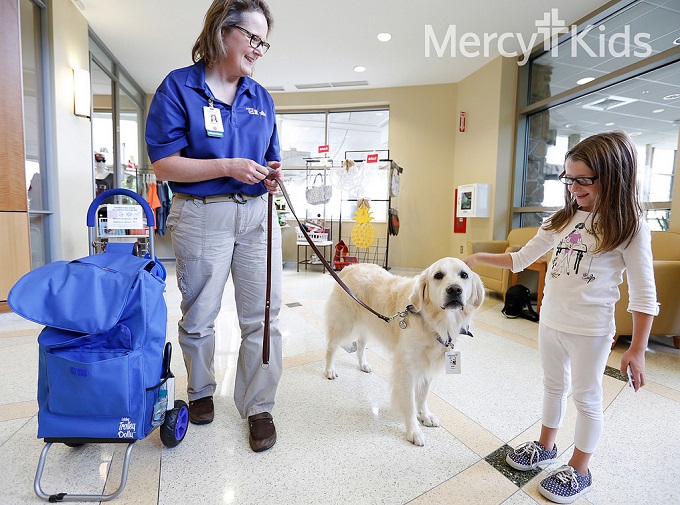 Stephanie Ensley is a veterinarian at Sugar Creek Animal Hospital in Bentonville, where she works with companion animals.
She's also a volunteer for Mercy Health's Therapy Dog Program and makes all the difference to kids — and adults — who are often under a lot of stress.
We interviewed Stephanie about Dirk the Therapy Dog and her role as a volunteer:
How long have you been volunteering in general and at Mercy?
Dirk and I have been volunteering as a Pet Partner Team since early 2013. We started at Mercy when the Therapy Dog program was introduced in 2015.
My hospital volunteer work dates back to teenage years as a "Candy Striper" and later an adult auxiliary member. It's a great way to combine my love of Therapy Dogs with my passion for hospital volunteer work. Dirk also works with Arkansas Children's Hospital/Lowell, with a children's library program and nursing/residential living centers.
What do you typically do during visits?
Our visits at the hospital vary. Our main job is to help people smile or relax. Petting and brushing can be part of that. Some days we listen to people tell stories about important dogs in their lives. Sometimes Dirk practices his social skills, like shaking hands when he meets new people.  Dirk has been known to just nap and be present for a while.
He also visits with staff members. Health care providers have a lot of responsibilities and demands. Sometimes we can provide a short, take-a-breath-and relax break in a hectic day!
How old is Dirk and how did he get to be a therapy dog?
Dirk is 5 years old now. He started visiting hospice friends when he was just six weeks old. He would take a nap on their laps! When he got a little older, he went through formal obedience training and then took his official therapy dog test when he was almost 2. He continues to participate in enrichment interactions and training. Dirk is formally evaluated for certification every two years.
What is his favorite treat or toy?
Dirk is a big fan of miniature marshmallows, goldfish and apples. He likes dog treats too, but we use human safe treats when we visit so that if one of our friends forgets the treat is for Dirk that is not a major problem.
Dirk's favorite toy has to be his dragon….he sucks on it like a binkie when he goes to sleep at night. Just as a parent would do with a favorite binkie … we always have a backup!
Anything else we might be curious to know about you and Dirk?
Dirk is one of 3,044 Golden Retrievers across the U.S. enrolled in the Golden Retriever Lifetime Health Project. Much like the American Cancer Society Study in humans, these dogs are tracked for the life of the dog….data is recorded about how they live and blood samples are banked every year to look at health and potential markers for cancer that affects so many dogs. Arkansas has 21 Golden Retrievers enrolled in the study!
On a lighter note — little known fact — Dirk has been to 35 county court houses in Arkansas. Dirk and I are both native Arkansans and we stop at county court houses as we drive around our home state. Dirk is a great traveler!
Thanks for letting us interview you, Stephanie. And Dirk! May you continue to uplift and bless everyone you encounter along the way 🙂