By Gwen Rockwood, newspaper columnist and mama of 3
Last night I had a dream about getting a haircut.
In the dream, I donned my protective mask and went to a store to buy a box of do-it-yourself hair color – something I've never been daring enough to try before. While I was there, my hairstylist saw me shopping and spotted the box of hair color in my hand. Then she wrestled it away from me, insisting she'd cut my hair and color it for me since it might go terribly wrong if I did it myself. I was thrilled to be back in professional hands, and the dream ended with a stylish cut and a sunny blonde color.
Then I woke up and discovered that my hair is still shaggy, muddy brown and graying rapidly at the roots. It was all just a dream. This is one of the things that happens when you spend weeks on end at home during a global pandemic. You start having fantasies about something as simple as a haircut.
On a recent video conference call with two of my college friends, I told them that one of the places I'm most looking forward to going again (once it's allowed) is the hair salon. Back in January P.C. (pre-coronavirus), I decided to let my hair get longer and grow out my bangs. I blame the decision on a photo of Jennifer Lopez that I saw online. Her hair looked so good in the picture that it made me want to try to make mine look the same way. (In hindsight, I'm not sure what I was thinking. I'm pretty sure Jennifer Lopez must be drinking the tears of unicorns to achieve her brand of age-defying glamour. Clearly, I set the goal too high.)
By mid-March, just when I was beginning to rethink the decision to grow out my hair and bangs, the world changed. Salons (and most everything else) closed indefinitely. Suddenly there was no going back on that grow-it-out decision. And I've regretted it these past few weeks as hair falls over my eyes like a disgruntled sheepdog roaming the house.
I complained about my sheepdog status yesterday on a phone call with a friend who said she understood. She said her own missed haircut has made her short hair morph into a mullet. I seriously doubt it's as bad as a mullet, but it made me feel better to know I wasn't alone. I guess miserable sheepdogs love company.
I've tried ponytails and headbands to get the hair out of my way, but they're just a Band-Aid on a hair hemorrhage. The heart wants what the heart wants, and this one wants a haircut. But I don't think the longing is just about hair. It's what the haircut represents.
For most women, a haircut is a ritual of renewal. It's a fresh start. And with the coronavirus chaos swirling around us, it's no wonder we want a dose of renewal – a chance to make something better – even if it's a small thing.
Hair is also one of the few things over which we have almost total authority. What other part of your body can you change so dramatically in only an hour or two with zero recovery time? And at a time when so many parts of life look unrecognizable, we crave the control a trip to the salon offers.
While watching the news yesterday, I saw footage of protesters standing outside their state capital, and one of them was holding a sign that read "I need a haircut." While I empathize with the bad hair day desperation, a haircut is trivial when compared with a highly contagious virus that has killed more than 40,000 people in only two months.
So, I'll wait it out. And like so many others, I'll keep dreaming of life A.V. (after-virus).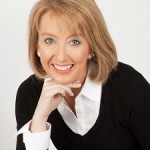 Gwen Rockwood is a mom to three great kids, wife to one cool guy, a newspaper columnist and co-owner of nwaMotherlode.com. Her book is available on Amazon.