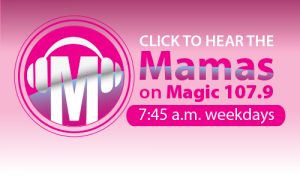 We have so much fun with our radio show, Mamas on Magic, which runs every weekday at 7:45 a.m. over at Magic 107.9.
We recently talked about the "Mom Brain" during one of our 90-second segments and, in case you missed it, we wanted to share. It's a real-time listen to the types of things that might be going on at any given time in a mother's head.
Can you relate?
Listen and see if you recognize how fast a train of thought can derail when you've got Mom Brain (or read a transcript from the Mamas on Magic segment if you like to read rather than listen!):
Good morning. I'm Gwen and I'm Shannon and this week we're sharing a few words and phrases from our own personal Mama Wikipedia
Yes, and today we're going to discuss Mom Brain. Instead of offering a definition, we thought we'd just give you a little peek INSIDE the Mom Brain to help describe this phenomenon.
Why don't we set the scene? Mom is at the grocery store. She somehow made it there ALONE to shop. But her kids are still with her. In HER HEAD.
Listen to the subject's Mom Brain engage, right there in the frozen vegetable aisle:
"Green beans, great, fabulous, but my kid won't EAT green beans. That child will probably get rickets if I don't get some green beans into her body – no, wait, rickets are related to oranges, right?"
"Oranges! I forgot the flippin' oranges. Now I have to go all the way back to produce because I forgot the CUTIES for snack at soccer. I'm sure everyone will love oranges instead of Oreos. Well too bad. I'm gonna be that annoying healthy mom. No junk food!"
"Ooooh, Milk Duds! I haven't had any Milk Duds since our last date night at the movies. When was that? Six months ago? GAHHH, I can't remember. I've GOT to get a sitter or we're probably headed to divorce court."
OK, pause. That was just a little peek into the Mom Brain, which, as you can tell, is very, very full. If we moms occasionally hesitate when you ask us a question – or we seem to be staring into space a lot  – just realize we're probably having a very rich inner dialogue that would be HIGHLY entertaining if you could hear it out loud.
No doubt. Well, thanks for listening and we hope your mom brain has a few minutes of downtime today.
Happy Thursday, everyone!