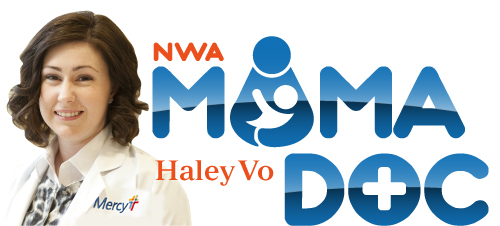 By Dr. Haley Vo, Mercy physician and mama of 3
I remember Halloween of 2005 very clearly.  I was 31 weeks pregnant with our first child. As my husband was out of town, it was my job to open the door and pass out candy to the few drenched trick-or-treaters we had that night.  At the time, I was in the fall of my final year of medical school. I was working on the pediatric infectious disease service at  Arkansas Children's Hospital.  I'd had a healthy pregnancy so far. I hadn't missed a single day of school. I'd spent my first trimester on my general surgery rotation, arriving at the hospital at 5 a.m. and leaving at 7 p.m.
My second trimester was spent trying to impress residency programs to which I would be applying. And then there was the third trimester. I'd taken the second step of my boards, and was finally enjoying some elective time. As I lay on the couch between the ringing of the doorbell, I wondered how I was going to continue to work for another 2 months. I felt terrible. I had a pounding headache that would not go away. Over the last week, I had suddenly been unable to fit into my shoes. Even my flip flops didn't fit. I had to go buy a pair of slip on shoes to wear to work. Things were getting rough, and I wondered if I was tough enough to make it to the end of my pregnancy and still be working everyday.
The next morning, I arrived at the hospital, and my attending physician (AKA "the guy who would be giving me my grade") asked how my head was. When I told him I was still pretty miserable, he instructed me to leave and go straight to my obstetrician's office. Being the "good" medical student that I was, I elected to stay and round. I made an appointment for after lunch, and continued my day. Before lunch, we were done rounding. At that point the attending directed me to go sit in my OB's office until someone could see me. So I did. And then things started moving quickly.  Within minutes of checking in, I was being admitted to labor and delivery. My blood pressure was significantly elevated. My kidneys were not functioning as well as they should have been. My liver seemed to be a little irritated.  It was official – I was diagnosed with preeclampsia.
I was given steroids to help mature the baby's lungs in a hurry. Though initially I was told that we were hoping to have 12 hours to let the steroids take effect before delivery, we were lucky. I was able to wait 3 days. So, on November 4th, 2005, my oldest daughter was born. She weighed in at 4 pounds, 2 ounces, and was the most beautiful thing I had ever seen.
Suddenly, we were thrust into parenthood. Not just parenthood, but the strange world of the NICU. In order to hold my child, I had to scrub my hands down with a surgical brush. Though I was dying to show her off, only grandparents were allowed in her room. There was a list of emergency drugs above her crib based on her weight for the week – drugs meant to help start her heart if it stopped, drugs to help relax her muscles to put a breathing tube in her throat. Thankfully, she never needed those drugs. We were very, very lucky. After 41 long days (and even longer nights, when I had to leave my daughter at the hospital), she came home. I'm telling you all of this because I swore that I would never let another mama have to have her baby stay in the NICU if I could help in some way.
November is Prematurity Awareness Month. In the US, about 1 in 8 babies is born prematurely. This is defined as a baby born before the 37th week of pregnancy has been completed. In Arkansas, the number is slightly higher. The US has set a goal to decrease this number to less than 1 in 10 by the year 2020. I want to share some things that you can do to help have a healthier pregnancy and infant.
STOP SMOKING! This is a big one. From heart defects to breathing problems to ear infections, we know that smoking while pregnant and while around your baby is detrimental to your health, as well as your baby's health. There's just no way for me to sugar coat it.
In addition to not smoking, make sure you are not drinking alcohol or taking any drugs other than those approved by your doctor.
Take a prenatal vitamin with at least 400 micrograms of folic acid daily when you are trying to become pregnant. Better yet, take a vitamin with folic acid in it every day, whether trying to get pregnant or not. Low levels of folic acid have been associated with spina bifida and other problems with babies' spines and skulls. These problems occur before most women realize that they are pregnant. And since 50% of pregnancies in this country are unintended, it's best to be prepared.
Try to be a healthy weight prior to becoming pregnant. Women whose BMIs (body mass index) fall above a healthy range (18.5-24.9) have higher risks of gestational diabetes and high blood pressure. Those whose BMIs are lower have a higher risk of preterm labor. Most women should be able to continue an active and healthy lifestyle during pregnancy without worrying about preterm labor.
Call your healthcare provider if you have abdominal pain or cramping, vaginal bleeding, or feel like you are leaking fluid during your pregnancy. These can be signs of preterm labor, and sometimes your doctor is able to give your medicine to stop preterm labor.
Also call your healthcare provider if you have severe headaches, changes in your vision, or bad pain in the upper right part of your belly, especially in the 3rd trimester. These can be signs of preeclampsia, and need to be checked out.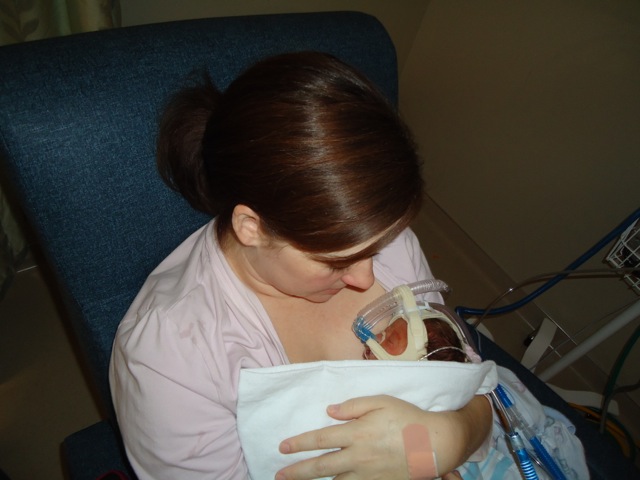 Of course, most premature births are not preventable. Even though I knew all of these things and never wanted anyone else to endure a NICU stay, it happened to me again. Our 3rd child was also born at 32 weeks, again from high blood pressure, and I got to have the same experience all over again. So there's one more thing I want to share:  if you know a fellow mama with an infant in the NICU, remember that it's a very stressful time.
Offer to bring her dinner, fold her laundry, take her kids for a few hours. But maybe even more importantly, give her some encouragement. One of my sweet friends, Jenny, brought me a card while my youngest was still in the hospital. I was having a rough week. I was spending days at home with my 2 oldest children, and nights in the NICU, plus any other time I could find there. I was pumping 8 times a day (often while driving down 540). I was trying to hold my household together, and I was not doing a very good job of it. I was still recovering from my c-section, and the thing I was neglecting the most was myself.
One afternoon, I slept through the alarm to pick up my oldest child from preschool. I jumped up, sobbing, threw my middle child in the car, and drove as fast as I could to the school. They were sympathetic and understanding, but I felt like a failure of a mother. Jenny heard about all of this, and brought me a card the next day, telling me that I was doing a great job and was a fantastic mother. It still makes me tear up to think about it. It was exactly what I needed
So, fellow mamas, try to keep yourselves healthy, especially when you are pregnant. If you know a mama that has a sick baby, help her out however you can. She will appreciate it more than you know. And Happy Prematurity Awareness Month!
To visit with Dr. Vo in person, you can schedule an appointment with her by calling the Mercy Clinic Primary Care Sugar Creek in Bella Vista.  It's located at 24 Sugar Creek Center and the phone number is 479-876-1414. Same day appointments are available at the clinic.
If you have a general health question for Dr. Vo, you can email it to mamas@nwaMotherlode.com and she may answer it in a future post.