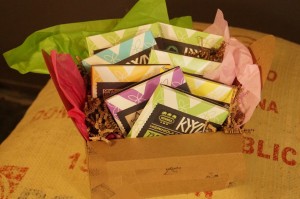 KYYA Chocolate, Northwest Arkansas' first bean-to-bar chocolatier, focuses on finding the best cacao beans around the globe and hand crafting chocolate treats at their factory in Elm Springs.
This year, kids ages 6 to 16 will have the unique opportunity to learn all about the chocolate-making process in fun summer camps.
Kamp Kyya students will learn the entire chocolate making process including the decision of which cocao (pronounced ka-kow) beans to use, and how to mold the chocolate into bars and other confections once the chocolate-making process is complete.
"Last year I taught my kids to make chocolate now I'm going to teach (other) kids to make chocolate," Kyya co-founder Rick Boosey said. He and wife, Cindy, have four children.
The hands-on, craft chocolate classes will be split up by age and will run 4 days (Monday – Thursday).
The first class starts on June 1 and registration is open now. Space is limited and availability is on a first come, first serve basis for these sessions:
Session 1 – June 1 – 4
Session 2 – June 8 – 11
Session 3 – June 15 – 18
Session 4 – June 22 – 25
Session 5 — June 29 — July 2
Class times for each session will be divided by age:
Ages 6 – 8 years old: 8:00am to 9:45am (Parents are encouraged to stay and learn with their young students)
Ages 9 – 12 years old: 10:00am to 11:45am
Ages 13 – 16 years old: 12:00pm to 1:45pm
Cost is $85 per student for 4 days of instruction, practice and lots of chocolate to share.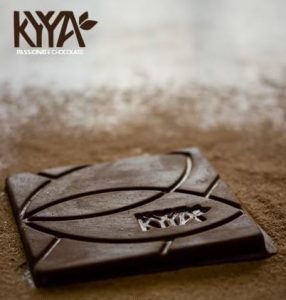 Classes will be taught at the KYYA Chocolate Factory in Elm Springs, Arkansas. (NW corner of Hwy 112 and Elm Springs Road)
If you're going to the NWA Mom Prom, you'll be able to try some of Kyya's delicious chocolate varieties. Kyya, one of our dessert sponsors, is bringing three different types of chocolate for our tropical-themed prom.
Of course, Kyya chocolate can be found at a variety of retail stores across Northwest Arkansas.
If you're interested in visiting the chocolate factory to see the operation and to buy your chocolate direct, here's good news:
Starting June 15, Kyya will open its facility in the afternoon to sell limited edition chocolate products.
The more than 45 retail locations that sell Kyya chocolate offer an assortment of four different origins. The Kyya store will offer different origins such as Peru and Papua New Guinea; and it will also offer special infusions such as coffee, bacon and chai tea.
Click here to visit the Kyya website and to find out more or email classes@kyyachocolate.com!