Marsha Foster has a tough time explaining her job in just a sentence or two. The short answer? She's a photographer. But she's not shooting photos of sunsets or babies or families or seniors graduating from high school. Her particular brand of photography — boudoir photography — is perhaps the most misunderstood art form out there. But after talking to Marsha, looking through her portfolio and looking around the Freedom Dreamer Photography studio, we can tell you what boudoir photography is NOT.
It's not pornographic.
It's doesn't demean women.
It's not trashy.
Rest assured that if it was ANY of those three things, we wouldn't be writing about it here. Here's what boudoir photography is: You know how sometimes your husband (or boyfriend) looks at you like you're the most beautiful girl in the world? And you know how he sometimes says that he thinks you're gorgeous and sexy — (even though you sometimes convince yourself that you look awful and you've got 10 pounds of baby weight to lose and your hair isn't right today, and, and, and, and….?)
Boudoir photography captures images that help you see yourself the way your husband sees you — as that beautiful, feminine and, yes, even sexy woman that you are. And you know how they say that "seeing is believing"? When women see themselves through Marsha's lens, they start to realize that they really are beautiful. And even years of raising babies and chasing toddlers can't erase that beauty or diminish the spark that lives in each of us.
When women begin to feel and act as beautiful as those photos, Marsha's work is done. Because boudoir photography is about women. Even though many women have boudoir photos made as a gift to their husbands, it's the women who come away from the experience having gained a new sense of confidence and appreciation for the bodies we so often criticize or fail to appreciate.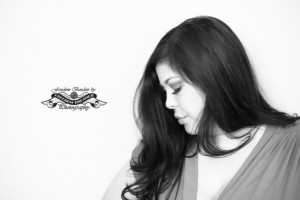 As a survivor of domestic abuse, Marsha knows what pain and ugliness look like. She has lived it. But when she climbed out of a bad marriage, she fell in love with photography. And when she saw how boudoir photography could capture women in their most feminine, confident moments, she was hooked. She wanted to give women that sense of power, beauty and liberation.
Listen, we know that boudoir photography might not be something you've ever even considered. Believe me, we hadn't considered it either. But when we saw the essence of what it really is — photos that celebrate femininity, confidence and personality — we realized it could be a powerful thing for women who deserve to feel as pretty as they are, inside and out. And we can all agree that feeling beautiful and confident tends to do great things for a marriage, too.
Boudoir photos can be as bold or as conservative as you want them to be. As Marsha told us, it's her clients who decide how much or how little they want to show in their photos. The photo shoot is about capturing what makes the client feel beautiful. Some of our favorite photos in Marsha's portfolio are of a woman wearing a dress she feels beautiful in. And check out this one of a woman wearing a favorite sweater and leg warmers.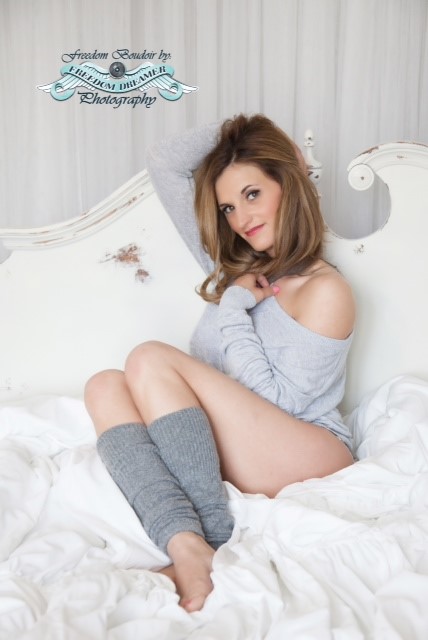 And we love this shot of a woman in her blue jeans, who was smart enough to capture a photo of that great mid-drift. (Do you know how glad she is going to be that she has this picture so she can look back on it when she becomes a 90-year-old grandmother one day?)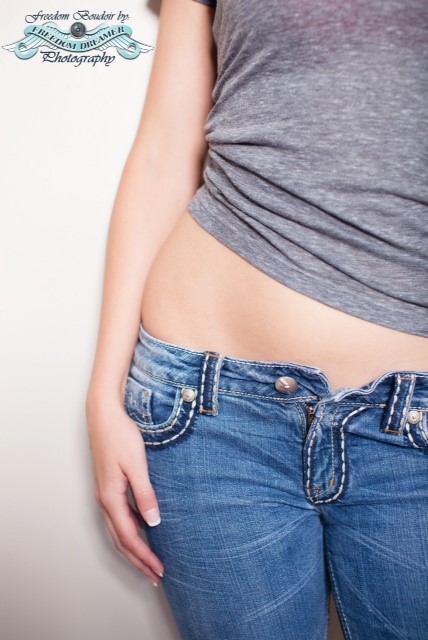 And if you've got great legs, why not capture them with the kind of shot that would make your husband's eyes get as big as plates?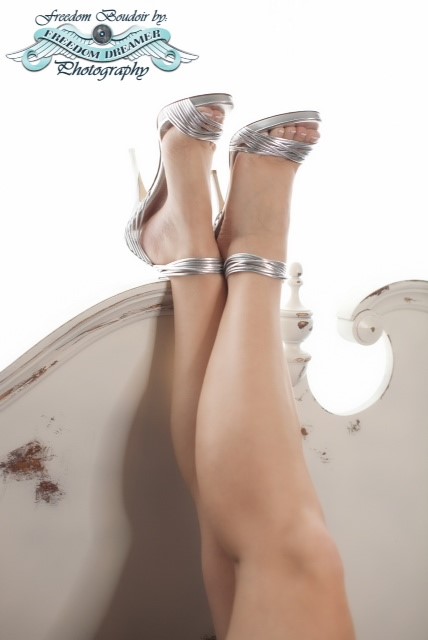 For the most part, you won't see anything in tasteful boudoir photography that you wouldn't also see in a Victoria's Secret catalog. And let's admit it: It'd be pretty great to have a shot like this wearing something lacy and beautiful.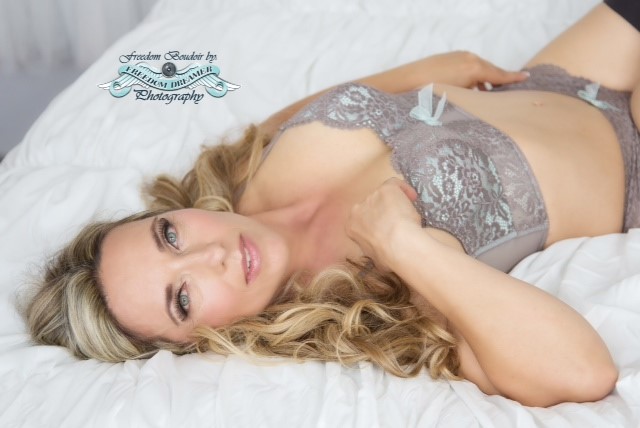 In a few weeks, we'll be hosting a giveaway from Freedom Dreamer Photography which will feature what Marsha calls a "Full Day of Sexy" — a consultation several days before the photo shoot, a two-hour session with a professional make-up artist and hair stylist right before the shoot, and then a 3-hour photo shoot with Marsha. The winner will also get an in-person viewing, complete with assistance to help you choose the best images for your album. You can have pictures made in whatever outfits you like — jeans, a dress, a favorite sports jersey, lingerie or whatever makes you feel great.
For more info on Marsha and Freedom Dreamer Photography, click HERE to visit her site. Or give her a call to talk about it at 479-841-5539. Marsha is a fellow local mom, and we guarantee she'll put you right as ease. (If you'd like to have photos made as part of a Christmas gift to your husband, we'd recommend you call asap so you can get photos back before the holidays.)