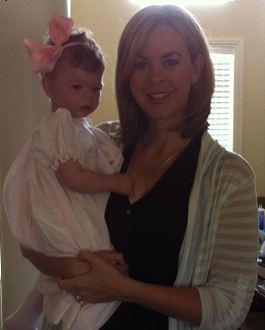 Name: Paige Smith
Children's names and ages? Preston 11, Dawson 7, Mary Grace 18 months
We know that when you were pregnant with your third child, you had some major health issues. How are you doing? Good. I had a large blood clot develop when I was pregnant and still have side effects from it, but I'm better. I also have an arterial venous malformation (AVM) that is located in my pelvis and around my uterus. It was discovered when I was pregnant. I'm going to be seen at Duke medical center some time this summer for evaluation of this. I'm looking forward to getting some answers and expert medical advice. Surgery is in my future.
You mentioned that Mary Grace has Williams Syndrome. Can you tell us a little about that? Williams Syndrome is a rare genetic disorder that is caused by a deletion of genes on chromosome 7. It's occurrence is every 1 in 10,000 births. It's just a fluke thing that happens. The research still isn't clear what causes this and there is no cure. WS is characterized by medical problems, developmental delays, and learning disabilities. These occur side by side with striking verbal abilities, highly social personalities, and an affinity for music. WS kids have similar facial characteristics also.
We are taking it day by day and love watching Mary Grace grow and learn at her own speed. We are also trying to be very proactive and learn all we can. Sometimes I'm the one teaching the doctors. I am the area representative for Williams  Syndrome Family Of Hope (www.wsfamilyofhope.org) It's a non profit organization that is trying to serve families, offer support, education, financial assistance, and raise awareness to WS families. It's families serving families, and our motto is "Differently abled.. Beautifully perfect. Hope is an open heart."
Where are you from and how long have you lived in NWA? I grew up in Lenexa, KS until I was 12 then my family moved to Bryant, AR. My husband and I both went to school at the U of A, and after a few years away from Fayetteville, we moved back and have been here for almost 15 years. We love it and it is HOME!
Tell us about your work as a nurse: I have the perfect job I work every other Saturday at an urgent care clinic. I work to make a little extra money, keep my skills current, and to get a break!
What's your favorite thing about summer? I love that my kids are home, we can relax, enjoy the pool, and have some time to decompress from a busy school year.
Do you have any special plans over the break? We always go to Destin, FL for vacation with extended family. We have a great time. We also will go to Dallas and visit family for a few days.
What are your favorite things to do in NWA? Of course, we love Razorback sports, we also love walking around the Farmer's Market. I personally love Crystal Bridges. I've only been once and can't wait to go back. We also enjoy all the bike trails!
One thing I have been meaning to do is: Try all my pins on Pinterest! Ha!
What's one make-up essential you wouldn't want to live without: mascara
I always have these three things with me: my children, iPhone, and diaper bag.
How do you relax at the end of the day? I read or watch TV. Even it is for 15 minutes if I am all by myself, I soak it up.
One word to sum me up … Blessed!