Happy Friday, mamas! Today we're kicking off the Summer Snapshot Contest, sponsored by Smile Shoppe. We'd love to see some of your favorite summer pictures — past or present.
To offer a little snapshot inspiration, I found a couple of my favorite snapshots from the summer right after we started the website in 2008. As you can see in the shot above, my three kids were little at the time (6, 4, and 1-year-old) and were fully embracing the freedom of summer afternoons. One of their favorite activities was stripping down to underwear and running through the sprinkler while wearing rain boots. Even though the shot is a tad fuzzy, I just love it — the look on those little faces, our toddler's arms raised high in pure joy, and the memory of how those simple little moments at home made them so happy.
HOW TO ENTER: Get some of your favorite shots submitted for the Summer Snapshot Contest! Just send up to 5 photos per month to gwen@nwaMotherlode.com. Our judges will select a winner at the end of August. The mom who submits the winning snapshot will win a 16×20 gallery-wrapped canvas prepared by our friends at Scott Frame and Art.
Save
Before I wrap this up, here's one more summer snapshot from 2008 that melts me into a pool of mama butter. Our youngest, Kate, loves the water and she has always been more than happy to be the first one to dip a toe in the pool. Looking forward to seeing your snapshots soon! Email them to gwen@nwaMotherlode.com.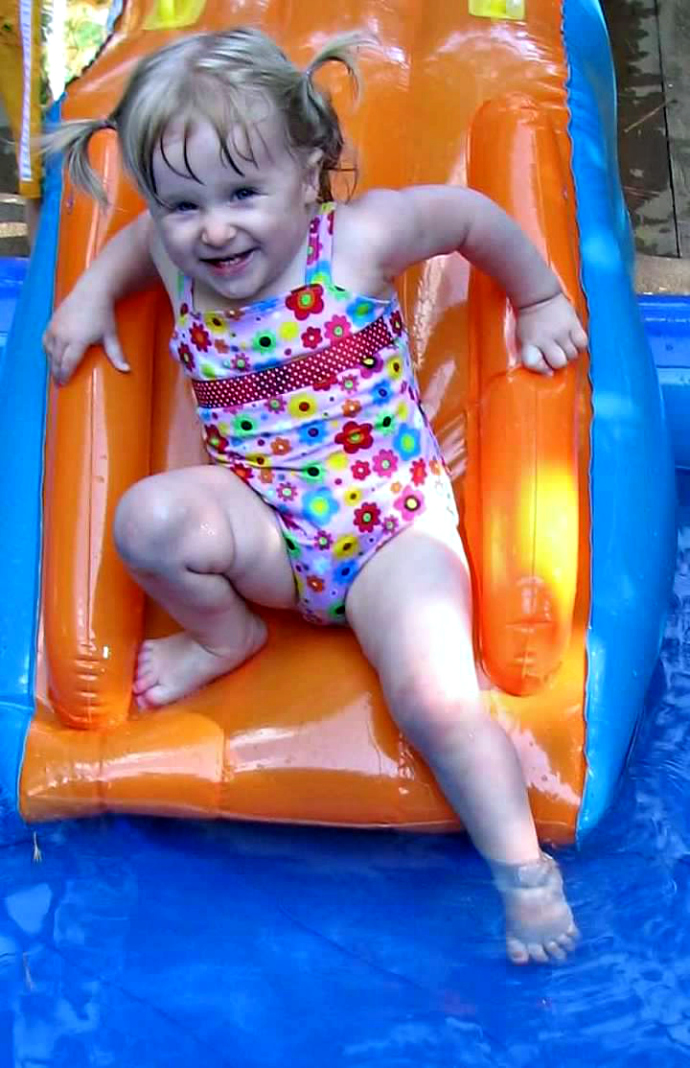 The Photo Category, which is always full of smiles, is sponsored by The Smile Shoppe, a pediatric dental practice with offices in Rogers, Springdale, Bentonville and now a new location that just opened in Fayetteville. (Call the new Fayetteville office for appointments at (479) 966-4100.)  The Smile Shoppe specializes in the treatment of infants, children, adolescents as well as children with special needs. Dr. Jeffrey Rhodes ("Dr. J")  and his team are the only all-board certified pediatric group in Northwest Arkansas. Click HERE for more info on the Smile Shoppe. (And let your kids check out their fun website which also includes free coloring sheets and online games.)