Editor's note: Fayetteville Martial Arts is a paid sponsor in the featured section of our 2019 Northwest Arkansas Summer Camps & Activities Guide. This story offers additional information about their Kids Taekwondo Summer Camps as well as contact info.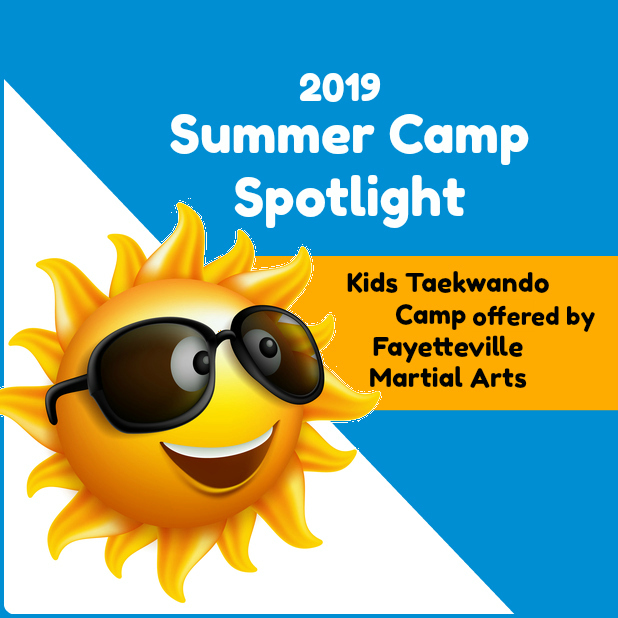 Kids Taekwondo Camp
About taekwondo camp: We (the owners of Fayetteville Martial Arts) are proud to have served families in the area for the past 35 years. Campers learn & apply the meaning of Courtesy, Integrity, Perseverance, Self-Control and Indomitable Spirit. Each will experience six training sessions per day, which will include age-appropriate self-defense, team building, basic, intermediate and advanced stances & kicking drills, tournament and testing preparation. Our camp will reignite the fire for each camper to train harder and re-apply lessons that they are learning in their home. Anyone can attend camp and there are options for overnight, half overnight and day camps. Students from TX, OK, MO, TN, IN and all over AR travel to attend. There's a 100 camper maximum. For more information, contact Program Director Master Randy Edwards at Fayetteville Martial Arts 479-274-8314 or  info@fayettevillemartialarts.com
Address of camp: North Arkansas College, 1515 Pioneer Drive, Harrison, AR 72601
Phone: 479-274-8314
Dates: June 16-22
Age group(s) served: 6-17, no experience necessary
Cost: A $49.00 deposit per camp attendee or payment in full is required at the time of registration. The balance is due by Monday, June 11. There are three camp options: The first is to start on Sunday (Full Overnight Camp, 7 days). The second option is to check in on Wednesday (Half Overnight Camp, 4 days). The third option is to choose specific days at a daily rate.
CLICK HERE for all the details about Taekwondo Camp.