Recommended Christmas and holiday books to read with your little ones
By April Wallace, Northwest Arkansas mama and Early Childhood Editor for nwaMotherlode.com
A couple years ago, I noticed that a friend of mine had a basket of books at the base of her Christmas tree. It was filled with Christmas/holiday books so her kids could pick what they wished and bring it to her to read together.
I thought that was such a lovely way to keep reading a top priority that we immediately started keeping a Christmas book bin at the foot of our tree, next to a comfy chair. Each night now we get our boys in pajamas, hand them a bedtime snack and settle in for some family reading under the tree.
You might remember some of our holiday reads from last year, but as always we have come across some new-to-us titles along the way. Grab one of these, a blanket and hot cocoa for an easy, fun new Christmas tradition.
If, God forbid, we ever lose our copy of Dinosaur's Night Before Christmas by Anne Mucke, two things would be certain: my children would never ever forgive me, but I'd also be able to recite it from memory, without hesitation in any circumstance. In this gem of a tale, a dinosaur-obsessed boy who lives across from (what seems to be) the Natural History Museum wakes to odd noises in the middle of the night only to discover that there's a dinosaur ball with Santasaur every Christmas Eve. The dinosaur skeletons grow skin and scales anew and do all the Christmas things—lighting their yule log, drinking eggnog and giving smooches under the mistletoe. If you buy this book, be sure to get the copy that has a CD with dino-themed carols and Al Roker reading the book aloud. We keep it on repeat in the car as we run all of our holiday errands.
How To Catch Santa by Jean Reagan (who wrote How to Babysit a Grandpa) is another book that's on constant repeat in our house. Kids have a lot of questions for Santa, not to mention lots of things to tell him and maybe even gifts to give him. That's why this book, which has very detailed instructions and diagrams for catching Santa on Christmas Eve night, might tickle their fancy. If your kids are anything like mine, you won't be able to skip any part of the book in future reads because they will notice and bring it to your attention. "You missed the part that tells us clues that Santa's been here!" "What about last-minute prep!"
How Murray Saved Christmas by Mike Reiss and David Catrou is a spectacularly silly tale of a diner owner taking over the biggest delivery job of the year. Murray doesn't know the names of Santa's reindeer, but he gets the job done—even taking the time to load socks with bagels and lox and assuage a 6-year-old's fears. He gets such a kick out of the gig that he goes on to deliver presents to all the bad girls and boys, too. If your kids fall in love with this one too, be sure to find the animated holiday special. It's free on Peacock, or for rental on Apple, YouTube, Vudu and Prime.
Nibbles Christmas by Emma Yarlet is currently our Christmasy naptime read. This easy, lift-the-flap board book takes us on a rhyming holiday journey with our favorite book monster. He munches all the presents—the robots, toy soldiers and balloons and even crashes the toy rockets. I appreciate that this is a counting book without my boys even really recognizing it as one, which always helps to sneak in some education in a fun way.
We all love Mr. Willowby's Christmas Tree by Robert Barry, a picture book that illustrates just how far one Christmas tree can go. When rich Mr. Willowby gets the biggest tree he's ever seen, the top has to be trimmed so it will fit in his house. You'll never believe how many animal families make their own Christmas tree from that little castoff shaving. I love how far the joy spreads from just one tree and how content each family is with their little evergreen.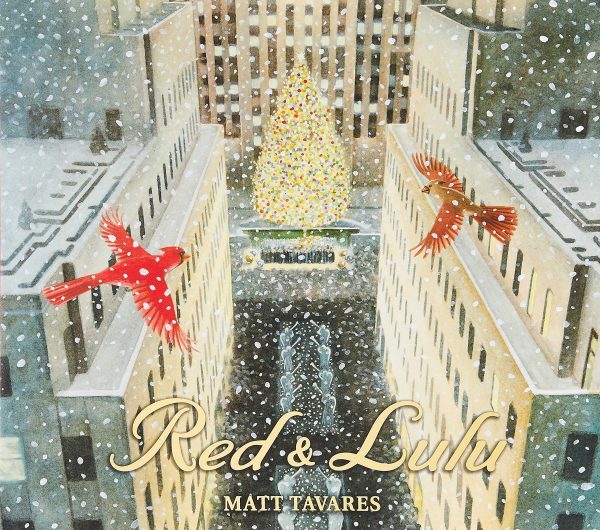 Red and Lulu by Matt Tavares is a simply gorgeous picture book about two cardinals who live in an enormous tree. Their world is upended one day when Red goes out for breakfast and Lulu gets trapped as the tree gets transported to Rockefeller Center. After a long journey, the two are reunited and spend a cozy Christmas season over the tourists on the ice skating rink, and then go on to live in Central Park. Don't miss reading the history of the Rockefeller Center Christmas Tree on the last page—a little trivia treat for the parents.
How Do Dinosaurs Say Merry Christmas? by Jane Yolen and Mark Teague tickles my boys as they imagine dinosaurs having the same naughty impulses to get up and check for Santa in the middle of the night, rip open the presents well before it's time and eat all the cookies left out for St. Nick. Equally silly is the second half of the book, where the dinosaurs model good behavior: caroling, trimming the tree and eating their dinner to name a few. Merry, merry Christmas, you good dinosaur!
In Pete the Cat Saves Christmas by Eric Litwin and James Dean, our favorite blue cat delivers presents to boys and girls all over the world while Santa is recovering from a bad cold. Like many of the Pete books, it has rhyming prose and a sing-songy chorus. "Give it your all, give it your all. At Christmas we give, so give it your all."
When children fail to catch Santa Claus, they turn their sights to the little elves. They get creative, using eggnog rivers, dinner cannons, Christmas mazes and bonbon bombs. How to Catch an Elf by Adam Wallace and Andy Elkerton always keep my boys on their toes as they await to see if the elf will stay free.
Little Tree by Chris Raschka is a sweet story of a little tree with a big dream of leaving the forest to become a Christmas tree. We follow his journey to the city where he fulfills his destiny. He finds a family who loves him and a home that was waiting for him all along. We are not alone in loving this tale: it won the Caldecott Medal in 2006. Don't skip the beautiful E. E. Cummings poem at the beginning!
The Not Very Merry Pout Pout Fish by Deborah Diesen shows us that the best gifts are not from a store, but from the heart. Our beloved Mr. Fish is disappointed that all the shops have closed before he could find the perfect presents for his friends, but Ms. Shimmer shows him how to make meaningful gifts with his very own fins.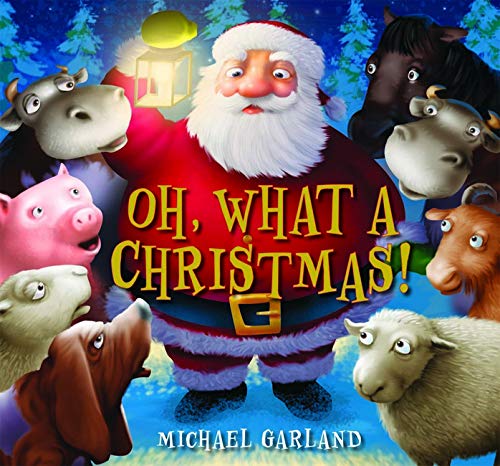 In Oh, What a Christmas! by Michael Garland, Santa's reindeer harness snaps in two, but Dasher, Dancer, et al don't notice, leaving Santa stranded at a farm's barn. He has no choice but to enlist the help of a sleepy sheep, two cows, a goat, a pig, a horse and a very old dog. Will they get all the presents delivered tonight? Will they have time for milk and cookies?
The Itsy Bitsy Reindeer by Jeffrey Burton and Sanja Rescek modifies the itsy bitsy spider song to illustrate a kid reindeer's life at the North Pole. We were excited to find this book because we fell in love with The Itsy Bitsy Snowman of the same series last winter.
There's An Elf in Your Book by Tom Fletcher is one of my 2-year-old's current favorites. In it, you get to take the "Nice List test," but watch out because the elf will try to trick you into doing things that definitely fall under the "naughty" side.
Another book you can sing along with is If You're Jolly and You Know It by Ali Fronis and Yi-Hsuan Wu. This brightly animated book features all the holiday characters—Santa and Mrs. Claus, elves, reindeer, nutcrackers, polar bears and snowmen—to modified verses of  "If You're Happy and You Know It," another toddler pleaser around here.
A Christmas Carol by Jennifer Adams and Alison Oliver is an adorable BabyLit book that introduces this Christmas classic through colorful illustrations and single word pages. My toddler likes to repeat the word and find the object on the opposite page.
The Christmas Treats pop-up book, which I believe we picked up at the Dollar Tree, gives us a close-up look at elves' other job: baking and making all those sweet treats that end up in stockings. This is a perennial favorite of Elliott's, my little foodie.
Did we miss your kids' favorite Christmas book? Leave us a comment and we'll check it out. Merry Christmas to you and your readers…and to all a good night!
April Wallace is a stepmom to one smart, funny teenager, mama to two
beautiful and curious baby boys and wife to a very kind and generous man. She spent the past decade as a news reporter, sometimes lifestyle writer, and recently left her job at the Arkansas Democrat-Gazette to be with her babies while they're still babies. When she gets a few minutes to herself, April loves to run local trails and read fiction. For more of April's posts on pregnancy, babies and toddlers, click here.