Oh, I do love the pictures! Opening e-mail is a little like Christmas because I can hardly wait to see what kinds of photos might be waiting there. Thank you to those moms who have already sent in a few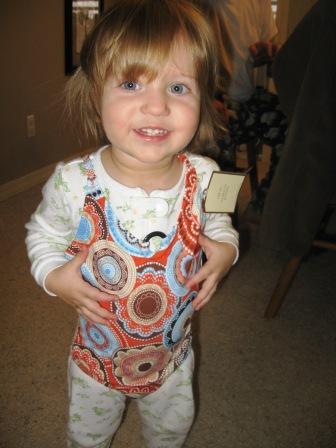 snapshots. Some of them are scattered throughout this post, and they are SO cute. Love, love, love 'em!
ENTER THE PHOTO CONTEST: Remember that we're still accepting photos, and the winner of the snapshot contest gets a FREE photo session with photographer Melinda Worthington of MJW Photography. Not only do you get the free session, you also get a HUGE wall print (16×20) of your favorite shot from that session. Just in case you're doing the math, that's a package that would normally cost you hundreds of dollars. So don't miss out on a chance to win it.
Melinda's photography is pretty amazing, and we guarantee you'll love having her photograph your kids in action. Did you see the recent article she wrote for us with tips on how to photograph a newborn? CLICK HERE if you didn't see it because the photos are way too good to miss.
Please don't think that your chances of winning are low if you're not fabulous with a camera. These shots are not judged on photography skill but rather on "emotional impact." (We call it the "awwwwww" factor.) So choose snapshots that are dear to your heart — the ones that make you warm all over, the ones that make you laugh or cry or the ones that capture a wonderful moment. (The moment pictured above includes a sweet little boy going nose-to-nose with a dog named "Hershey's Kisses.")
You can submit 5 photos per mama per month. (We know it's impossible to narrow it down to one favorite.) So keep those photos coming! E-mail your photos to gwen@nwaMotherlode.com. The judges will pick a few finalists at the end of January and we'll post them early next month. The grand prize winner will be named at the end of April, just in time for a spring photo shoot!