After four months of sifting through photos e-mailed to us by lots of local mamas, the panel of judges have decided on a grand prize winner. And that lucky mama is…. (insert drumroll here)….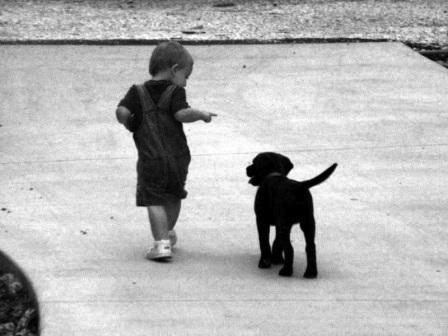 Linda Richards! She sent in this timeless photo of one of her boys walking side by side with this sweet little dog, wagging his finger at him. The judges fell in love. (Remember that the photos you submit to the website are displayed for several months in our photo gallery scrapbook at the bottom of this page. Scroll down to see it!)
We gave Linda the good news, and she is super excited about her free photo session with Melinda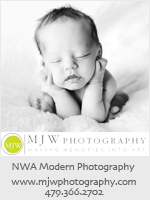 Worthington of MJW Photography. She was already a big fan of Mindy's work and said she often cruises by Mindy's website to get ideas for how to take better snapshots of her own kids. (You can visit Mindy's website by clicking here or on the baby photo on the right.)
We got to know Linda from the various photos she has sent into the website over the past year, and we found out about some amazing charity work she's been doing for mothers with sick babies in the NICU at area hospitals. Click here to read Linda's story. She also recently began a support group for moms of kids with ADHD. Click here to read more about that.
After Linda has the free photo session with Mindy, she'll get to choose her favorite shot from that session and have it blown up into a huge 16×20 inch wall print — for free. (It pays to enter our snapshot contests, mamas!) We'll show off some of the shots from her session in a few months.
NEW CONTEST NOW OPEN: Speaking of months, you now have four more months to send in snapshots of your kids for our snapshot contest. This time we're changing things up a little because we're going to request photos of a certain "theme" for each month.
For June, we want to see snapshots of kids "on the go." Here are a few examples: on a bike, on a scooter, on a skateboard, on a tricycle, in a stroller, etc. There is no age limitation and you can be as creative as you like. June is the perfect time of year to get out and snap some shots of kids in action, so take advantage of the weather. Your kids will LOVE showing off for you while you click away.
Can't wait to see what you guys send in! Send your shots to gwen@nwaMotherlode.com. We announce finalists for each month, and then judges (not Gwen and Shannon) will pick a grand prize winner from the finalists and that person wins a free photo session and one wall print of the best shot. Good luck!