My favorite picture from my daughter's 17th birthday party is of her posing with her 3 besties under the mural just inside the front door at downtown Fayetteville's newest Japanese-style hangout, Big Box Karaoke on Block Street.
"Don't Stop Believing — Hold on to that Feeling."
It's an absolutely perfect motto at the entrance of the venue because it gives you a sense of possibility and of the fun that's to come. The lyrics — from the Journey song, of course — also happen to be the second most popular song that's belted out at BBK.
This is a GREAT place for a birthday party and I'm not just saying that because BBK is a new Motherlode sponsor. We were singing their praises (and singing in their suites) from the moment they opened in January 2019 because it's just a fabulous new spot to have a unique event.
My daughter is definitely not an extrovert, but the opportunity to hang out with her best friends in a private suite made the whole experience comfortable and intriguing. And if you are/have an extrovert? Well, the rooms are big enough for up to 25 people and you can get loud. They've got padded walls for that!
These local girls recently celebrated their friend's 13th birthday party at BBK: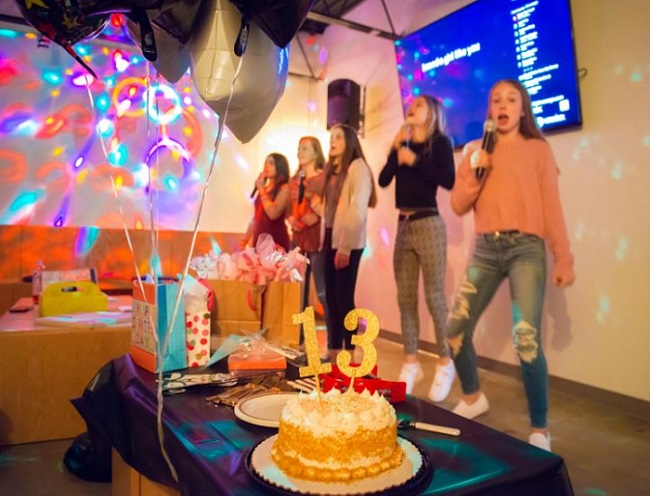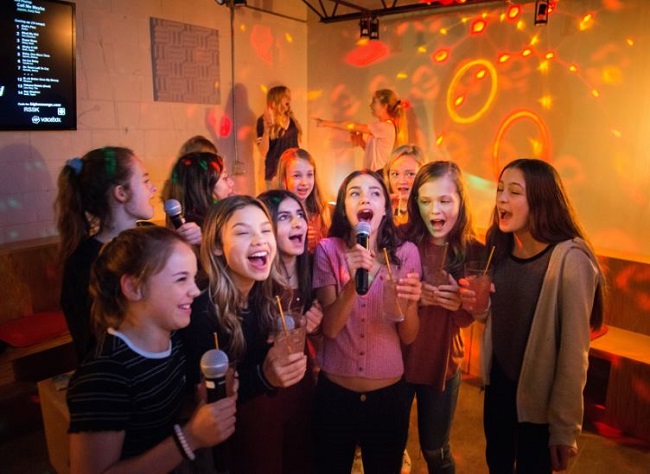 There are 7 total private suites, some smaller, some larger, depending on the number of guests at your event. (A friend and I spent two hours singing together when BBK first opened and those duets were a blast!)
Here's an idea, parents: You can totally let the kids have fun while you simultaneously have a date! During our daughter's 17th birthday party, my husband and I let the girls sing their hearts out while we ate dinner and enjoyed some amazing drinks in the dining/bar area. WIN-WIN, mamas. And the people watching was AMAZING. Note: You can also eat and drink in your karaoke suite. They have great waitstaff who stays on TOP of helping you out. The birthday party girls enjoyed snacks and drinks while they were singing.
May we recommend the kimchi tots: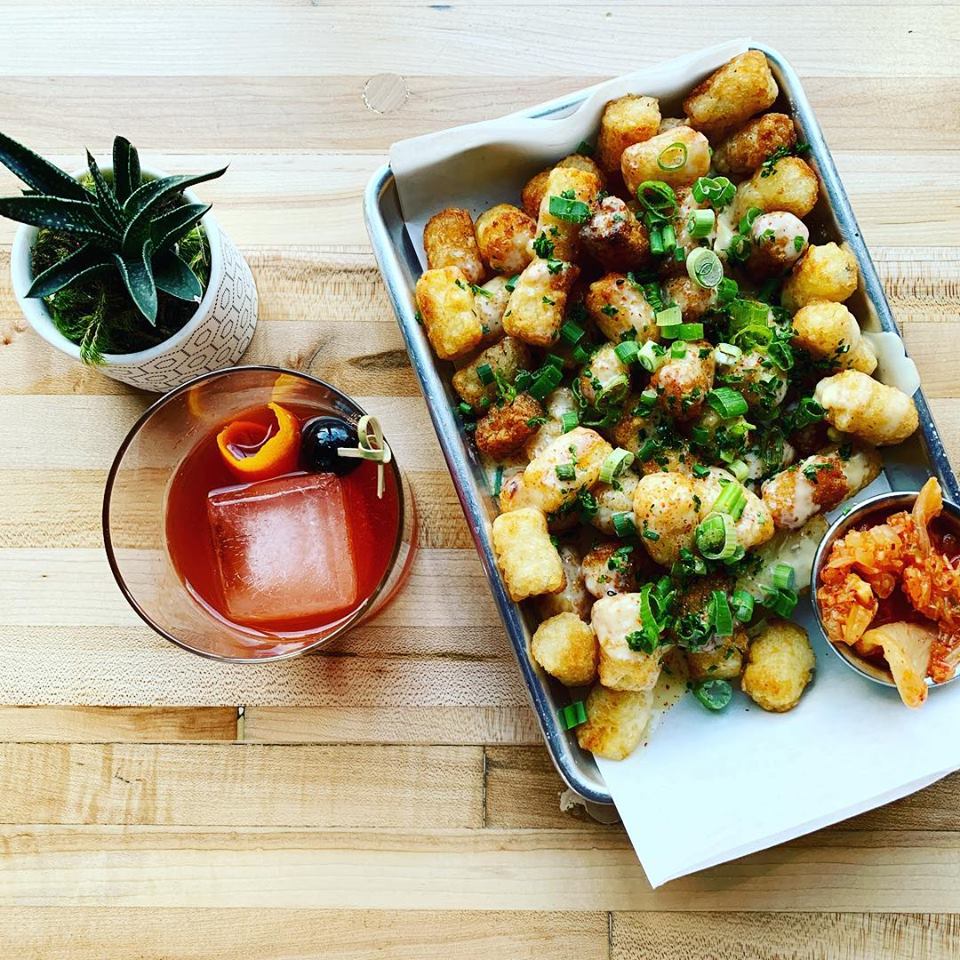 If you don't want to sing, but just want to eat some yummy Asian-fusion food? You can do that, too. Or you can sing with no food purchase. They often have food/drink/karaoke specials going on.
BBK not only hosts birthday parties (for minors and adults), but they're also a great place for wedding parties (bachelorette party, anyone?!), family gatherings, maybe a team-building exercise with your work friends? Guests under 21 are welcome until 9 p.m. every day. And FYI, no alcohol is served in suites when minors are in the room.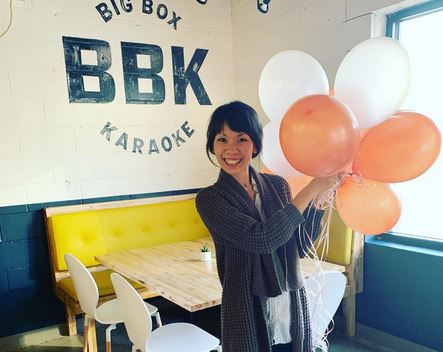 This is a great tip, too: Groups who pay the karaoke fee on one check receive 25% off of the karaoke room fees. And honestly, the rates are great.
Speaking of GREAT RATES, BBK is offering nwaMotherlode readers a discount when booking a room for your next event. Hold on to THAT feeling, mamas! Use code "mamas" for 10% off your next birthday party or group gathering at Big Box Karaoke!
BBK owners, Justin and Mailena, first discovered private suite karaoke while living in Japan years ago.
Here's a short interview with Mailena for more fun details:
Tell us about your family:
Justin and I have 2 kiddos – Iya and Damen. Iya is 4, and Damen will be 3 in April. We also have a schnoodle named Sammy. We love living in NWA, and exploring the outdoors.
Justin and I are originally from Van Buren, and both graduated from UA. Professionally, we have worked in the corporate retail world. After living in Japan for a bit after college, we fell in love with private suite karaoke and have had the dream of opening one up in the States since!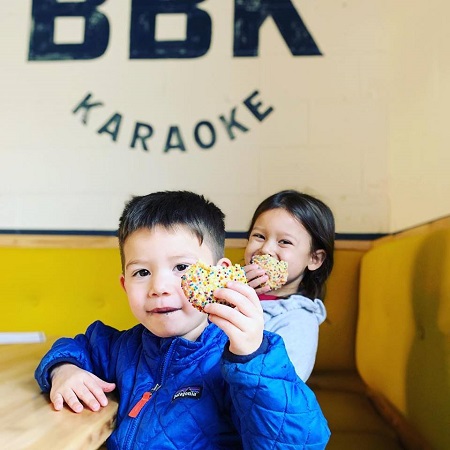 What's your favorite song to belt out in the karaoke room?
Justin and I do a mean Love Shack by the B-52's. 🙂
What's the top karaoke song among the teenage set?
Hm….we don't have those stats yet, but I'm guessing Taylor Swift and/or Ariana Grande.
What about the top songs at adult parties?
Here are the all time top 10 songs: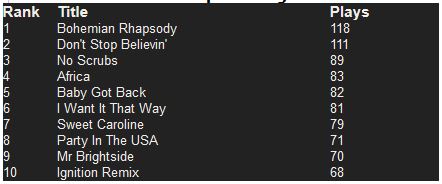 How many songs total do you have in the system now?
We have 60,000+ songs available, and that list grows every day. We have mix of classic and new songs from all genres, and different languages too.
What do you think people love about having a room just for their friends/family?
Something about being with the people you are most comfortable with, really helps people loosen up and just have fun.  People are less intimidated in this setting than they are in a traditional bar setting. It's like a house party that you don't have to clean up after. 🙂
CLICK HERE for more info about Big Box Karaoke and click here to follow them on Facebook (which is a very entertaining news feed, for sure!). Visit them here on Instagram to see the best in Big Box news and entertainment.