New carpet isn't cheap. We all know it's a big investment and makes a HUGE difference in how your home looks. (No amount of dusting and cute furniture will make up for carpets that look terrible.) So when you've shelled out good money for carpet, it makes sense to do whatever you can to make it last as long as possible while looking as good as possible.
So we asked our favorite carpet expert, Matt Lane at Heaven's Best Carpet Cleaning, to give us his best tips on how to extend the life and look of carpet. Heaven's Best was recognized as one of the "Best Carpet Cleaning" services in Benton County in the 2012 Mom's Choice Awards. (The company services all of Northwest Arkansas and also accepts Visa/Mastercard/Discover.) Votes collected from local mothers determined which businesses earned awards.
From Matt Lane, owner of Heaven's Best Carpet Cleaning:
My advice to the mama's is simple: You can't vacuum too much. I know that's not exactly great news, but carpet needs to stay free of debris and dirt. The longer you go between vacuuming, the more time dirt and dust has to make its way down into the carpet backing. This is especially true when there are pets in the household.
Mamas with allergies or kids with allergies to dust and dander will benefit greatly when they vacuum often. I prefer the closed filtration systems with a canister you empty. There are a lot of good units on the market and I really like a removable/cleanable HEPA filter. That's what we use.
Secondly, when you do have a spill or an "oops", you should use 50/50 white distilled vinegar and water to clean up. When the kids spill their juice, soak up as much of the spill as possible with a clean, white (so no color bleeds) cloth or paper towel. Mix up some vinegar and cold water in a spray bottle and spray down the area. Then use a new white cloth or paper towel to scrub the carpet and soak up the solution.
A great way to lift red or pink stains that have just happened is use ice cold water. Soak the spill and use a white cloth or paper towel to dry up. If you can't get the stain out with ice water or 50/50 water and vinegar, give us a call and we would be happy to assist.
I strongly urge Mamas not to use ANY over the counter carpet cleaning products. They don't work! They may appear to lift the stain, only to have it come back a few days later. Most leave a sticky residue and some will even "bleach out" the carpet.
Another great tip is to rearrange your furniture a couple times a year to alter the traffic pattern in your rooms. Some rooms are hard to arrange more than one way but research shows that even when you move your furniture 6 inches forward, backward, left or right it's enough to keep from building a "trail" to your favorite chair.
To get a really thorough, deep clean, I also recommend having your carpet professionally cleaned at least once a year.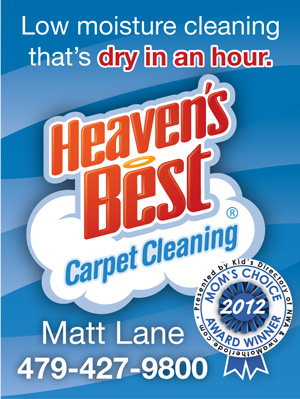 My last tip is rarely mentioned: Be sure to replace your return air filter once a month. I've been in a lot of homes where you can see black dust around the edge of the baseboards. This is caused by a "choked up" return air duct.  It's virtually impossible to remove. The lighter the color of your carpet, the more noticeable it is!
So, just to recap the 5 best ways to make your carpets last longer, here they are:
Vacuum
Clean up with a vinegar/water solution
Rearrange the furniture
Professionally clean the carpets once a year
Replace the return air filter every month.