The kids may be back in school, but we've still got long days to play at the park.
Writer April Wallace has been reviewing parks around Northwest Arkansas all summer with the help of her family  and friends. Last week she visited Wilson Park in Fayetteville, which is one of the most popular parks in Washington County.
April noted that the city will allow dogs to swim in the final hours before the pool closes on Labor Day (6-8 p.m. Monday, September 3).
Here are April's previous park reviews (and she still plans to continue this series into the fall):
And now, for her latest review:
Park name: Wilson Park
Location: 675 North Park Avenue, Fayetteville AR
How big is it? Very large, roughly 23 acres.
Main features: Swimming pool, castle, swings, two play structures, picnic tables, gazebo, trails, basketball, volleyball and tennis courts.
Stroller-friendly? Yes, a paved trail surrounds the park and leads to most features. These do not lead right up to the picnic tables, though.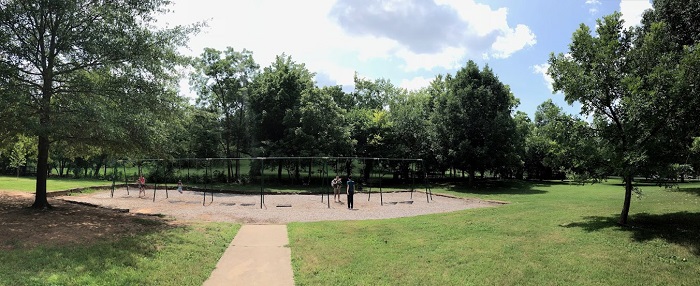 Covered areas for picnics? Wilson Park has so many places available for picnics. Many picnic tables are shaded by mature trees, a long, flat grassy corridor makes for smooth enough ground to place your blanket and goodies; and a gazebo shades two picnic tables as a good spot for parties and gatherings. The Gazebo is smack dab in the middle of the two play structures. Other tables are nearby.
Shady areas? The everlasting green-ness of this park is exactly why I fell in love with it in the first place. Wilson Park is Fayetteville's first and oldest park, which means the vegetation has had a safe place to blossom since 1906. The trees are tall and gorgeous, and the grass is so green it hurts. It's easy to find a shady place to stop and smell the flowers, so to speak.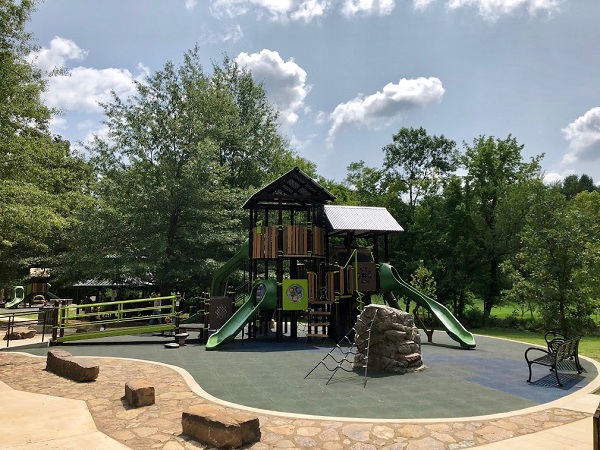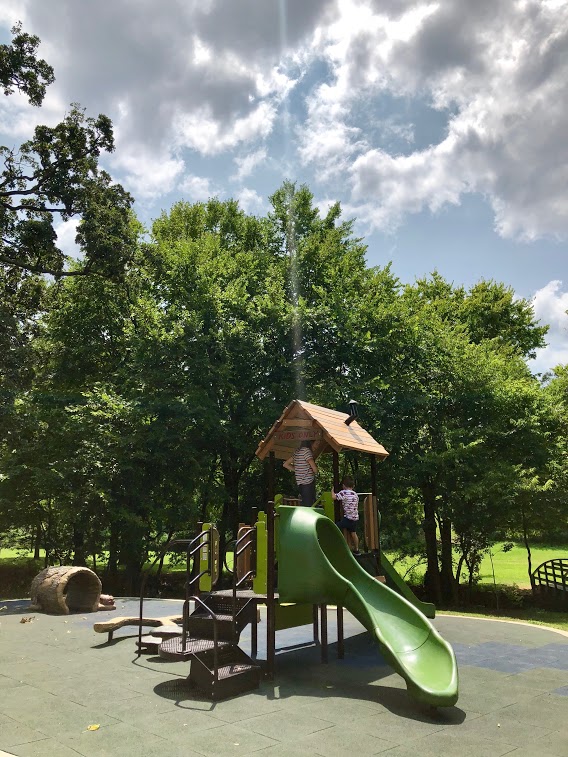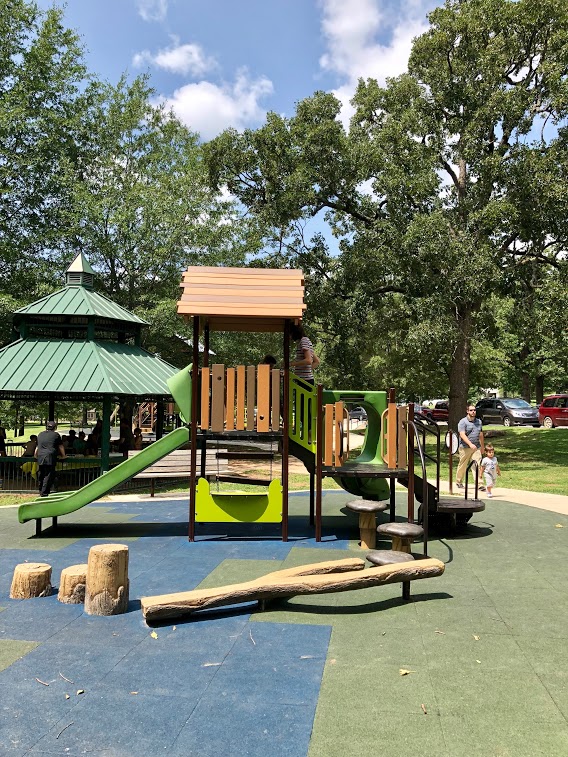 Restrooms: The restrooms are difficult to spot from the swings and the older children's play structure (the one for kids ages 5-12). It's a green building that you can see from the toddler playground. Neither one has a changing table, but the stalls are clean, if simple. It has no mirrors and small trash cans.
Notes from the Mom Park Correspondent: I think just about everybody can find something to love at Wilson Park. Before I had children, I loved to run the paved loop that surrounds it and met college friends to talk on the park benches while other kids played frisbee nearby. It's a hop and a skip from the Razorback Greenway, which opens up even more recreation possibilities.
The castle is such a fun, whimsical touch. My husband and I have sat near it, sipping coffee and talking while admiring other families who enjoyed it. This time, my family loved the swings and the play structures because they suited a variety of age ranges. My toddler could make use of the baby swings, the low set play structures (woodland forest-themed, of course), as well as the oversized outdoor xylophones and drums that were easy for him to play.
Our teenager climbed the bigger of the play structures and he too enjoyed the outdoor music-making. Each summer, the city hosts free movie admission at the Wilson Park Pool. This year, the city will allow dogs to swim in the final hours before the pool closes on Labor Day (6-8 p.m. Monday, September 3).