Have you ever visited Orchards Park in Bentonville?
To help you discover new, fun places for the kids to play, nwaMotherlode writer April Wallace has been reviewing parks around Northwest Arkansas this summer with the help of her 1-year-old son, Henry, and friends.
She really likes this one:
Park name: Orchards Park
Location: 1100 NE John Deshields Blvd, Bentonville, AR 72712. It's less than a mile from Crystal Bridges Museum of American Art and only a mile and a half to downtown Bentonville.
How big is it? Very big. Wide open green space is central to this park. It's refreshing in the middle of a quickly growing area.

Main features: A pond and water fountain, pavilion, walking paths, and wildflower garden
Stroller-friendly? Yes, very! Paved walking paths circle and weave through the park. They also connect to the city sidewalks, which if you're feeling adventurous could take you to the Amazeum, which is just northeast across the four-way stop, or ball fields and a skate park to the south.
Covered areas for picnics? Yes, a large pavilion provides shelter for picnics, parties and other gatherings.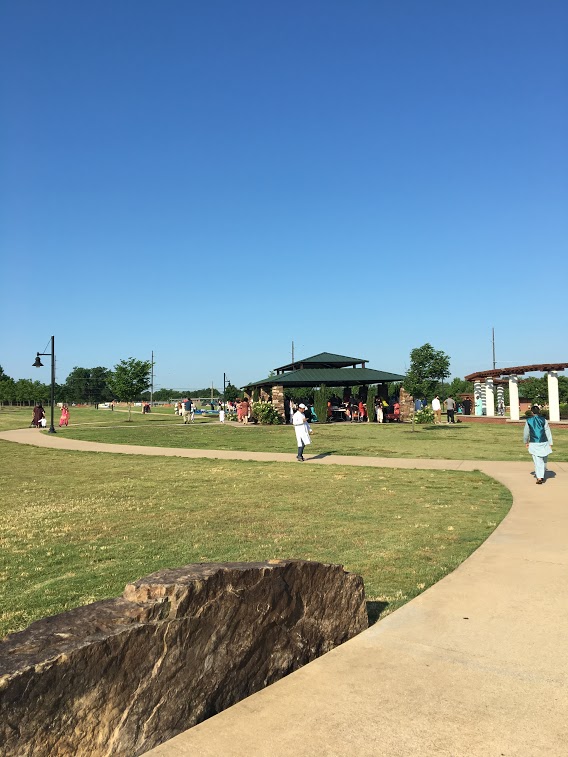 Shady areas? Although Orchards Park has trees, most of them don't provide much shade.
Small trees within the park provide little umbrellas of shade just big enough for one parent and baby while seated on the lawn. The largest shaded patch is a corridor of trees built up on a bank of mulch near the pond. It's a nice little area to walk through or sit with friends and a plate of snacks.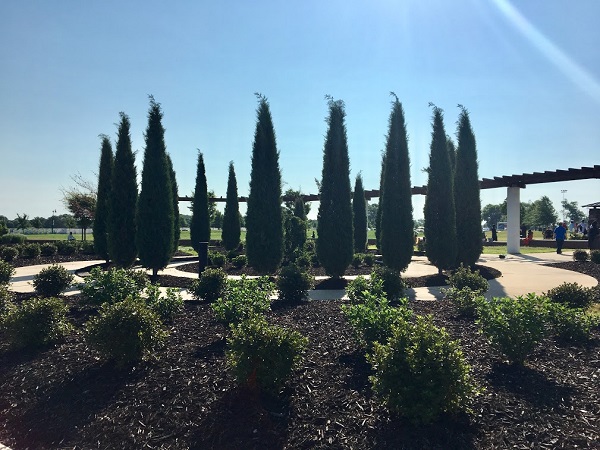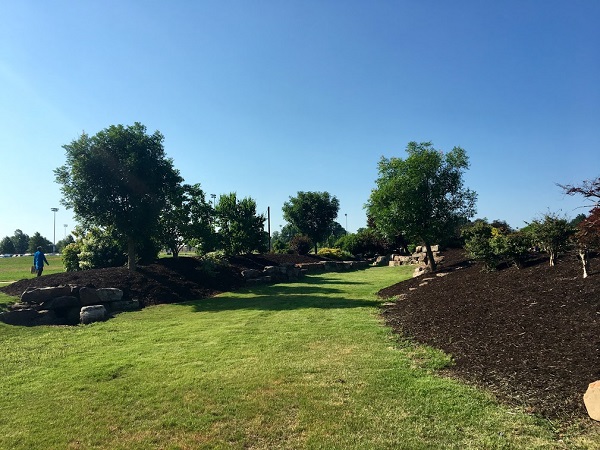 Restrooms: The restrooms are on the east side of the pond, past the pavilion. When you walk in from the parking lot, you likely won't see them right away.
The women's restroom does not have a changing table, so I doubt the men's does either. These stalls struck me as incredibly clean, especially given how many people were there using them the day that I went to Orchards Park.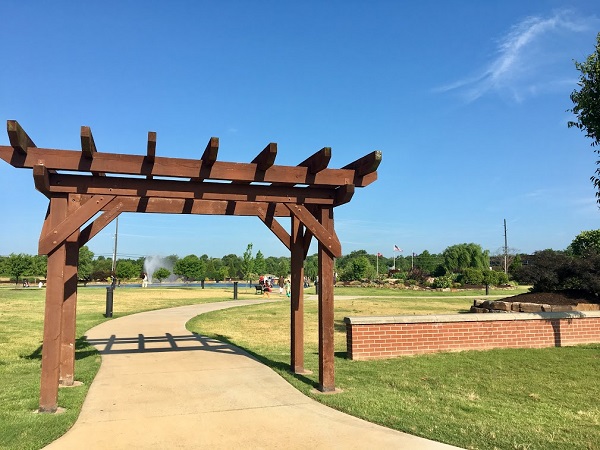 Extra notes from the Mom Park Correspondent:
When Henry and I arrived to Orchards Park, we were surprised to join what appeared to be more than a hundred people who were already there. They had just celebrated Eid al-Fitr, the Islamic holiday celebrating the end of Ramadan, on the park lawn. Even with such a large crowd occupying the park, we were easily able to enjoy its calming, spacious features.
Benches and trash cans line the pond at regular intervals, which made it easier for me to feed and change Henry comfortably. Although the pond and water fountain is beautiful, I'd keep a close eye on any kiddos I bring because it has no fence or barrier around it. I'm not sure how deep it is, but it's deep enough for a sign to warn "no swimming."
I absolutely loved the walking paths because they were so smooth and flat that my little walker navigated them easily. Signs at the entrance of the park describe each of the wildflowers planted there and list what seasons you're likely to see them, which would make it a fun little scavenger hunt for kids of a certain age.