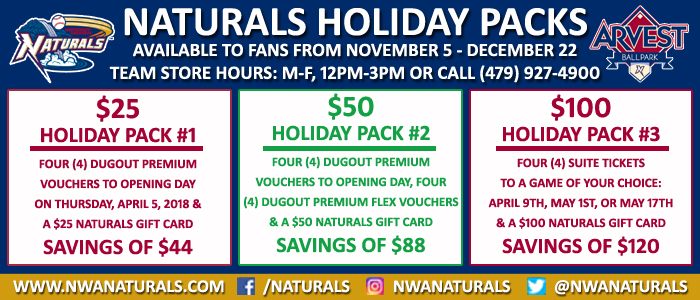 Ticket packages: Take your favorite baseball fan out to Arvest Ballpark this summer and enjoy a Northwest Arkansas Naturals game. Shown above are some of the team's special gift packages available just in time for the Holidays.Naturals Holiday Packs will be available for purchase from November 5 through December 22. Holiday Packs cost $25, $50, or $100 and offer the perfect stocking stuffer for the baseball fan in your family.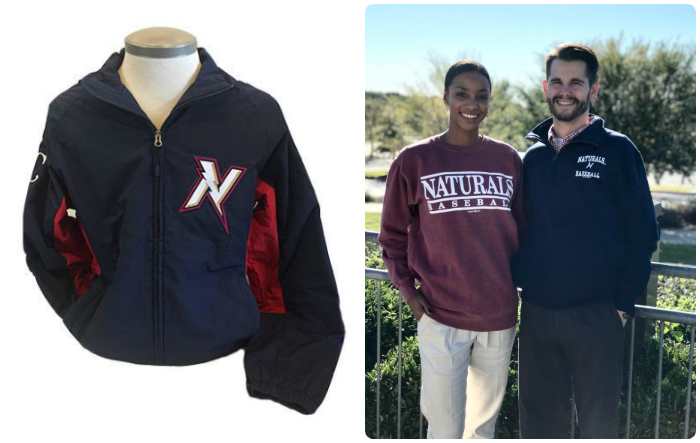 Above: Stay warm this winter with a new Comfort Colors Sweatshirt, Quarter Zip, or Authentic Team Jacket. Shop all of the latest Naturals merchandise at the Naturals Team Store in advance of the Holidays and use the PROMO CODE: Motherlode to receive 25% OFF your online purchases from now until Friday, December 22.
Where to shop: Shop at the Naturals Team Store located at Arvest Ballpark, 3000 Gene George Blvd. in Springdale, Ark. The Team Store is open Monday through Friday from 12 p.m. to 3 p.m. or you can also order by calling 479-927-4900.
How to contact: Visit the Naturals website; Check out the team's Facebook page; See them on Instagram; Tweet at them on Twitter. Call 479-927-4900.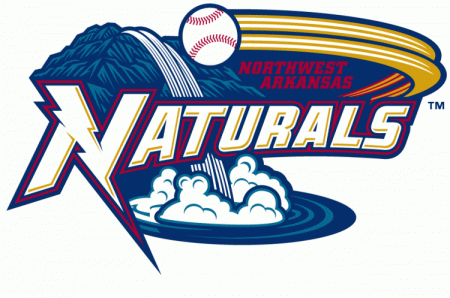 ---

Left: Razorback Sherpa and Arkansas Razorback gear
Any of the items would make a great gift for a Razorback fan, and when you put them all together, it's a gift with "wow" factor. Logo-N-Stitch also has blank sherpas that they can add initials to, for a truly personal touch. The hats are also custom made, add a state or initials. Sherpa costs $80. Hat cost is $25. Tumbler costs $28.99. Silver Razorback dish cost is $89.99.
Right: Razorback sweatshirt
Cozy up with our favorite sweatshirt this season. This one is soo soft you won't want to take it off! Cost is $44.
Where to shop: Logo-N-Stitch is located at 1110 Mathias Drive, Suite C in Springdale. For info about any of these items or about personalization, call the shop at 479-419-5575. Shop online anytime at the Logo-N-Stitch website.
See more: Keep up with the latest arrivals at Logo & Stitch by following the shop on Instagram and Facebook.