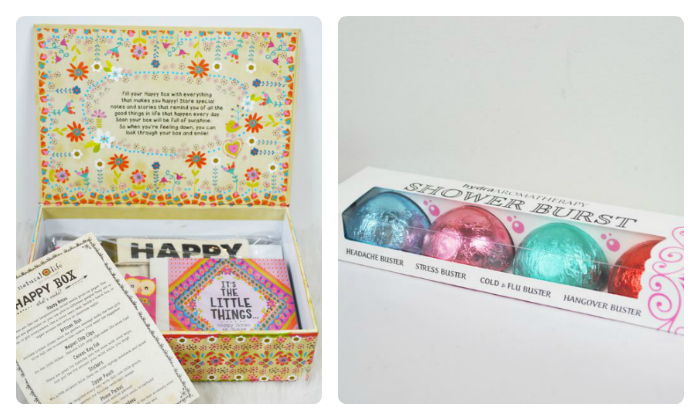 Left: Natural Life Happy Box
This cheerful box has everything you'll need to bring a smile to your friend's face. Inside she'll find 8 adorable treasures: Happy Notes, Half Boho Bandeau, Phone Pocket, Mini Canvas Pouch, Artisan Dish, Owl Magnet Clip, Canvas Key Fob and Stickers — all with a happy and inspiring sentiment! The cover features original doodles and this gift can be filled with everything that makes her happy. Click here to get more info on the Happy Box. Cost is $48.
Right: Wellness Shower Burst Pack
Shower Bursts deliver amazing aromatherapy while you get clean. Made with all-natural ingredients and pure essential oils, this pack includes: headache buster, stress buster, cold & flu buster and hangover buster. Yes, please! Click here for more info on the Wellness Shower Burst Pack. Cost is $22.
Where to shop: Here's where you can see (and try on) the fabulous clothes at Belle.
3575 W. Wedington Drive, Suite 2, Fayetteville
3511 SE J Street, Suite 5, Bentonville
How to contact: 479-435-6267 for the Fayetteville store; 479-876-8085 for the Bentonville store. Keep up with the latest updates and new arrivals at the store via Facebook, Instagram, Pinterest, YouTube, and Twitter.

---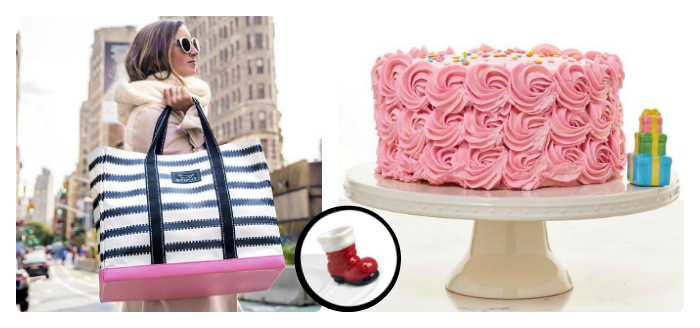 Left: Original Deano Tote Bag by Scout
This is the Scout tote bag that started it all. The Original Deano was Scout's first design in 2004, and it's still the #1 selling bag to this day. There's a reason for that – the tote is ideal for carrying pretty much everything. Folds flat for easy storage. Cost is $39.

Right: Nora Fleming Serveware
We fell in love with the concept behind Nora Fleming Serveware. Instead of making room for themed serving pieces that you only bring out for one occasion each year (like Christmas, Easter, Thanksgiving, etc.), the Nora Fleming collection features elegant ivory serving pieces that have a special spot for a touch of personalization, no matter what the occasion is. On the cake pedestal pictured above, for example, there's a small hole where you insert a "mini." The clear stem on the bottom of the mini anchors into the hole so that it won't accidentally be knocked off the platter. It's so much fun to look through all the different mini's — everything from a Santa boot to a graduation cap! Click here to see a video about how the Nora Fleming line works. Cake pedestal cost is $56. Mini attachments are $12.50 each.
Where to shop: You can see all the gift ideas at So Inviting by visiting the shop at 3067 N. College Avenue in Fayetteville. For questions about anything shown here, call the shop at 479-587-1800. You can also shop online by clicking here to see the So Inviting website.
See more: Keep up with the latest arrivals at the store by following So Inviting Gifts on Instagram, Facebook, Twitter and Pinterest.
---
Left: Arkansas Dish Towel
The design is silk-screened, then framed with a hand embroidered border on a 100% cotton dish towel (which could also be used as a hand towel, guest towel, or bar towel). Three stripes down both sides and hand dyed rick-rack at the top and bottom add a charming vintage touch. Delightfully presented in a fab organdy re-usable pouch! Cost is $18.
Right: Stay Fancy wine glass
This fancy wine glass will remind you to "stay fancy" while you're sipping wine with friends. It's a 9-inch tall glass that holds 16 ounches — which experts say is "enough to have a good time." Lettering is in a shiny gold foil. Cost is $14.
Where to shop: The Anchor is located on the Fayetteville Square at 15 S. Block St., Suite 101. You can call the shop at 479.295.0739. Click here to visit the store's website.
See more: Stay up to date on the latest arrivals at The Anchor by following the store on Instagram, Facebook, Twitter and Pinterest.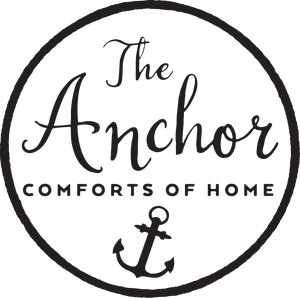 Save