Northwest Arkansas Calendar of Events: July 2020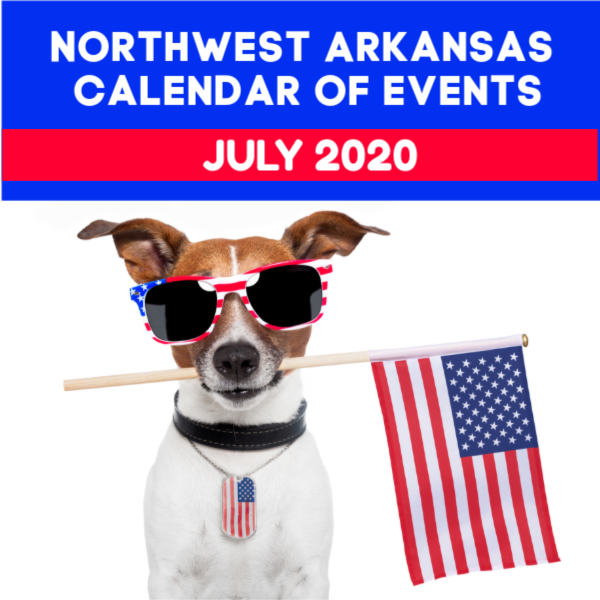 Welcome to July, mamas! Here's what's going on this month in Northwest Arkansas.
Remember your masks and hand sanitizer if you choose to go out and about in NWA! Click here for a list of where to see fireworks.
Mirrorbox Theatre's "Out the Box"
"Out the Box" is a new reading series of fresh contemporary plays, streamed live and to a limited audience, presented by Mirrorbox Theatre. Only the first 100 people to register will get to watch each live (streamed) reading. The performances will not be broadcast on social media, or recorded for later viewing – you have to be there if you want to see something new. Prior registration required.
Play description for "His Shadow": A disgruntled college freshman tries to step out of his older brother's towering shadow and make a name for himself on the football field. However after tragedy strikes, he realizes his position is not in his brother's shadow, but his radiant light. "His Shadow" is a story of ambition and activism and which one emerges the victor when the two collide.
Time: 8 p.m.
Date: July 3
Location: online
Click here for more info about "Out the Box." 
Once Upon a Time Books Storytime
Come join us every first Saturday of each month at 10:30 a.m. where we will have special guests read different stories from our reading throne! After storytime, each child gets to pick out a FREE book from our treasure chest. The event is perfect for pre-K through elementary children.
Time: 10:30 a.m.
Date: July 4
Location: 462 Henri de Tonti Blvd. Springdale
Click here for more info about storytime sessions at Once Upon a Time Books.
Bentonville's 4th of July Fireworks Celebration
The event is free to the public. Live music and concessions are available. Parking will be located throughout Memorial Park. Accessible parking will be located in the parking lot located next to the entrance of Orchards Park. Personal fireworks are prohibited at this event. No transportation shuttles available this year. Watching the Fireworks from Home or our Vehicles this year? Join us on KURM Radio (AM 790; FM 100.3) from 8pm-10pm for live music from the event.
7:30 pm- Food Trucks Open / Live Music Begins (Jukebox)
9:30 pm- Fireworks Show
Safety: In an effort to keep our citizens and participants safe, Bentonville Parks and Recreation will be taking the following measures regarding COVID-19 during the Evening at Orchards Celebration. These safety measure guidelines are following with the Arkansas Department of Health's most recent directives for large outdoor venues and parks.
*The main stage has been moved to the Orchards Park parking lot. This will allow attendees to have ample room to spread out throughout the soccer fields and park area and observe social distancing during the event. *We encourage all attendees to wear masks during the event for the safety of themselves and others in attendance. *Food trucks will be spread throughout the park to allow for social distancing. *Restrooms will be spread throughout the park with sanitizing and handwashing stations.
Click here for more info about Bentonville's 4th of July Fireworks Celebration. 
Downtown Rogers Farmers Market
DTR market takes place Saturdays June through October. The health and safety of the community and vendors are DTR Market's number one priority. Appropriate measures have been taken to address current guidelines. Rather than a place for community gathering, this year the market will be a traditional farmers market with vendors of essential food items. The market provides vital food access services to our community.
Time: 8 a.m.-1 p.m.
Date: July 4
Location: 120 W. Poplar St. Rogers
Click here for more info about the Downtown Rogers Farmers Market.
Slow Streets NWA
The City of Bentonville partnered with BikeNWA for Slow Streets NWA to support safe activities outdoors this summer. The goal is to make neighborhood streets safer to walk, bike, and travel without a vehicle, creating wider spaces than our current sidewalks and trails allow for safe physical distancing.
Every Sunday this summer, we'll be opening streets up for bicycles, walkers, runners, dogs, kids, scooters, skaters, and more to enjoy the community in a slower fashion. Get out and explore without your vehicle, visit new businesses, grab food from a new restaurant; just get out and see your city all while maintaining a safe distance.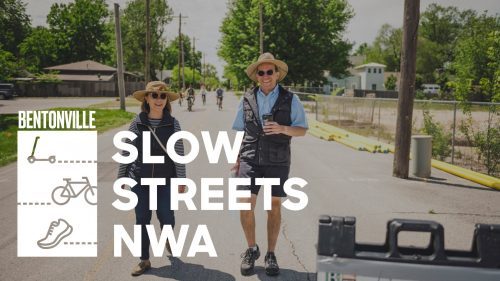 On these streets, residents can make trips to local businesses and explore the community using the roadway while reducing foot traffic at parks and on outdoor trails, like the Razorback Greenway, which have experienced extremely high usage since the onset of the COVID-19 pandemic. Find the route maps, survey, and more here: www.linktr.ee/slowstreetsnwa Don't forget your mask!
Time: 10 a.m.-6 p.m.
Date: July 5, 12, 19, 26
Location: Bentonville
Click here for more info about the Slow Streets NWA.
Sunday Reset
"Sunday Reset" provides a fresh start for minds and bodies by engaging in different forms of meditation. For this session, the Momentary has partnered with Andrea Fournet of Arkansas Yoga and Therapy Center.
Just tune in to The Momentary's YouTube or Facebook pages and breathe!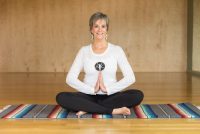 Time: 3 p.m.
Date: July 5
Location: online
Click here for more info about the Sunday Reset event.
Art on the Bricks Virtual Art Walk
Let's look beyond the COVID-19 pandemic, beyond the protests and beyond the pessimism. "Beyond" features works of art inspired by a hopeful community. As artists share their visual and performance art in this virtual setting, they hope to inspire conversations and connections. They may also share a link to one of their favorite NWA non-profit organizations and a few words regarding how they enhance quality of life in our region.
Time: all day July 5
Date: July 5-18
Location: downtown Rogers
Click here for more info about the Virtual Art Walk. 
Sprayetteville Street Art Festival July 6-12

Sprayetteville Street Art Festival kicks off July 6-12 in downtown Fayetteville. The first annual Sprayetteville Street Art Project, organized by the American Shaman Kava Bar, is set to happen from July 6-12. A collaboration between Shaman Art and local Fayetteville businesses, Sprayetteville incorporates the talent of professional local and regional artists working in the area of public art, specifically art murals.
Work on the murals begin on July 6 with a celebration event on July 12. The project, which will feature the works of professional regional and local artists, will take place in and around downtown Fayetteville. Be sure to click here to see the artist's bios and work.
Time: Various
Date: July 6-12 (see in description above)
Location: Various locales around Fayetteville
Click here for the latest info about Sprayetteville
Terrific Tuesday Nights
The Botanical Garden of the Ozarks is excited to invite guests back to the garden this summer for Terrific Tuesday Nights. From June through August, the botanical garden will be open and free to the public from 5 to 8 p.m. on Tuesdays. This family-friendly series allows the Northwest Arkansas community and beyond to experience the garden on beautiful summer evenings.
Guests are invited to make a donation to support garden programs. Picnics, blankets and lawn chairs are welcome. No pets please. Glass, smoking, e-cigarettes, tents, weapons and firearms are prohibited. See website for our social distancing guidelines and more.
Time: 5-8 p.m.
Date: July 7, 14, 21
Location: Botanical Garden of the Ozarks 4703 N. Crossover Rd. Fayetteville
Click here for more info about Terrific Tuesday Nights. 
Mental Health During COVID-19
Join Hustle in Heels for a free Pop-Up Event, Mental Health During COVID-19, either in person at Thrive Real Estate (Limited to the first 25 registrations) or virtually via Zoom. COVID-19 has changed the world and brings challenges both physical and mental. This interactive discussion with Licensed Professional Counselor Kati Wells will focus on how to be mentally fierce in adjusting to the new norm and protecting your mental health during these times. Registration is required.
Time: 8-9:30 am
Date: July 14
Location: Zoom or Thrive Real Estate 1401 SE Walton Blvd., Ste. 101 Bentonville
Click here for more info about the Mental Health During COVID-19 event.
The Fayetteville Public Library continues to offer story times, workshops and discussions for a variety of ages Monday through Saturday. All activities are currently held online and can be found by clicking here.
Each week of July the Scott Family Amazeum is offering a different virtual camp. For more information on Academy of Light and Dark, Creating Cosplay, Girls STEAM: Take a Part and Amaze-YUM Food Truck, click here. Camps cost $150-$200 per person, are conducted 9 a.m.- 3 p.m. and pre-registration is required.
Crystal Bridge Museum of American Art is offering two free virtual series during the month of July, a sketchbook club and virtual art on Wednesday and Friday nights respectively. Find them by clicking here.
Two Friends Books Storytime
The Bentonville bookstore weekly storytime has been moved to a virtual event. You can access it via their Instagram page @twofriendsbooks. A new storytime appears each Saturday.
Free plays from National Theatre of Great Britain
The National Theatre of Great Britain is offering a free play every Thursday night via their YouTube Channel. You saw The National Theatre's work here with The Curious Incident of the Dog in the Nighttime and War Horse. Click here to visit their YouTube Channel. 
Walton Arts Center Blog's favorite shows
We have compiled a list of our favorite shows that have come (or will come) to Walton Arts Center that are available to stream online in the form of live recordings, musical movies and animated films. Click here to visit the Walton Arts Center Blog.