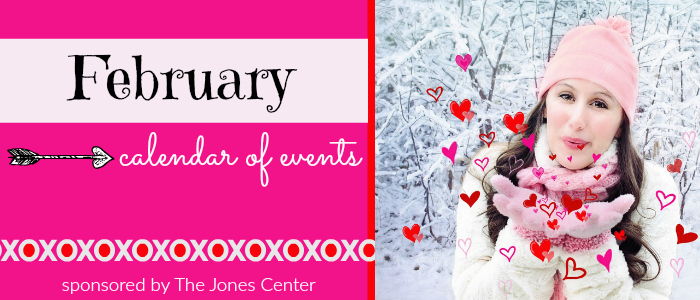 Priceless Night at Scott Family Amazeum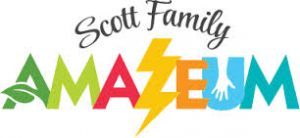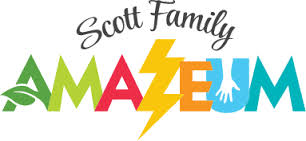 Thanks to a gift from Tyson Foods, Inc., we are happy to announce most Wednesday evenings will be Priceless Nights at the Scott Family Amazeum! These pay-as-you-wish evenings allow guests to make a donation to the Amazeum in lieu of admission.
Date: Feb. 1
Time: 4-7 p.m.
Location: Amazeum musuem, Bentonville
More info: Click here
Amazeum Hosts "Living the Dream" for Aspiring Musicians  
Pursuing a creative career and making a living can seem like a far-fetched dream. The Scott Family Amazeum will host a workshop for young adults, ages 14-25, who want to take their musical talent to a professional level. Award-winning blues rock singer/songwriter/guitarist Anthony Gomes will share how to make a living from the arts by investigating the creative process and business aspects of a career in music. The workshop, "Living the Dream," will be held Sun., Feb. 5, from 11 am until 4 pm at the Amazeum. The workshop is $30 for Amazeum members and $40 for non-members. Pre-payment and pre-registration are required at amazeum.org/events-and-programs/camps. Space is limited.
"Living the Dream" is made possible through the Arvin Artists Series, funded by past Amazeum Board President Bob Arvin and his wife Theresa. To learn more about Anthony Gomes and his award-winning work, visit anthonygomes.com.
Date: Feb. 5
Time: 11 a.m. to 4 p.m.
Location: Amazeum, Bentonville
More info: Click here
Valentines for Alzheimer's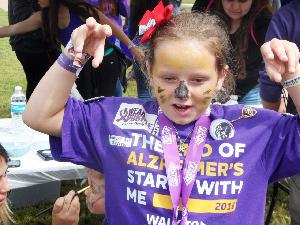 Local Team Gabbie is hosting a fundraiser for the Alzheimer's Association.  Team Gabbie was founded by a local child whose daddy has younger onset Alzheimer's.  This is their third fund-raising year.  All donations are tax deductible and go to The Alzheimer's Association. Team Gabbie is hosting a Valentines for Alzheimer's fund-raiser.  For every $5 raised, a local nursing home resident will also receive a special Valentine hand delivered by Team Gabbie.  "Together, we believe we can help Gabbie become one of the first Alzheimer's survivors.  All donations need to made by Feb. 13.   For more information, go to http://act.alz.org/goto/TeamGabbie
Handmade Valentine Workshop for Kids
An afternoon of handmade Valentine Cards with Shindig Paperie and Art Feeds. Limited to 15 spots so grab yours quick. For children Kindergarten-5th Grade, each ticket to the event includes: 5 cards and 5 envelopes; All the supplies to customize each Valentine card and envelope; A cookie and drink; All the supplies to create one "Spread the Love" confetti popper; An Art Feeds tote with treats inside! $25 for one pass

Date: Feb. 5
Time: 2-3 p.m.
Location: Shindig Paperie, Fayetteville
More info: Click here
Chocolate and Cocktails
5 locally made chocolates. 5 little crafted cocktails.  All paired together on one special night.  $16 a flight. You can share it, or keep it all for yourself.
Date: Feb. 6
Time: 6 p.m.
Location: Maxine's Tap Room, Fayetteville
More info: Click here
Coffee and Cupcakes
Invite your girlfriends and come out for a night of coffee, cupcakes and appetizers at the Beautiful Lives Boutique. Shop for a great cause or just come hang out. Easy parking is located next door at the Scoot Tribe business or across North Street to the south. Beautiful Lives Boutique is an upscale thrift store selling women's clothing and accessories to support missions to empower women and children.
Date: Feb. 7
Time: 7-9 p.m.
Location: Beautiful Lives Boutique, Fayetteville.
More info: Click here
February Wine and Chocolate Tasting
Date: Feb. 7
Time: 7-10 p.m.
Location: Powerhouse Seafood, Fayetteville
More info: Click here
Ooh! La la! A chocolate and wine pairing
The evening will begin with a champagne reception with an artisan chocolate sampling from Hello Cocoa at 6:30 pm, followed at 7:00 pm by 3 decadent chocolate-inspired courses prepared by Chef Miles James of James at the Mill. Each course will be expertly paired with a wine selected by wine expert, Jason Willems of Diamond Beverages. (Menu to be announced soon!)  Seating is limited to 120 guests. Reservations must be made and payment received to guarantee seating. Pricing is $100 per person or $195 per couple.
Date: Feb. 9
Time: 6:30 p.m.
Location: The Garden Room, Dickson St.
More info: Click here
V-Day Wall Art Crawl

A wall crawl down Block street to benefit Art Feeds. Every location will have a creative photo booth made by Art Feeds so you can be your best self and stash some photos for the best Instagram grid of the year. It'll be a night of V-Day snapchat filters IRL with Art Feeds and our fab friends on Block street. Love your selfie, love your gal pals or love on your significant other with a walk down Block. In addition to a photo booth from Art Feeds, each stop will have snacks, coffee and drinks from some of our favorite local vendors! All proceeds benefit expressive and creative programming for NWA children. Retail locations: Shindig, The Mustache and Riffraff will each be available to guests for last minute Valentine's day shopping! Various discounts and deals included. Student tickets are $20, standard ticket $25, VIP tickets are $45.
Date: Feb. 9
Time: 7-9:30 p.m.
Location: Block Street, Fayetteville
More info: Click here
Valentine's Workshop at Young Chef's Academy of Rogers

Date: Feb. 10
Time: 3:30-5:30 p.m.
Location: Young Chef's Academy, Rogers
More info: Click here
Valentine's Day Dinner at the Cooking Studio
Romantic dinner with your sweetie at the Cooking Studio of Downtown Rogers. They'll be offering a six course dinner on SATURDAY, FEBRUARY11th, SUNDAY, FEBRUARY 12th, and TUESDAY, FEBRUARY 14th.  Cost: $35 per person. An extensive wine list is available for the occasion. Wine by bottle or glass and beer available for purchase. For questions or to reserve your spot, call or text Sheila Reese at 479-381-7917 or born2cooksheila@gmail.com.
Date: Feb. 11, 12 and 14
Time: 6:30 p.m. each night
Location: Cooking Studio of Downtown Rogers 113 S. 2nd Street, Rogers
More info: Click here
Young Frankenstein, Arkansas Public Theatre
Arkansas Public Theatre (APT) will present Young Frankenstein* Music and Lyrics by Mel Brooks, Book by Mel Brooks and Thomas Meehan on February 10-12, 16-19 and 23-26, 2017 presented by Season 31 Premier Partners Dr. Ed and Arlene Wait. The Title Partner for this musical is Harps Food Stores.
Date: Feb. 10-12, 16-19, 23-26
Time: Varies
Location: Arkansas Public Theatre, Rogers
More info: Click here
13th Annual Chocolate Lovers' Festival, Eureka Springs

A complete world of chocolate appreciation will be featured at the 13th Annual Chocolate Lovers' Festival and Emporium. This event will include candy, cakes, cookies, ice cream, and more. Chocolate novelty items and body products will be on-hand as well. Vendors will showcase and promote their products while offering chocolate samples to attendees from organic and household brand names to select boutique labels.
This year features a Willy Wonka Room and a partnership with Trike Theatre. The room will include interactive experiences with Trike Theatre, pictures with Willy Wonka himself, and winning Golden Tickets. Will you be one of the lucky few who finds a Golden Ticket and wins a prize? $15 per person online or at the Chamber, $20 at the door.
Date: Feb. 11
Time: 10 a.m. to 3 p.m.
Location: Best Western Inn of the Ozarks Convention Center, 207 W Van Buren, Eureka Springs
More info: Click here
Father Daughter Valentine's Dance
Celebrate this time with your special girl(s) at our annual Father Daughter Valentines Dance at the Bentonville Community Center. Walk the red carpet and smile at paparazzi as you enter the dance. Enjoy the DJ dance party, contests, limbo competitions and more! Don't forget to snap some memories at our photo booth. $55 for father and daughter together.
Date: Feb. 11
Time: 5-8 p.m.
Location: Bentonville Community Center
More info: Click here
Black Hearts Ball, Crystal Bridges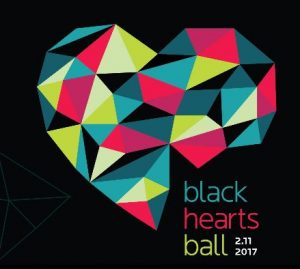 Join with artinfusion as we set fire to the standard Valentine's Day tradition with our fifth annual Black Hearts Ball at Crystal Bridges! Leave the rom-coms at home this year for a night of Museum adventures and off-the-wall encounters with art and performance. Come prepared to bust a move with live music in Eleven, when you're not exploring the galleries that is! Have your first drink and nosh on us, then visit our cash bars. Must be 21+ to attend.
Printed or mobile tickets are required for entry. Must be at least 21 to attend; ID will be checked at the door.
Date: Feb. 11
Time: 9 p.m. to 1 a.m.
Location: Crystal Bridges, Bentonville
More info: Click here
Chocolate + Bubbly event
Hello Cocoa is offering two unique Valentine's experiences in two cities. One in Fayetteville at the chocolate factory, and the other in Bentonville at the Brightwater Culinary School.  Fayetteville's C + B is a lighthearted, open house style event that includes a photo booth, a chocolate + bubbly flight pairing, and a tour of the chocolate factory. Bentonville's C + B, in partnership with Brightwater, is a romantic date night featuring an exclusive 'dessert tapas' menu. Proceeds from these ticket sales fund scholarships to this amazing new institution.
Date: Feb. 12
Time: 1-5 p.m.
Location: Two events, see in above description
More info: Click here
Briar Rose Bakery Valentine's Tea
Briar Rose will be offering a Valentine's Tea will offer a unique menu of scones, jams, tea sandwiches, a grand selection of sweets to go with a personal pot of tea. By Reservation only.
Date: Feb. 12
Time: 2 p.m.
Location: Briar Rose Bakery, Farmington
More info: Click here
Kyya Chocolate Bon Bon and Wine Tasting at Sassafras Springs Vineyard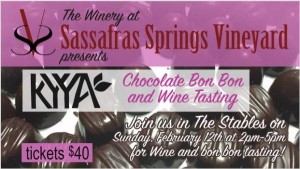 Valentine's Date for chocolate lovers. Enjoy a flight of four wines while enjoying 4 chocolate Bon Bons provided by Kyya Chocolate. There will also be a chocolate fountain and a tour of the wine production facility presented by wine maker Stephen Dollar.
Date: Feb. 12
Time: 2-5 p.m.
Location: Sassafras Springs Vineyard
More info: Click here
Valentine's Day Movie & Craft, Springdale Public Library
Watch the new movie Finding Dory (PG, 103 min)  and make an adorable craft.
Date: Feb. 14
Time: 4 p.m.
Location: Springdale Public Library
More info: Click here
Valentine's Comedy Night at George's Majestic Lounge
A portion of proceeds from every single ticket is being donated to support the American Heart Association. Drinks all night long – and a really fun show – all right on Dickson St. General Admission tickets are just $8, and a reserved table (recommended) for up to four guests is $25. Tickets can be bought at bentonvillecomedy.com – follow the instructions to reserve a table as they are limited. You can also call 479-527-6618 to make sure you get one (must also purchase admission ticket)!  This show will feature the highly popular That's What She Said Show and stand up comedians Raj Suresh and Shawna Blake, with Dustin Roach MC'ing.
Date: Feb. 14
Time: 7-9:30 p.m.
Location: George's, Fayetteville
More info: Click here
Circus Oz at Walton Arts Center
Circus exists for everyone in the imagination, but for some people that imaginary space is their world.
In this latest production from Circus Oz be prepared to be taken on an improbable journey, where reality dissolves. The performers inhabit a life unconstrained by the laws of physics. They are dream soldiers, making the real world and its laws bend to their aspirations. Deep from the Down Under at the bottom of the world, Circus Oz has unleashed a mayhem of madcap musicians, acrobats and manipulators. A two hour array of physical feats, spectacular skills and hilarious antics. Aerialists defy gravity, jugglers propel unlikely objects in complicated cacophonies, acrobats fall up and stand over. At Circus Oz nothing is impossible and everyone is extraordinary! This is straight up Circus Oz. All human, non-stop energy.
Date: Feb. 15-19
Time: Varies
Location: Walton Arts Center, Fayeteville
More info: Click here
NWA Soup Sunday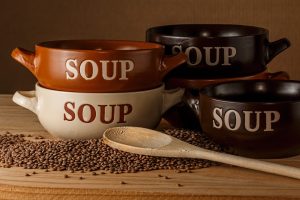 We're pretty sure this one is going to be better than ever! In 2017, we'll celebrate 40 years of Arkansas Advocates for Children and Families.  Just ask your friends — AACF's 16th annual Northwest Arkansas Soup Sunday is one of their favorite days of the year! It's affordable, casual and family-friendly. The food is always delicious, and the cause most important – the future of Arkansas's kids. Bring your friends, your family, or anyone else who loves soup, breads and desserts, good people, fun music, live and silent auctions, and raising money for good causes. Regular admission adult tickets are $25 in advance – $30 the weekend of the event. Tickets for children 5-17 are $10 and children younger than 5 are FREE!
Date: Feb. 19
Time: 4-7 p.m.
Location: John Q. Hammons Convention Center, Rogers
More info: Click here
14th Annual Great NWA Model Train Show
The Sugar Creek Model Railroad Club will host the 14th Annual Great NWA Model Train Show. Kids (and kids at heart) can be the engineer as miniature locomotives chug around the tracks on elaborately designed layouts. All types of model trains from large garden trains to trains small enough to run on a coffee table will be on display. Collectors can shop for new and vintage toy trains and parts from more than 40 vendors. Hot dogs, pop corn and other treats will also be for sale. Door prizes will be given away including two round trip tickets on the Arkansas & Missouri Railroad!
Admission is just $8 for adults and free for children age 12 and younger. Bring a non-perishable food item to receive a dollar off admission. All proceeds go to local charities including Samaritan Snackpacks for Kids, the Children's Advocacy Center, Toys for Tots, the Salvation Army Angel Tree and Shelter, Havenwood Home, Hope Cancer Resources/Washington Regional Cancer and Support Home, Cancer Relay for Life, Weekly Vista boxes for soldiers overseas, and the Bella Vista Library.
Date: Saturday, Feb. 25
Time: 9 a.m. to 4 p.m.
Location: Holiday Inn NWA Convention Center, Springdale
More info: Click here
12th Annual Charity Chilirhea for Alzheimer's research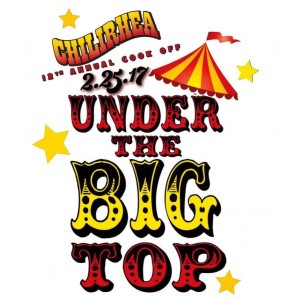 Enjoy as much chili as your heart desires at the 12th Annual #Chilirhea Charity Chili Cook-Off! We'll have more than 30 teams "under the big top" as well as live music, a silent auction and copious adult beverages. We love to party but we also have a purpose. In the past six years, we've raised more than $300,000 to fight Alzheimer's and benefit their caregivers and we're very proud that all of the money we raise stays in Arkansas.
Date: Feb. 25
Time: Noon to 5 p.m.
Location: Fayetteville Town Center
More info: Click here
The Northwest Arkansas Calendar of Events is sponsored by The Jones Center for Families in Springdale. There's ALWAYS something fun happening at The Jones Center, plus they have all kinds of classes for adults and kids — and great birthday party options at the indoor swimming pool, gymnastics or ice skating rink! CLICK HERE to visit the Jones Center website to see more!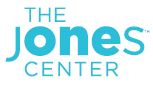 Save
Save
Save
Save